A CENTURY after his Little Tramp character first appeared on screen, Charlie Chaplin is remembered for many things: as the derby-hatted, mustachioed comic symbol of the silent screen; as one of the first true international superstars; as an actor, writer and director who helped elevate film to a respected art form even as he enjoyed enormous popular success.
But it is another, often overlooked aspect of Chaplin's creative output that many people don't know: he was the composer of his films' music.
Find Chaplin's sheet music in our Library.
Chaplin may have been the one filmmaker to hold out the longest against talking pictures, but at the same time he also happened to be one of the earliest filmmakers to embrace sound, as well as to possess an innate understanding of its emotional relationship to film.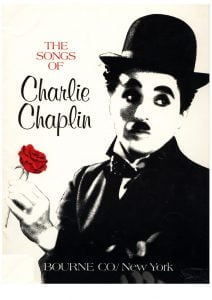 Charles Spencer Chaplin was born in London, England, on April 16th, 1889. His father was a versatile vocalist and actor; and his mother, known under the stage name of Lily Harley, was an attractive actress and singer, who gained a reputation for her work in the light opera field.
Charlie was thrown on his own resources before he reached the age of ten as the early death of his father and the subsequent illness of his mother made it necessary for Charlie and his brother, Sydney, to fend for themselves.
Having inherited natural talents from their parents, the youngsters took to the stage as the best opportunity for a career. Charlie made his professional debut as a member of a juvenile group called "The Eight Lancashire Lads" and rapidly won popular favour as an outstanding tap dancer.