Search Posts by Categories:
and subscribe to our social channels for news and music updates:
Jam with Carlos Santana: Black Magic Woman (Guitar Play Along sheet music)
Carlos Humberto Santana Barragan (Autlán de Navarro, Jalisco, July 20, 1947) is a Mexican nationalized American guitarist. In 1966, he founded the Santana band, a pioneer in fusing Latin music with rock.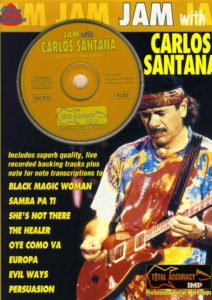 Santana has sold over 100 million albums worldwide (counting his band sales and his solo career). He has won ten Grammy Awards and three Latin Grammy Awards. He is married to Cindy Blackman, known for being the drummer for Lenny Kravitz. His brother Jorge Santana was also a musician, recognized for being one of the founders of the group Malo.
In 2003, Rolling Stone Magazine ranked him 20th on its list of the 100 Greatest Guitarists of All Time; he was subsequently ranked 90th on its prestigious '100 Greatest Artist of All Time' list. '
Also, with Santana, his albums Santana (1969) and Abraxas (1970) are part of the 500 best albums of all time, he was the producer and main composer. He is also part of the list of the 100 greatest artists of all time, ranking 90th.
Santana was born in Autlán de Navarro, Jalisco, Mexico. His father played the violin in a mariachi. As a young man, Carlos learned to play the violin, but he became interested in the guitar when he was eight years old, influenced mainly by the musician Ritchie Valens.
In 1955, his family moved to Tijuana, Baja California. Carlos dedicated himself to studying the guitar, emulating the sounds of B. B. King, T-Bone Walker and John Lee Hooker under the tutelage of Javier Bátiz. In the meantime he was playing in local bands like Los T.J.'s, for which he was a bassist, a group where he added his own twist and original feel to the popular rock and roll songs of the 1950s.
At first, he stayed in Tijuana to improve his musical prowess in the local clubs, when his family moved again, this time to San Francisco, California in 1961, but he soon followed, finding himself enrolled in school, learning English, and wanting to play music. At the same time, Carlos was immersed in the picturesque environment of San Francisco, with its diverse cultural influences and musical styles.
Fate brought Carlos to the right place and time, placing him in the midst of the huge and flourishing music scene that was the San Francisco Bay Area, the birthplace of the hippie movement. In 1965, he received US citizenship.
Influences
At a young age, Carlos Santana developed a taste for the music of B.B. King, Javier Batiz, and John Lee Hooker. Gábor Szabó's jazz guitar work in the mid-1960s also heavily influenced Santana's playing.
In fact, Szabo's composition 'Gypsy Queen' was used as the second part of Santana's 1970 treatment of Peter Green's composition 'Black Magic Woman'. Santana's instrumental album Shape Shifter includes a song called 'Mr. Szabo', performed in homage to Gábor Szabó. Santana has also mentioned Jimi Hendrix, Mike Bloomfield, Hank Marvin and Peter Green as important influences. He regards Bloomfield as a direct mentor.
Santana moved to San Francisco and, in October 1966, founded the Santana Blues Band. By 1968, the band had begun to incorporate different kinds of influences into their electric blues. 'When he entered any boy's room,' recalls the guitarist, 'he would listen to Sly Stone and Hendrix, another boy to the Rolling Stones and the Beatles. Another guy listened to Tito Puente and Mongo Santamaría, and another to Miles Davis and John Coltrane… For me it was like being in a university'.
Guitars and equipment
Carlos Santana's favorite guitars are the Paul Reed Smith. Others he has used include a Yamaha SG 2000 and a Gibson SG that he played with at the famous Woodstock Festival. He was also seen during the 1970s with the famous Gibson Les Paul, Fender Stratocaster, Telecaster, and also in 1992 at a concert in Japan, he performed 'Blues for Salvador' with a Yamaha RGX that was then a prototype. Made especially for the musician. The red Gibson SG that Santana used at Woodstock is now on display at the Hard Rock Café in Marbella.
Guitars: PRS (Paul Reed Smith) Model Santana SE, Santana I, II, III and now the MD, always having the Santana I and II as public favorites.
Amplifiers: 70s Marshall 100w head with a single 4×12" cab, '65 Blackface Fender Twin, Mesa/Boggie Mark IV & Dumble Overdrive Special 100w head through single 1×12 Altec-Lansing cab (the latter for solos).
Pedals: Mu-Tron Wah, Ibanez TS-9 Tube Screamer, ProCo Rat, Ibanez Digital Delay, Alesis Midiverb, Custom made 4-way changer for the amps.
Present
On January 30, 2016, guitarist Alex Ligertwood, singer Tony Lindsay and Raúl Rekow gave a concert in honor of Santana at the Teatro Auditorio de Roquetas de Mar in Spain, entitled The Magic of Santana.
That same year, Carlos Santana reunited with former Santana band members Gregg Rolie, Michael Carabello, Michael Shrieve and Neal Schon to release the Santana IV album and to tour briefly. A full set from this lineup was filmed at the House of Blues club in Las Vegas and was released as a live album and DVD titled Live at the House of Blues Las Vegas. In 2017, Santana collaborated with the Isley Brothers on the release of the album The Power of Peace, on July 28, 2017.
In 2019, the musician announced the release of a new studio album with the band Santana, entitled Africa Speaks. The album was produced by the experienced Rick Rubin.