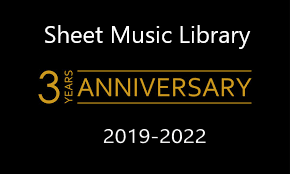 We stand with Ukraine (donations here, please).
The Sheet Music Library (PDF) is not the largest sheet music library on the Internet. But it is really the widest one in terms of genres, styles, all time scores, film scores, rock, pop & contemporary sheet music, classical arrangements for piano, piano and guitar methods and practice books, Jazz transcriptions, books, and many more.
Search your most loved sheet music in the categories menus:
Follow @LibrarySheet
The Sheet Music Library (PDF) is a not-for-profit, subscription library working toward the goal of building an open online collection of digitized sheet music, gathered now within this membership online library, that now contains over 8,000 sheet music books and single musical scores (>102,000 pages) for piano and guitar, as well as piano/guitar-vocal sheet music. All our PDFs can be printed for free.
We love to share!
Become a member to take part in this vibrant, exiting and international music lovers community. Membership of the Sheet Music Library (PDF) provides you with Internet access to the whole content of it for unlimited time. Then, borrow, download and play!
Subscribe, download and play!
All the scores from our Library are Free to Download – we just request a very small fee for the website maintenance and cloud storage costs (as little as US$ 15.99 -one time payment -aprox. 12,50 Euros).
Subscribe with Credit Card (via Stripe):
Join our exciting project here (via Paypal), or …
N E W !! It's better to subscribe, but if you just want to download a single sheet music, an anthology book or just a Play Along set (PDF + Audio), from our Library, now it's possible here.
What is the Sheet Music Library (PDF)?
Our Sheet Music Library (PDF) includes a wide selection of universal music of all time and all genres. (You may check the sheet music classification menus here). These scores have been digitized by experts, volunteers and enthusiasts and shall be shared with the public via the internet, with the hope of contributing to expand the universal musical language and the love of Music all over the world.
Follow @LibrarySheet
How does borrowing a sheet music work through our digital Library?
It's very easy: you can borrow and download one or multiple items (no restriction at all for subscribed members). The full Library content is permanently online available for our members with no restrictions at all in time, number of loans or printing. All the scores are in PDF format (unprotected and printing allowed), but in some cases, where attached audio files (MP3) are involved, like piano & guitar books and methods, they can be included in a RAR or ZIP file. (If you need a PDF reader click here).
Let's keep music alive! Please support music artists and bands by listen/download their songs, going to concerts and buying their albums or singles. Our online Library is not just about scores and sheet music; it's about Culture and sharing love for Music on a worldwide level.
A reasonable and symbolic donation (as few as US$15.99 -aprox. €12,50) is kindly requested for keeping this site up, growing with new added scores and worldwide available via Internet for educational purposes (we need around $600 per month). This is one time payment, so for unlimited time.
Why digital sheet music?
Sheet Music. Partituras. Partitions. Spartiti. Noten. Partitur. Partituur. Партиту́ра. 楽譜 Free sheet music in PDF format for educational purposes. The name is not important. The only thing that matters is the Music on it. Until today, it used to be a handwritten or printed form of music notation using modern musical symbols. The first printed sheet music made with a printing press was in 1473.
Nowadays, we have digital sheet music, usually in PDF, that can instantly be shared all over the world, even to remote places where is difficult to find sheet music on paper. (If you need a PDF reader click here). Anyone, anywhere, any moment, 24/7, can have and print the sheet music just at the right moment. Culture have never been so widely shared. In addition, more and more often, the performers or amateurs use tablets or similar devices to read and play music, so printing on paper is sometimes not even necessary, also getting a better organization of their scores.
Our online Library is not just about scores and sheet music; it's about Culture and sharing love for Music on a worldwide level. After the full Registration, please check the email that you have associated with your registration data. The link to have full access to the complete Library will show up in your email shortly after you make the registration and the associated payment (USD 14.99). It may take some minutes. Remember to check your spam folder as well.
Search Posts by Categories:
and subscribe to our social channels for news and music updates:
Acknowledgements
Follow @LibrarySheet
This project has been possible thanks to the friendly cooperation and support of the AEC Association Européenne des Conservatoires, Académies de Musique et Musikhochschulen and the Institute of Museum and Library Services.

We are also grateful for the helpful support of the Open Library!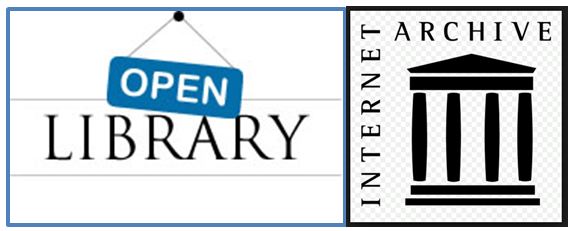 And proudly supporting the mission and upholding the values of LIBER.
If you love Music, please donate us to help this site being up and running. Thanks!