Little Richard – Fantastic Collection (Best Songs) – All the Famous Masters
Search Post by Categories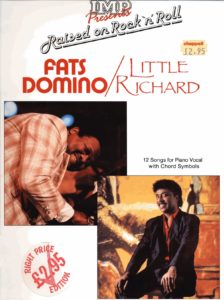 00:00 Little Richard – Baby face (1958)
02:27 Little Richard – Tutti Frutti (1957)
04:48 Little Richard – Kansas City (1957)
07:02 Little Richard – Slippin' and Slidin' (Peepin' and Hidin') (1957)
09:35 Little Richard – True Fine Mama (1957)
12:11 Little Richard – The Girl Can't Help It (1958)
14:39 Little Richard – All Around the World (1958)
17:02 Little Richard – Long Tall Sally (1957)
19:09 Little Richard – Rip It Up (1957)

21:28 Little Richard – Send Me Some Lovin' (1958)
23:49 Little Richard – Keep a Knockin' (1958)
26:04 Little Richard – Hey Hey Hey Hey (1958)
28:08 Little Richard – Good Golly Miss Molly (1958)
30:13 Little Richard – Jenny, Jenny (1957)
32:13 Little Richard – Ooh! My Soul
34:20 Little Richard – She's got it (1957)
36:24 Little Richard – I'll Never Let You Go (Boo Hoo Hoo Hoo) (1958)
38:46 Little Richard – Ready Teddy (1957)
40:51 Little Richard – Lucille (1958)
43:10 Little Richard – Miss Ann (1957)
Richard Wayne Penniman (December 5, 1932 – May 9, 2020), better known as Little Richard, was an American singer, songwriter, and musician. He was an influential figure in popular music and culture for seven decades. Nicknamed "The Innovator, The Originator, and The Architect of Rock and Roll", Penniman's most celebrated work dates from the mid-1950s, when his charismatic showmanship and dynamic music, characterized by frenetic piano playing, pounding back beat and raspy shouted vocals, laid the foundation for rock and roll.
Penniman's innovative emotive vocalizations and uptempo rhythmic music also played a key role in the formation of other popular music genres, including soul and funk, respectively. He influenced numerous singers and musicians across musical genres from rock to hip hop; his music helped shape rhythm and blues for generations to come.
"Tutti Frutti" (1955), one of Penniman's signature songs, became an instant hit, crossing over to the pop charts in both the United States and overseas in the United Kingdom. Penniman's next hit single, "Long Tall Sally" (1956), hit No. 1 on the Billboard Rhythm and Blues Best-Sellers chart, followed by a rapid succession of fifteen more hit singles in less than three years. His performances during this period resulted in integration between White Americans and African Americans in his audience.
In 1962, during a five-year period in which Penniman abandoned rock and roll music for born again Christianity, concert promoter Don Arden persuaded him to tour Europe. During this time, Arden had the Beatles open for Penniman on some tour dates, capitalizing on his popularity. Richard advised the Beatles on how to perform his songs and taught the band's member Paul McCartney his distinctive vocalizations.