Search Posts by Categories:
and subscribe to our social channels for news and music updates:
Dans Wigmore, il y a "More" et en effet la fameuse salle de récitals située à Londres s'engage, malgré la situation sanitaire catastrophique, à proposer -très probablement- plus de concerts que partout ailleurs :
100 concerts en 100 jours et plus encore : le confinement étant prolongé au Royaume-Uni, le Wigmore Hall (prestigieuse salle de concerts londonienne) prolonge sa série -presque- quotidienne de concerts gratuits (avec retransmission en direct, puis disponible pendant 30 jours).
Dans un premier temps, le Wigmore Hall prévoyait une jauge de 56 spectateurs (soit seulement 10% de sa capacité) montant progressivement à 112, mais pouvant tout aussi bien et à tout moment retomber à 0. C'est effectivement la jauge nulle qui sera la règle jusqu'à mi-février au moins dans ce Royaume terrassé par le nouveau variant du Coronavirus.
Nous vous donnons ainsi rendez-vous pour suivre l'intégralité de cette série de concerts : vidéos déjà disponibles et rendez-vous à venir.
C'est le fameux baryton Christian Gerhaher qui ouvrit les festivités en chantant le retour à la musique grâce à un programme Schubert et Berg accompagné par le pianiste Gerold Huber. C'est d'ailleurs un autre fameux baryton qui refermait ce premier cycle de concerts (le 22 décembre 2020) : Sir Simon Keenlyside accompagné par Malcolm Martineau.
Celui-ci accompagnait également la mezzo-soprano Dame Sarah Connolly puis le baryton Florian Boesch (les 16 et 17 septembre). Simon Lepper (que nous interrogions au sujet de la forme récital) jouait ensuite Strauss, Coleridge-Taylor et Mahler avec la soprano Elizabeth Llewellyn (23 septembre). Le surlendemain, c'est au luth que Matthew Wadsworth accompagna la soprano Carolyn Sampson pour Dowland, Johnson, Purcell et Snowden.
Gerald Finley (baryton-basse) et Julius Drake (piano) jouent le 26 septembre Fauré, Duparc, Barber, suivi par des concerts des frères Capuçon (et même ensemble). Septembre lyrique se termine avec le célèbre ténor national Ian Bostridge accompagné par Imogen Cooper (le 30 septembre). Aucune interruption ne fut pourtant marquée à ce moment et la voix de Sabine Devieilhe résonne dès le 4 octobre avec Alexandre Tharaud (compte-rendu de leur précédent récital).
Les récitals lyriques se poursuivent, avec Robin Tritschler (ténor) et Graham Johnson au piano, Louise Alder (soprano) et Roger Vignoles, Marianne Crebassa (mezzo-soprano) et Alphonse Cemin, Ashley Riches (baryton-basse) et Sholto Kynoch, Allan Clayton (ténor) et James Baillieu, Katharina Konradi (soprano) et Joseph Middleton, Claron McFadden (soprano) et Alexander Melnikov James Gilchrist (ténor) et Anna Tilbrook, Mary Bevan (soprano) et Joseph Middleton, Nicky Spence (ténor) et Julius Drake (qui accompagna ensuite la mezzo-soprano Christine Rice).
Une soirée réunit même un trio à cordes, deux pianos, l'acteur Simon Callow et la soprano Lucy Crowe, une autre le trio vocal Sarah Fox (soprano), Kitty Whately (mezzo-soprano) et Alessandro Fisher (ténor) accompagnés par Joseph Middleton au piano. Montrant un certain optimisme vis-à-vis de l'évolution sanitaire, le Wigmore Hall programme même des chorales pour la fin décembre : Tenebrae, Stile Antico et The Cardinall's Musick.
Le 7 décembre, la révélation du 14 juillet 2020 au Champ-de-Mars Fatma Said est même indiquée comme interprète pour son concert d'1h30 sans entracte (format de tous ces rendez-vous), idem pour le contre-ténor Iestyn Davies la semaine suivante.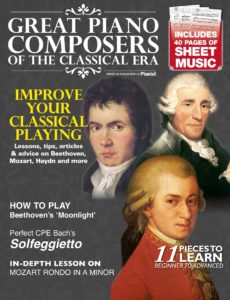 Trouvez et télechargez les meilleures partitions musicales de musique classique et moderne dans notre bibliothèque.
Search Posts by Categories:
and subscribe to our social channels for news and music updates: