Browse in the Library:
and subscribe to our social channels for news and music updates:
Frank Sinatra: the 100 most inspiring musicians of all time
Francis Albert Sinatra, or Frank Sinatra, (b. Dec. 12, 1915, Hoboken, N.J., U.S.—d. May 14, 1998, Los Angeles, Calif.) was an American singer and motion-picture actor who, through a long career and a very public personal life, became one of the most sought-after performers in the entertainment industry; he is often hailed as the greatest American singer of 20th-century popular music.
Frank Sinatra's father, Martin, was a tavern owner and part-time prizefighter, and his mother, Natalie—known to all as "Dolly"—was a domineering influence in both local politics and in her son's life and career. Upon hearing the recordings of Bing Crosby, Sinatra was inspired as a teenager to choose popular singing as a vocation. He joined a local singing
group, which toured the country that year, but Sinatra was the only member with serious musical ambitions, and they soon disbanded. For the next few years, Sinatra sang with local dance bands and for remote radio broadcasts.
In1939, while singing and waiting tables in Englewood Cliffs, New Jersey, he was discovered and hired by trumpeter Harry James.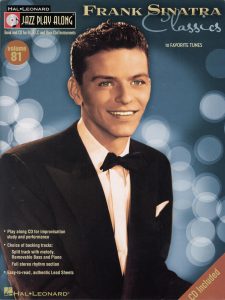 The Band Singer
Sinatra's six-month tenure with the James band resulted in 10 commercial recordings featuring the young singer. On songs such as "From the Bottom of My Heart," "My Buddy," and "Ciribiribin," Sinatra's warm baritone and sensitivity to lyrics are well showcased. The best-known of the James Sinatra recordings is "All or Nothing at All"—unsuccessful in
1939 but a million-seller when rereleased in 1943, after both men had become stars. Sinatra's reputation among industry musicians grew swiftly, and James graciously freed Sinatra from his contract when the singer received a more lucrative offer from bandleader Tommy Dorsey in December 1939.
During the Dorsey period, Sinatra proved his mastery of both ballads and up-tempo numbers, and Dorsey arrangers soon tailored their arrangements to highlight Sinatra's skills. Sinatra was featured on memorable recordings such as "I'll Never Smile Again," "I'll Be Seeing You," "Without a Song," and "Oh! Look at Me Now." The 83 commercial recordings that Sinatra made with the Dorsey band from 1940 to 1942 represent his first major body of work.
By 1942 Sinatra's fame had eclipsed that of Dorsey, and the singer yearned for a solo career. After months of bitter negotiations, Sinatra left the Dorsey organization in late 1942; within weeks, he was a cultural phenomenon. As such, he was soon dubbed "Frankieboy," "The Sultan of
Swoon," and, most popularly, "The Voice."
The Columbia Years
A strike by the American Federation of Musicians against the major record companies curtailed Sinatra's recording output during most of 1943–44. His solo recording career for Columbia Records began in earnest in November 1944, when he made dozens of recordings within a three-month period. Songs such as "If You Are but a Dream," "I Fall in Love Too Easily," and his theme song at that time, "Put Your Dreams Away," are some of the first recordings in what would come to be known to fans as the "Columbia era" (1943–52).
Sinatra's success continued unabated until the late 1940s, when he garnered much negative press; it was about this time that the public first read reports of his friendships with organized-crime figures. There was also the widely reported incident, and resulting lawsuit, in which Sinatra punched a gossip columnist, an action for which Sinatra received some vindication in later years when it was revealed that the columnist had collaborated with the FBI to discredit Sinatra. Sinatra began a five-year period of professional decline and personal depression.
His divorce from first wife, Nancy, in 1951 and his subsequent stormy marriage to actress Ava Gardner further harmed his reputation. In 1952 his Columbia recording contract was not renewed, his talent agency discontinued its sponsorship, and his network television show was canceled; Sinatra was considered a has-been. Ironically, several of Sinatra's recordings from this period are now considered among his best, especially his 1951 recording of "I'm a Fool to Want You."
The Actor
Sinatra appeared in several films throughout the 1940s, the best among them being the musicals in which he costarred with dancer Gene Kelly. Of these, Anchors Aweigh (1945) and Take Me Out to the Ballgame (1949) are pleasant diversions, whereas On the Town (1949) ranks among the greatest of film musicals. It was acting, rather than music, that precipitated Sinatra's comeback in 1953.
He played the role of the scrappy, tragic soldier, Maggio, in From Here to Eternity (1953), and his performance earned him an Oscar for best supporting actor. Sinatra went on to become one of the top film stars of the 1950s and '60s. The political thriller The Manchurian Candidate
(1962) is perhaps Sinatra's greatest film and features his best performance. In later years, he was memorable in The Detective (1968) and in his final starring role in The First Deadly Sin (1980).
The Capitol Years
In 1953 Sinatra's musical style took a dramatic turn. He signed with Capitol Records and, throughout the next nine years, issued a series of recordings widely regarded as his finest body of work. He is often credited with inventing the "concept album"—a collection of songs built around a single theme or mood. His new approach also demanded new arrangements. The in-house arrangers at Capitol were among the best, and with them, he produced outstanding up-tempo albums such as Come Fly with Me (1958) and Come Dance with Me! (1959), as well as more melancholy works such as Where Are You? (1957) and No One Cares (1959).
Although Sinatra worked with many extraordinary arrangers, it was Nelson Riddle who, in Sinatra's words, was "the greatest arranger in the world," and critics agreed. Riddle employed everything from quartets to 50-piece orchestras for ballad arrangements that were often characterized by a dominant solo instrument (particularly a mournful trombone). For swing tunes, Riddle developed his trademark "heartbeat rhythm," a steady, driving beat, meant to emulate "the pulse rate of the human heart after a brisk walk," in Riddle's words. Virtually all the albums the Sinatra-Riddle team made for Capitol—including In the Wee Small Hours (1955), Songs for Swingin' Lovers! (1956), and Only the Lonely (1958)—are masterpieces.
Despite the importance of the Capitol arrangers in determining Sinatra's new sound, the resulting albums were still very much dominated by the singer himself. Sinatra's voice had deepened and grown in power, and his
failed marriage to Gardner had infused his ballad singing with a heretofore unseen emotional urgency. He attacked swing numbers with abandon and displayed his jazz influences with an uncanny sense of syncopation and an
innate knowledge of "blue notes." Two of his most heralded recordings—I've Got You Under My Skin (1956) and One for My Baby (1958)—illustrate well his varied approach to moods and tempi.
The Rat Pack and the Mob
During the late 1950s and early '60s, Sinatra frequently appeared on stage and in films with his close-knit band of friends known variously as "The Clan," "The Summit," or, most popularly, "The Rat Pack." The group performed a largely ad-libbed act of boozy, racial, and misogynist humor that seems dated to the contemporary listener, but was seen as the height of swinging sophistication in the 1960s.
It was also about this time that Sinatra generated more controversy for his connections with organized crime, although most critics now acknowledge that Sinatra's association with underworld figures was largely one of involuntary servitude. There is no question, however, that his fraternizing with notorious criminals such as Sam Giancana eroded his fan base and jeopardized his political friendships.
The Reprise Years
Sinatra founded Reprise Records in 1960 and was allowed to record there simultaneously with his Capitol contract, which expired in 1962. During the early 1960s, Sinatra recorded at a furious pace, releasing some 14 albums of new material during the years 1961–63. Sinatra's prodigiousness
during these years resulted in some quickly recorded albums of uneven quality, but there were also several classics on par with the best of his Capitol work.
His two 1960s masterpieces, September of My Years (1965) and the partnership with Brazilian songwriter Antonio Carlos Jobim, Francis Albert Sinatra and Antonio Carlos Jobim (1967), rank
among Sinatra's greatest albums. He also had success with the hit singles "Strangers in the Night" (1966), "That's Life" (1967), and "My Way" (1969).
The Mature Years
Sinatra announced his retirement in 1971, but by 1973 he was recording once again. In his last two decades as a recording artist, he released only seven albums of new material. His well-regarded albums of later years include volume one of the ambitious three-disc Trilogy (1980), the ballad collection She Shot Me Down (1981), and L.A. Is My Lady (1984), which featured an all-star orchestra. He returned to the recording studio after nearly a decade's absence to record Duets (1993) and Duets II (1994), which paired Sinatra with several contemporary popular singers.
The Duets albums sold millions of copies and were Sinatra's final recordings. In addition to his curtailed recording activity, Sinatra
virtually retired from films during his later years. He concentrated
instead, on live performance and gave hundreds of international concerts from the late 1970s, with his final public performance in 1995. Although he suffered from failing memory and various physical infirmities during
his last few years, he remained a compelling showman to the end.
3:21 thats life,6:30 my way, 9:27 moonlight serenade, 12:28 smoothin stupid, 15:21 Got you under my skin, 17:11 theme frok New York, 20:22 i've got the world, 22:30 i'lk be home, 25:56 the girl from ipanema, 29:01 somehow over the Rainbow, 36:10 witchcraft, 37:40 the best is yet to come, 40:29 cal me irresponsible, 43:02 fly me to the moon, 44:29 lonely town, 47:50 swinging on a Star, 50:14 if you go away, 53:37 here's to the loosets, 56:38 what now my love