Browse in the Library:
and subscribe to our social channels for news and music updates:
2021 marks the centennial of Astor Piazzolla, the Argentine composer-bandoneón master and inventor of nuevo tango, which transformed traditional tangos for the dance floor into concert works with jazz and classical music elements.
Piazzolla was certainly internationally known when he died in 1992, but his fame and popularity have skyrocketed since. "If he were alive right now, he would be very, very happy for that," said Argentine pianist and composer Pablo Ziegler, who played and recorded for more than a decade in Piazzolla's second and last bandoneón quintet.
The latest sign of Piazzolla's soaring stature will come Nov. 18-21 when guest conductor Giancarlo Guerrero and the Chicago Symphony Orchestra mark the 100th anniversary of the composer's birth with concerts featuring his Aconcagua Concerto for Bandoneón and Orchestra.
In addition, the Quinteto Astor Piazzolla, a group founded by his widow, Laura Escalada Piazzolla, will perform a special Symphony Center Presents concert on Nov. 19 as part of a world tour. The group, which received a 2019 Latin Grammy Award for best tango album, carries on the traditions established by Piazzolla's first and second quintets.
Piazzolla composed his Concerto for Bandoneón and Orchestra in 1979 on a commission from the Banco de la Provincia de Buenos Aires, and he served as the soloist for the premiere in December of that year. His publisher added the moniker Aconcagua, the name of a mountain on the Argentina-Chile border, saying, "This is the peak of Astor's oeuvre, and the highest peak in South American is Aconcagua."
Piazzolla was born in Argentina to Italian-immigrant parents. Four years later, he moved with his family to New York City — first to Greenwich Village and then to Little Italy. He discovered tango by listening to some of his father's records, and a friend soon taught him the rudiments of playing the bandoneón, a kind of concertina popular in Argentina and Uruguay.
When he was 12, he began taking lessons with Hungarian classical pianist Bela Wilda, who taught him, among other things, how to play Bach on the bandoneón. A student of Rachmaninov, Wilda happened to live next door, and Piazzolla was entranced by the sounds that emanated from his home. "My father and I knocked at his door, and when he opened it, I was bewildered by his grand piano and the pack of Camel cigarettes he used to smoke," Piazzolla said in an extended interview on the website Todo Tango.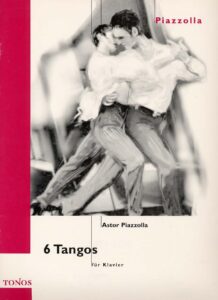 In 1938, when he was still just 17, Piazzolla joined the tango orchestra of Aníbal Troilo and later became an arranger for the group as well. During this stage of his career, he led kind of two musical lives, one devoted to tango and the other to mastering classical music. On the advice of famed pianist Artur Rubenstein, he began studying with composer Alberto Ginastera in 1941, delving into the scores of Stravinsky, Bartók and Ravel, and later took piano lessons with Argentine keyboardist Raúl Spivak.
In 1953, he won a grant to study composition with the celebrated French pedagogue Nadia Boulanger, who also taught composers ranging from Aaron Copland to Philip Glass. At that time, Piazzolla had largely rejected the tango, and he presented Boulanger with a number of his classically inspired compositions.
She was impressed with his technique but felt that the works did not have a personal stamp. He finally admitted that he played bandoneón and wrote tangos. So he performed for her a tango piece he had written a bit earlier, Triunfal. "And then she told me, 'There is Piazzolla, never leave it!" he recalled in the Todo Tango interview.
When he returned to Argentina, he formed his Octeto Buenos Aires, inspired by the octet of jazz saxophonist Gerry Mulligan, which he had heard in Paris. It was with this ensemble — a radical break from the larger bands common in tango — that he began to write his groundbreaking music that became known as nuevo tango.
"When he started with the first Buenos Aires Octet, that music was like Bartók and Stravinsky," Ziegler said. "Because of the huge rejection by the media and tango audience, he started to change and do something more acceptable, but he was really a contemporary composer."
Piazzolla's nuevo tango, which fuses Baroque counterpoint, extended chords and jazz swing, is at once earthy and elegant, seductive and transporting. It is instantly identifiable and cannot be confused with the music of anyone else.
In 1961, the composer formed his first quintet, with bandoneón, piano, violin, electric guitar and double bass, a combination that many experts believe is the most authentic and expressive vehicle for his music. He organized a second quintet in 1978 and called Ziegler to recruit him for the group.
For Ziegler, who was well-established on his own at that point as a composer and arranger, hearing from Piazzolla was a "big surprise." The pianist asked the composer why he wanted him in the quintet, and Piazzolla told him that he was looking for someone who would bring strong improvisatory skills as well as a complementary and distinctive playing style.
"For me and for each musician, it was a big challenge," Ziegler said, "because his music was really incredible but difficult." He remembered a new work that Piazzolla presented him that looked almost unplayable at first, but with the composer's encouragement and considerable study, he was able to pull it off.
Ziegler praised Piazzolla's abilities on the bandoneón, especially his ability to shape the sound and nudge his fellow players in the direction he wanted to go. "He was like the Oscar Peterson [referring to the great jazz pianist] of the bandoneón — tremendous, tremendous," Ziegler said.
In addition to performing with Piazzolla in the quintet, Ziegler also joined the composer in some of his larger orchestral works, including the premiere of his bandoneón concerto, which has a significant part for the piano.
According to Ziegler, Piazzolla's approach to these concerts was simple: "We play the music, and the orchestra has to follow us." But in fact, it is a bit more complicated. The pianist must emphasize the importance of articulations in Piazzolla's music, especially in the strings, and tries to illustrate how they should be done.
Astor Piazzolla's OBLIVION
Esta es una de las más hermosas obras que compuso el maestro Astor Piazzolla, esta obra la incluyen en el repertorio orquestas sinfónicas y de cuerdas de mucho prestigio. La compuso en los años 80 durante su tiempo en los EEUU, cuando Piazzolla vendia música para vivir, esta obra fue comprada para la banda sonora de la pelicula "Enrique IV" del director Marco Bellocchino de nacionalidad italaiana.
Esta es una canción que trata sobre el olvido. En francés se escribe J'oublie y en la lengua inglesa, como fue concebido, dado que Oblivion es (Olvido).