Follow @LibrarySheet
Lyrics
Smile though your heart is aching
Smile even though it's breaking
When there are clouds in the sky you'll get by
If you smile through your fear and sorrow
Smile and maybe tomorrow
You'll see the sun come shining through
For you Light up your face with gladness
Hide every trace of sadness
Although a tear maybe ever so near
That's the time you must keep on trying
Smile- what's the use of crying
You'll find that…
Smile: The song
"Smile" is a song based on an instrumental theme used in the soundtrack for Charlie Chaplin's 1936 film Modern Times. Chaplin composed the music, inspired by Puccini's Tosca. John Turner and Geoffrey Parsons added the lyrics and title in 1954. In the lyrics, based on lines and themes from the film, the singer is telling the listener to cheer up and that there is always a bright tomorrow, just as long as they smile.
"Smile" has become a popular standard since its original use in Chaplin's film and has been recorded by numerous artists. The song was also recorded by Jimmy Durante as part of his album Jackie Barnett Presents Hello Young Lovers. His version is part of the soundtrack to the 2019 film Joker, starring Joaquin Phoenix and Robert De Niro.
Judy Garland sang a version of "Smile" on The Ed Sullivan Show in 1963.
The song was included in the soundtrack of Chaplin's 1992 biographical film, as covered by its lead actor Robert Downey Jr.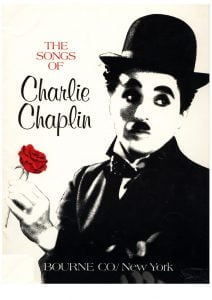 Browse in the Library:
and subscribe to our social channels for news and music updates: