Edvard Grieg Piano Concerto in A minor with sheet music.

00:00 – I. Allegro molto moderato
11:59 – II. Adagio – attacca
18:04 – III. Allegro moderato molto e marcato

Edvard Grieg
Grieg's Music
The Piano Concerto
List of selected works
Edvard Grieg Piano Concerto in A minor with sheet music.
Composer: Edvard Hagerup Grieg (15 June 1843 — 4 September 1907) – Orchestra: New Philharmonia Orchestra – Conductor: Rafael Frühbeck de Burgos – Soloist: Arturo Benedetti Michelangeli – Year of recording: 1965 (live) Piano Concerto in A minor, Op. 16, written in 1868.
00:00 – I. Allegro molto moderato
11:59 – II. Adagio – attacca
18:04 – III. Allegro moderato molto e marcato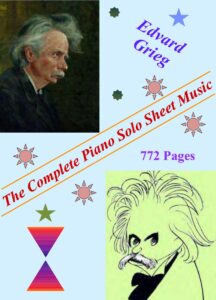 Edvard Grieg
Edvard Hagerup Grieg 15 June 1843 – 4 September 1907) was a Norwegian composer and pianist. He is widely considered one of the leading Romantic era composers, and his music is part of the standard classical repertoire worldwide. His use and development of Norwegian folk music in his own compositions brought the music of Norway to international consciousness, as well as helping to develop a national identity, much as Jean Sibelius did in Finland and Bedřich Smetana did in Bohemia.
Grieg is the most celebrated person from the city of Bergen, with numerous statues depicting his image, and many cultural entities named after him: the city's largest concert building (Grieg Hall), its most advanced music school (Grieg Academy) and its professional choir (Edvard Grieg Kor). The Edvard Grieg Museum at Grieg's former home Troldhaugen is dedicated to his legacy.
Grieg's Music
Some of Grieg's early works include a symphony (which he later suppressed) and a piano sonata. He also wrote three violin sonatas and a cello sonata.
Grieg also composed the incidental music for Henrik Ibsen's play Peer Gynt, which includes the famous excerpt titled, "In the Hall of the Mountain King". In this piece of music, the adventures of the anti-hero, Peer Gynt, are related, including the episode in which he steals a bride at her wedding. The angry guests chase him, and Peer falls, hitting his head on a rock. He wakes up in a mountain surrounded by trolls. The music of "In the Hall of the Mountain King" represents the angry trolls taunting Peer and gets louder each time the theme repeats. The music ends with Peer escaping from the mountain.
In an 1874 letter to his friend Frants Beyer, Grieg expressed his unhappiness with Dance of the Mountain King's Daughter, one of the movements he composed for Peer Gynt, writing "I have also written something for the scene in the hall of the mountain King – something that I literally can't bear listening to because it absolutely reeks of cow-pies, exaggerated Norwegian nationalism, and trollish self-satisfaction! But I have a hunch that the irony will be discernible."
Grieg's Holberg Suite was originally written for the piano, and later arranged by the composer for string orchestra. Grieg wrote songs in which he set lyrics by poets Heinrich Heine, Johann Wolfgang von Goethe, Henrik Ibsen, Hans Christian Andersen, Rudyard Kipling and others. Russian composer Nikolai Myaskovsky used a theme by Grieg for the variations with which he closed his Third String Quartet. Norwegian pianist Eva Knardahl recorded the composer's complete piano music on 13 LPs for BIS Records from 1977 to 1980. The recordings were reissued in 2006 on 12 compact discs, also on BIS Records. Grieg himself recorded many of these piano works before his death in 1907.
The Piano Concerto
– The concerto opens with a drum-roll and solo flourish, after which the winds play a simple, unsophisticated main theme that the piano preempts, and embroiders at length, Allegro, molto moderato. The cello subject (più lento — a little slower) is contrasting "soulful." Trumpets usher in the development, and later on the reprise. A solo cadenza comes just before the end.
– In the second movement, the key shifts from A minor to D flat major. This structurally uncomplicated Adagio in 3/8 time begins introspectively with muted strings. The piano rhapsodizes until a dramatically angular version of the main theme shatters the mood.
– Eventually, calm is restored, and a quiet ending leads without pause to the third movement another quick-but-not-too-quick movement in A minor, additionally marked marcato, whose structure combines sonata and rondo. The piano introduces a main theme based on the 2/4 rhythm of a Norwegian folk dance, the halling. The second subject is quirkier and more elaborate but no less folk-like. The solo flute initiates a tranquil episode, after which the main theme returns for extended development. A short solo cadenza precedes Grieg's long-delayed transition from minor to major for yet another dance, this one in 3/4 time at an accelerated tempo. During a final cadenza, Lisztian bravura blows away any lingering traces of Schumann.
List of selected works
Main article: List of compositions by Edvard Grieg
Piano Sonata in E minor, Op. 7
Violin Sonata No. 2 in G major, Op. 13
Piano Concerto in A minor, Op. 16
Incidental music to Bjørnstjerne Bjørnson's play Sigurd Jorsalfar, Op. 22
Ballade in the Form of Variations on a Norwegian Folk Song in G minor, Op. 24
String Quartet in G minor, Op. 27
Two Elegiac Melodies for strings or piano, Op. 34
Four Norwegian Dances for piano four hands, Op. 35 (better known in orchestrations by Hans Sitt and others)
Cello Sonata in A minor, Op. 36
Holberg Suite for piano, later arr. for string orchestra, Op. 40
Violin Sonata No. 3 in C minor, Op. 45
Peer Gynt Suite No. 1, Op. 46
Lyric Suite for orchestra, Op. 54 (orchestration of four Lyric Pieces)
Peer Gynt Suite No. 2, Op. 55
Four Symphonic Dances for piano, later arr. for orchestra, Op. 64
Haugtussa Song Cycle after Arne Garborg, Op. 67
Sixty-six Lyric Pieces for piano in ten books, Opp. 12, 38, 43, 47, 54, 57, 62, 65, 68 and 71, including: Arietta, To the Spring, Little Bird, Butterfly, Notturno, Wedding Day at Troldhaugen, At Your Feet, Longing For Home, March of the Dwarfs, Poème érotique and Gone.
Browse in the Library:
and subscribe to our social channels for news and music updates: