Follow @LibrarySheet
Browse in the Library:
and subscribe to our social channels for news and music updates: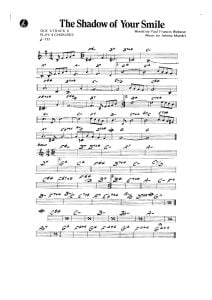 Lyrics
One day we walked along the sand
One day in early spring
You held a piper in your hand
To mend its broken wing
Now I'll remember many a day
And many a lonely mile
The echo of a piper's song
The shadow of a smile
The shadow of your smile
When you are gone
Will color all my dreams
And light the dawn
Look into my eyes
My love and see
All the lovely things
You are to me
Our wistful little star
Was far too high
A teardrop kissed your lips
And so did I
Now when I remember spring
All the joy that love can bring
I will be remembering
The shadow of your smile
Songwriters: Johnny Mandel / Paul Webster
The song
"The Shadow of Your Smile", also known as "Love Theme from The Sandpiper", is a popularsong. The music was written by Johnny Mandel with the lyrics written by Paul Francis Webster.The song was introduced in the 1965 filmThe Sandpiper, with a trumpet solo by Jack Sheldon and later became a minor hit for Tony Bennett (Johnny Mandel arranged and conducted his version as well). It won the Grammy Award for Song of the Year and the Academy Award for Best Original Song.In 2004 the song finished at #77 in AFI's 100 Years…100 Songs poll of the top tunes in American cinema.