Search Posts by Categories:
and subscribe to our social channels for news and music updates:
Do you know who AMY BEACH (1867-1944) was?
Amy Marcy Cheney Beach (September 5, 1867 – December 27, 1944) was an American composer and pianist. She was the first successful American female composer of large-scale art music. Her "Gaelic" Symphony, premiered by the Boston Symphony Orchestra in 1896, was the first symphony composed and published by an American woman. She was one of the first American composers to succeed without the benefit of European training, and one of the most respected and acclaimed American composers of her era. As a pianist, she was acclaimed for concerts she gave featuring her own music in the United States and in Germany.
From Wikipedia, the free encyclopedia (full biography and compositions here)
You can listen to this romantic pieces (4 Sketches, Op.15, no. 3), here. And very soon the Sheet Music Library will include this tender romantic composition.
AMY BEACH Biography
Amy Marcy Cheney (AMY BEACH) was born on September 5, 1867 in Henniker, New Hampshire, to a prominent New England family. Her mother, Clara Imogene (Marcy) Cheney, was a talented amateur singer and pianist. Young Amy was a true prodigy who memorized forty songs at the age of one and taught herself to read at age three. She played four-part hymns and composed simple waltzes at age four.
By the age of six, she began studying piano with her mother and performed her first public recitals one year later, playing works by Handel, Beethoven, Chopin, and some of her own pieces.
In 1875, the family moved to Boston, where Amy studied with the leading pianists. She made her Boston debut in 1883, and two years later played her first performance with the Boston Symphony Orchestra, Wilhelm Gericke conducting Chopin's Concerto in F Minor.
In 1885, she married Henry Harris Aubrey Beach (1843-1910), a physician, Harvard University lecturer, and amateur singer. Her husband requested that she limit her public performances, so she focused her musical energies on composing. She had only one year of formal training in harmony and counterpoint with Junius W. Hill.
Beyond that, she embarked on a course of independent study, analyzing the compositions of master composers as models and translating theoretical works such as Berlioz's treatise on orchestration.
In 1892, Amy Beach achieved her first notable success as a composer with the performance of her Mass in E-flat by Boston's Handel and Haydn Society. She became the first American woman to achieve widespread recognition as a composer of large-scale works with orchestra. Beach's national reputation grew through her equally well-received Symphony, op. 32; Violin Sonata, op. 34; and Piano Concerto, op. 45.
Following the success of her Mass in E-flat, Amy Beach received important commissions for vocal and choral works. In 1892, the Symphony Society of New York premiered her concert aria, Eilende Wolken, op. 18, the first composition by a woman played by that orchestra. For the 1893 World's Columbian Exposition in Chicago, she wrote the Festival Jubilate, op. 17. The 1898 Trans-Mississippi Exposition in Omaha commissioned her Song of Welcome, op. 42.
After her husband's death in 1910, Amy Beach sailed for Europe to establish her reputation there as both a performer and composer. She received enthusiastic reviews for recitals in Germany and for her symphony and concerto, which were performed in Leipzig and Berlin. She returned to the U.S. in 1914, where she concertized in the winters and composed in the summers.
In 1921, she became a fellow at the MacDowell Colony in Peterborough, New Hampshire, where she composed most of her later works.
Amy Beach assumed many leadership positions, often in advancing the cause of American women composers. She was associated with the Music Teachers National Association and the Music Educators National Conference.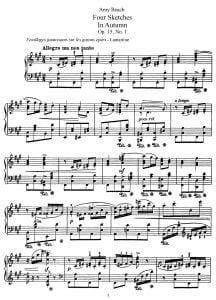 In 1925, she was a founding member and first president of the Society of American Women Composers. Following her death on December 27, 1944, Beach's royalties were given to the MacDowell Colony, as prescribed in her will.
Amy Beach – Op.15 Four Sketches in Autumn
Four Sketches for piano, op.15 (1892)
Joanne Polk, piano
In Autumn: 00:07 Phantoms: 02:36 Dreaming: 04:45 Fireflies: 08:45
Follow @LibrarySheet