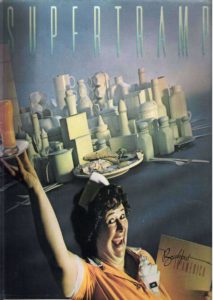 Supertramp history
Supertramp followed an unusual path to commercial success in the 1970s, fusing the stylistic ambition and instrumental dexterity of progressive rock with the wit and tuneful melodies of British pop, and the results made them one of the most popular British acts of the '70s and '80s, topping the charts and filling arenas around the world at a time when their style of music was supposed to have fallen out of fashion.
Supertramp was formed in 1969 by pianist and vocalist Rick Davies. Davies had been a member of a group called the Joint, who had found a financial backer in Dutch millionaire Stanley August Miesegaes; Miesegaes had grown disenchanted with the Joint, but saw promise in Davies, and he offered to bankroll a new band if Davies wanted to launch a fresh project.
Davies placed an ad in the British music weekly Melody Maker, and recruited guitarist Richard Palmer, percussionist Robert Millar, and vocalist/bassist Roger Hodgson. Davies initially dubbed the new band Daddy, but to avoid comparison with a number of other paternally named acts, he changed their billing to Supertramp, taking the name from a book by Welsh author William Henry Davies.
In 1970, Supertramp signed a deal with A&M Records, and their debut album was released later the same year. Dominated by extended prog-based compositions, the album didn't win a large audience, and Supertramp's lineup shifted, as Richard Palmer and Robert Millar left the group, Hodgson moved from bass to guitar, and bassist Frank Farrell, percussionist Kevin Currie, and Dave Winthrop on flue and sax joined the act. The new edition of Supertramp released the album Indelibly Stamped in 1971, but it fared little better in the marketplace than the debut, and Miesegaes cut off his funding of the group.
Left to their own devices, Supertramp came close to collapse as most of the group's members moved on, but Davies and Hodgson put together a new version of the group — Davies on piano and vocals, Hodgson on guitar, electric piano, and vocals, Dougie Thomson on bass, Bob C. Benberg on drums and percussion, and John Anthony Helliwell on sax, woodwinds, and keyboards.
This edition of Supertramp boasted a more concise and pop-oriented sound than the band that recorded the first two albums, and 1974's Crime of the Century became Supertramp's commercial breakthrough, spawning the singles "Dreamer" and "Bloody Well Right." 1975's Crisis? What Crisis? didn't fare quite as well commercially, but 1977's Even in the Quietest Moments earned the band another hit single in "Give a Little Bit," and Supertramp's steady road work earned them a reputation as an impressive live act.
1979's Breakfast in America elevated Supertramp to true superstar status; three of its songs ("Goodbye Stranger," "Take the Long Way Home," and "The Logical Song") would became Top 20 hits, and the album went to number one on the Billboard charts, selling four million copies in the United States and reaching platinum status in Canada, France, Germany, and the United Kingdom.
Supertramp followed the success of Breakfast in America with a live album, 1980's Paris, but it wasn't until 1982 that the group released a new studio LP, Famous Last Words, and in a sense the title was prophetic — the working relationship between Rick Davies and Roger Hodgson had become contentious, and in 1983, Hodgson, the lead vocalist on the band's biggest hits, left to pursue a solo career.
With Davies taking the lead, Supertramp released Brother Where You Bound in 1985, which found the band easing back on their pop side and exploring their progressive influences; the album also featured guest appearances from Pink Floyd guitarist David Gilmour. 1987's Free as a Bird found Supertramp experimenting with synthesizers and electronic dance music, but after a world tour in support of the album, Davies quietly retired the band.
In 1996, Davies re-assembled Supertramp for a concert tour; the new lineup featured Davies, John Anthony Helliwell, guitarist Mark Hart (who had toured with the band in support of Free as a Bird), and percussionist Jesse Siebenberg. The new Supertramp went into the studio after the tour, and Some Things Never Change was released in 1997. More touring followed, which was documented on the album Live 1997. Another studio set, Slow Motion, appeared in 2002.
In 2010, Supertramp regrouped for a world tour to celebrate their fortieth anniversary, but while rumors suggested Hodgson might rejoin the band for the occasion, both he and Davies issued statements saying they were not likely to ever work together again, and Hodgson mounted a solo tour concurrently with Supertramp's anniversary celebration.
Download Supertramp's sheet music books from our Library.
Search Posts by Categories:
and subscribe to our social channels for news and music updates: