Follow @LibrarySheet
Il est le frère aîné du producteur Alain Sarde.
Sa mère, Andrée Gabriel, est chanteuse à l'Opéra de Paris. Dès 5 ans, il entre au conservatoire. Il suit des études d'harmonie, de contrepoint, de fugue et de composition avec Noël Gallon3. Il a deux frères : Frédéric et Alain Sarde. Philippe Sarde a pour parrains Georges Auric et Noël Gallon. Tout jeune, il s'intéresse également au cinéma et collectionne des bobines de vieux films français oubliés de nos jours.
À 17 ans, il réalise un court-métrage en noir et blanc et en 35 mm dont il compose la musique et demande à Vladimir Cosma de l'aider à l'orchestrer. Il hésite alors entre la réalisation cinématographique et la musique. À 18 ans, il rencontre Claude Sautet et lui propose de signer la musique de son film Les Choses de la vie. Écrite en un mois seulement pour quelque 70 musiciens, Les Choses de la vie est le premier coup de maître d'un compositeur alors seulement âgé de 20 ans : c'est le début d'une longue carrière4,5.
Sarde est un homme fidèle à certaines valeurs comme l'amitié et, outre Claude Sautet, il va développer une collaboration très suivie avec certains cinéastes, dont André Téchiné, Jacques Doillon, Pierre Granier-Deferre, Georges Lautner, Marco Ferreri, Laurent Heynemann ou Bertrand Tavernier.
Sa personnalité exigeante et son perfectionnisme musical ne connaissent pas (ou peu) de limites et Sarde n'hésite pas à demander aux musiciens ou orchestres les plus renommés de venir travailler sur ses partitions : le saxophoniste Stan Getz (sur Mort d'un pourri), le trompettiste Chet Baker (sur Flic ou Voyou), le violoniste Stéphane Grappelli, le London Symphony Orchestra, etc.
Il se définit lui-même comme un "scénariste musical", dont le rôle est d'exprimer musicalement ce que le réalisateur ne peut traduire par les images6.
Toujours à la recherche de nouvelles sonorités où le répertoire classique côtoie une écriture contemporaine parfois proche de l'atonalité, la musique de Sarde combine souvent différentes instrumentations assez singulières. À ce titre, sa partition pour le film La Guerre du feu constitue un point d'orgue dans sa filmographie imposante, où il combine deux orchestres, des chœurs, des solistes et des percussions dans un style avant-gardiste.
Il n'hésite pas non plus à retravailler certains de ses thèmes musicaux pour en proposer de nouvelles variations sur d'autres films : c'est le cas pour le thème musical du film Le Chat qui sera ré-exploité sur un autre film, ou du thème pour le film Le Choc, réutilisé sur The Manhattan Project par exemple.
Le succès de sa musique pour le film Tess et sa proposition pour l'Oscar de la meilleure musique en 1981 lui ouvrent les portes de Hollywood avec le film Le Fantôme de Milburn.
Mais toujours fidèle à son éthique qui lui dicte ses choix professionnels, il ne mènera qu'une carrière timide aux États-Unis, contrairement à ses illustres aînés tels Georges Delerue ou Maurice Jarre.
Depuis plusieurs années, quelque peu déçu par le cinéma français, il a considérablement ralenti sa cadence. Il n'accepte plus que des projets qui lui tiennent à cœur et il se consacre prioritairement à des œuvres expérimentales et confidentielles.
Philippe Sarde se marie avec Florence Nave (fille de Jacqueline Nave et Marcel Anthonioz) en avril 1990, mais ils divorcent un an plus tard. En 1994, il épouse Clotilde Burrer, avec qui il a deux filles : Ponette (née en 1998) et Liza (née en 1999).
Depuis 2010, le nom de Philippe Sarde n'apparaît pas ou plus au générique des films. Les réalisateurs de prédilection ont disparu : Lautner, Ferreri, Granier-Deferre, Boisset. Quant à Jacques Doillon et André Téchiné, ils ne semblent plus faire appel à lui, préférant se tourner vers des musiciens issus de la nouvelle génération.
Philippe Sarde (born 21 June 1948) is a French film composer. Considered among the most versatile and talented French film composers of his generation,Sarde has scored over two hundred films, film shorts, and television mini-series.He received an Academy Award nomination for Tess (1979), and twelve César Award nominations, winning for Barocco (1976) and The Judge and the Assassin (1976). In 1993, Sarde received the Joseph Plateau Music Award.
Selected filmography:
• The Things of Life (Les choses de la vie) (1970)
• Max et les Ferrailleurs (1971)
• Le Chat (1971)
• Liza (1972)
• César and Rosalie (1972)
• La Grande Bouffe (1973)
• Deux hommes dans la ville (Two Men in Town) (1973)
• The Train (1973)
• La Valise (1973)
• The Clockmaker (L' Horloger de Saint-Paul) (1974)
• Don't Touch the White Woman! (1974)
• Lancelot du Lac (Lancelot of the Lake) (1974)
• Icy Breasts (Les seins de glace) (1974)
• Vincent, François, Paul and the Others (1974)
• The Judge and the Assassin (Le juge et l'assassin) (1976)
• The Tenant (1976)
• Barocco (1976)
• The Purple Taxi (Un taxi mauve) (1977)
• The Devil Probably (Le diable probablement) (1977)
• Spoiled Children (Des enfants gâtés) (1977)
• Madame Rosa (La vie devant soi) (1977)
• Le Crabe-tambour (1977)
• Parisian Life (1977)
• Death of a Corrupt Man (Mort d'un pourri) (1977)
• Bye Bye Monkey (1978)
• A Simple Story (Une histoire simple) (1978)
• Le sucre (1978)
• Seeking Asylum (Chiedo asilo) (1979)
• Tess (1979)
• The Medic (Le Toubib) (1979)
• Buffet froid (1979)
• The Woman Cop (La Femme flic) (1980)
• Le Guignolo (1980)
• Tales of Ordinary Madness (1981)
• Beau-père (1981)
• Birgitt Haas Must Be Killed (1981)
• Coup de Torchon (1981)
• Hotel America (Hôtel des Amériques) (1981)
• Ghost Story (1981)
• Le Choix des armes [fr] (1981)
• Quest for Fire (La Guerre du feu) (1981)
• L'étoile du nord (1982)
• Le choc (1982)
• A Captain's Honor (L'Honneur d'un capitaine) (1982)
• The Story of Piera (1983)
• Lovesick (1983)
• Fort Saganne (1984)
• Rendez-vous (1985)
• Joshua Then and Now (1985)
• Harem (1985)
• My Brother-in-Law Killed My Sister (1986)
• Pirates (1986)
• Scene of the Crime (Le Lieu du crime) (1986)
• The Manhattan Project (1986)
• Every Time We Say Goodbye (1986)
• State of Grace (1986)
• Quelques jours avec moi (A Few Days with Me) (1988)
• The Bear (L'Ours) (1988)
• Lost Angels (1989)
• Reunion (L' Ami Retrouvé) (1989)
• Music Box (1989)
• Lord of the Flies (1990)
• The Little Gangster (Le Petit Criminel) (1990)
• Eve of Destruction (1991)
• The Old Lady Who Walked in the Sea (1991)
• I Don't Kiss (J'embrasse pas) (1991)
• L.627 (1992)
• The Little Apocalypse (La petite apocalypse) (1993)
• Le Jeune Werther (1993)
• My Favorite Season (Ma saison préférée) (1993)
• Uncovered (1994)
• Revenge of the Musketeers (1994)
• Nelly and Mr. Arnaud (Nelly et Mr. Anaud) (1995)
• Thieves (Les Voleurs) (1996)
• Ponette (1996)
• Lucie Aubrac (1997)
• On Guard (Le Bossu) (1997)
• Alice and Martin (Alice et Martin) (1998)
• Mademoiselle (2001)
• Strayed (Les égarés) (2003)
• Les Sœurs fâchées (2004)
• A Less Bad World (2004)
• Colette, une femme libre (2004) – TV Mini-Series
• The Perfume of the Lady in Black (2005)
• Je m'appelle Élisabeth (2006)
• The Witnesses (Les témoins) (2007)
• The Girl on the Train (La Fille du RER) (2009)
• The Princess of Montpensier (2010)
• The Matchmaker (2010)[2]
• Streamfield, les carnets noirs (2010)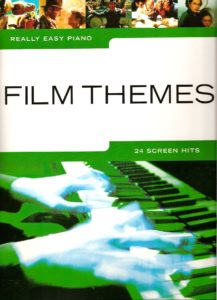 Browse in the Library:
and subscribe to our social channels for news and music updates: