Search Posts by Categories:
and subscribe to our social channels for news and music updates:
George Gershwin at the Piano – Fascinating rhythm (with sheet music)
"Fascinating Rhythm" is a popular song written by George Gershwin in 1924 with lyrics by Ira Gershwin (sheet music available)
It was first introduced by Cliff Edwards, Fred Astaire and Adele Astaire in the Broadway musical Lady Be Good. The Astaires also recorded the song on April 19, 1926, in London with George Gershwin on the piano (English Columbia 3968 or 8969).
Many recorded versions exist. One of the rarest recordings[citation needed] is one by Joe Bari (a pseudonym of Anthony Dominick Benedetto, later better known as Tony Bennett) for Leslie Records in 1949 and issued as catalog number 919 with "Vieni Qui" as the flip side. Having rerecorded it as a duet with Diana Krall in 2018 for their duet album Love Is Here to Stay, he currently holds the Guinness World Record for the "longest time between the release of an original recording and a re-recording of the same single by the same artist".
"Fascinating Rhythm" inspired the riff to the 1974 Deep Purple song "Burn".
The 1926 Astaire/Gershwin version and a 1938 version by Hawaiian steel guitarist Sol Hoʻopiʻi have both been added to the Library of Congress's National Recording Registry of "culturally, historically, or aesthetically important" American sound recordings.
George Gershwin (born Jacob Bruskin Gershowitz, September 26, 1898 – July 11, 1937) was an American composer and pianist whose compositions spanned both popular and classical genres. Among his best-known works are the orchestral compositions Rhapsody in Blue (1924) and An American in Paris (1928), the songs "Swanee" (1919) and "Fascinating Rhythm" (1924), the jazz standard "I Got Rhythm" (1930), and the opera Porgy and Bess (1935) which spawned the hit "Summertime".
Gershwin studied piano under Charles Hambitzer and composition with Rubin Goldmark, Henry Cowell, and Joseph Brody. He began his career as a song plugger but soon started composing Broadway theater works with his brother Ira Gershwin and with Buddy DeSylva. He moved to Paris intending to study with Nadia Boulanger, but she refused him. He subsequently composed An American in Paris, returned to New York City and wrote Porgy and Bess with Ira and DuBose Heyward. Initially a commercial failure, it came to be considered one of the most important American operas of the twentieth century and an American cultural classic.
Gershwin moved to Hollywood and composed numerous film scores. He died in 1937 of a malignant brain tumor. His compositions have been adapted for use in film and television, with several becoming jazz standards recorded and covered in many variations.
Gershwin was influenced by French composers of the early twentieth century. In turn Maurice Ravel was impressed with Gershwin's abilities, commenting, "Personally I find jazz most interesting: the rhythms, the way the melodies are handled, the melodies themselves. I have heard of George Gershwin's works and I find them intriguing." The orchestrations in Gershwin's symphonic works often seem similar to those of Ravel; likewise, Ravel's two piano concertos evince an influence of Gershwin.
George Gershwin asked to study with Ravel. When Ravel heard how much Gershwin earned, Ravel replied with words to the effect of, "You should give me lessons." (Some versions of this story feature Igor Stravinsky rather than Ravel as the composer; however Stravinsky confirmed that he originally heard the story from Ravel.)
Gershwin's own Concerto in F was criticized for being related to the work of Claude Debussy, more so than to the expected jazz style. The comparison did not deter him from continuing to explore French styles. The title of An American in Paris reflects the very journey that he had consciously taken as a composer: "The opening part will be developed in typical French style, in the manner of Debussy and Les Six, though the tunes are original."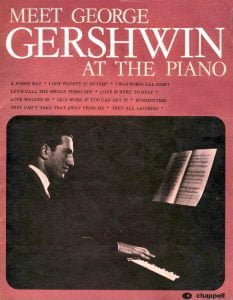 Search Posts by Categories:
and subscribe to our social channels for news and music updates: