Follow @LibrarySheet
Jocelyn Pook – Untold Things (full album)
As a viola player, Pook played with many pop acts, including The Communards and Massive Attack. Her career as a film composer took off when music from her album 'Flood' were used in Stanley Kubrick's film, 'Eyes Wide Shut' with Tom Cruise (pictured). Pook has since worked on the 2004 film version of 'The Merchant of Venice' and a short opera, 'Ingerland', for the Royal Opera.

Jocelyn Pook – Dionysus (Gangs of New York)
Red Song
Upon This Rock – Jocelyn Pook
Yellow Fever Psalm
Hell, Fire and Damnation
Take Off Your Veil
The Last Day – Jocelyn Pook
Saints and Sinners
Butterfly Song
Calls, Cries and Clamours
Saffron
Ave Maria
Brick Lane – Adam's Lullaby (Jocelyn Pook)

01 – Dionysus (Gangs of New York) 02 – Red Song 03 – Upon This Rock 04 – Yellow Fever Psalm 05 – Hell, Fire And Damnation 06 – Take Off Your Veil 07 – The Last Day 08 – Saints And Sinners 09 – Butterfly Song 10 – Calls, Cries And Clamours 11 – Saffron 12 – Ave Maria 13 – Adams Lullaby
"This otherworldly, ethereal sonic and vocal experience could fit into many categories — world music, ambient, new age, even classical.
An accomplished cellist and composer, Pook earned broad critical acclaim for her eclectic fusion of classicism and unorthodoxy (also her stock-in-trade as a string player and arranger for Peter Gabriel, PJ Harvey, Morrissey, and Siouxsie Sioux) in the music for Stanley Kubrick's Eyes Wide Shut.
This hypnotic disc is above all else a unique creative vision, mixing obscure medieval instruments with strings, talking drums, and casual everyday sounds like birdsongs and children's playground chatter.
"Dionysus" features a heartbeat-like synth groove behind a soaring wordless vocal and chant; the result is an ambient tranquility, which is slightly disrupted by the exotic wailing behind the gentler chanting and laid-back harp melody of "Red Song."
"Yellow Fever Song" features an easier-to-handle chant vocal over a dramatic wall of strings, while "Hell Fire and Damnation" broods along darkly with a distant mandolin sound over its percussive chamber sound. "The Last Day" comes across like a cello elegy — dark and haunting classical chamber music.
Pook's wild blends of seemingly everything under the sun may not be everybody's cup of tea, but it's bound to grab a lot of attention because nothing else in popular music comes close to approaching its thought-provoking oddness."
Jonathan Widran
Search Posts by Categories:
and subscribe to our social channels for news and music updates: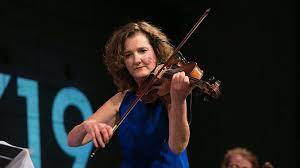 Jocelyn Pook is one of the UK's most versatile composers, having written extensively for stage, screen, opera house and concert hall. She has established an international reputation as a highly original composer, winning her numerous awards and nominations including a BAFTA, Olivier (King Charles III), Golden Globe (Eyes Wide Shut), and two British Composer Awards (Speaking in Tunes, DESH).

Pook graduated from the Guildhall School of Music and Drama in 1983, where she studied viola. She then embarked on a period of touring and recording with artists such as Peter Gabriel, Massive Attack, Laurie Anderson and PJ Harvey and as a member of the Communards. Pook tours extensively with the Jocelyn Pook Ensemble, performing her own repertoire, music from her albums and film scores.

Recent projects include the film score to Björn Runge's The Wife (2018) with Glenn Close and the score to true-crime documentary The Staircase by Jean-Xavier de Lestrade, both released as digital albums in 2018.
Recent premieres include Memorial, a large-scale music theatre work with music by Pook and performed by her ensemble at Adelaide Festival, Brisbane Festival and London's Barbican Theatre; and the world premiere of the final part of her mental health trilogy, Hysteria, at Hoxton Hall, London.