Search Posts by Categories:
and subscribe to our social channels for news and music updates:
Federic Mompou (Catalan composer and pianist, 1893-1987).
El Pont de Montjuïc. Piano: Marcel Worms.
Mompou is best known as a miniaturist, writing short, relatively improvisatory music, often described as "delicate" or "intimate". His principal influences were French impressionism, Erik Satie and Gabriel Fauré, resulting in a style in which musical development is minimized and expression is concentrated into very small forms.
He was fond of ostinato figures, bell imitations (his mother's family owned the Dencausse bell foundry and his grandfather was a bell maker), and a kind of incantatory, meditative sound, the most complete expression of which can be found in his masterpiece Musica Callada (or the Voice of Silence) based on the mystical poetry of Saint John of the Cross.
Mompou was also influenced by the sounds and smells of the maritime quarter of Barcelona, the cry of seagulls, the sound of children playing and popular Catalan culture. He often dispensed with bar lines and key signatures. His music is rooted in the chord G♭-C-E♭-A♭-D, which he named Barri de platja (the Beach Quarter).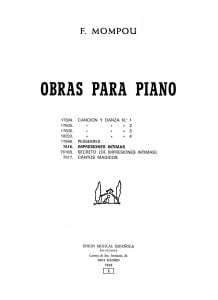 Search Posts by Categories:
and subscribe to our social channels for news and music updates:
After studying at the conservatory in his hometown of Barcelona,
Federico Mompou went to Paris to study piano under Isidor Philipp at the Conservatoire de Paris in 1911. At this time his main influences were the French impressionists, as well as Eric Satie and Gabriel Fauré, whom he had heard as a nine-year-old boy in a concert in Barcelona.
The impact of this concert was so profound, inspiring him to become a composer.
In 1914, after the outbreak of World War One, Mompou returned to Barcelona, where he composed his first important works: the "Impresiones intimas", "Cants Màgics" and "Escenas de Ninos". "Pessebres" is a smaller group of pieces also written during this period.
In 1921, Mompou returned to Paris, where his music was already performed in public regularly. Being very shy, he himself used to play his works in private soirées only. Due to a lack of money, Mompou had to find other sources of income, which led him away from music into several business ventures, among which were a confisserie, and even a bell foundry.
In 1937, he stopped composing completely for a few years.