Browse in the Library:
and subscribe to our social channels for news and music updates:
Search Posts by Categories:
Philip Glass – Music from The Hours | complete (piano solo)
0:00 The Poet Acts 3:39 Morning Passages 8:32 Something She Has to Do 11:00 I'm Going to Make a Cake 14:08 An Unwelcome Friend 17:51 Dead Things 22:23 Why Does Someone Have to Die? 25:58 Tearing Herself Away 30:13 Escape! 33:05 Choosing Life 36:05 The Hours
Piano solo by Michael Riesman and Nico Muhly
The Hours is the original soundtrack album, on the Elektra/Nonesuch label, of the 2002 film The Hours, starring Nicole Kidman, Meryl Streep and Julianne Moore. The original score was composed by Philip Glass.
Not all of the music in the film was composed specifically for it: earlier music by Glass, including a theme from his opera Satyagraha, was also featured and credited separately at the end of the film.
The album won the BAFTA Award for Best Film Music. It was also nominated for the Academy Award for Best Original Score, the Golden Globe Award for Best Original Score and the Grammy Award for Best Score Soundtrack Album for a Motion Picture, Television or Other Visual Media (lost to the score of the film The Lord of the Rings: The Two Towers).
Michael Riesman and Nico Muhly arranged the soundtrack for piano solo. This score was published in 2003 as a 64-paged book containing most of the tracks (excluding "For Your Own Benefit", "Vanessa and the Changelings" and "The Kiss").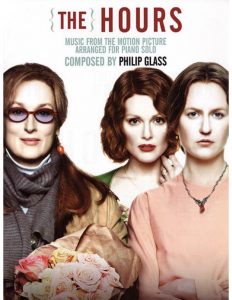 Browse in the Library:
and subscribe to our social channels for news and music updates: