John Coltrane Quartet – "Lonnie's Lament"
John Coltrane – sax
McCoy Tyner – piano
Elvin Jones – drums
Jimmy Garrison – bass
John Coltrane was born in a small North Carolina town on Sept. 23, 1926. His childhood was marked by tragedy: At age twelve, Coltrane's father, grandparents, and aunt all died within a few months' time, leaving his mother and cousin to raise him. John's childhood also gave him his first musical experiences: In school, he took up the clarinet and alto horn, later switching to the saxophone. John moved to Philadelphia at the age of 17, playing his first professional gigs a few years later.
The specter of World War II loomed large in the mid-1940s, and in 1945 John enlisted in the Navy to avoid the draft he knew was coming. During his service, his musical talent secured him a place in a Navy base swing band, and it was during this service that he would record his first tracks.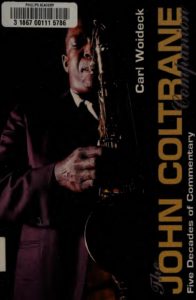 After his discharge, Coltrane moved back to Philadelphia and began playing in a band led by saxophonist Jimmy Heath, while studying jazz and music theory with guitarist Dennis Sandole. He remained in Philadelphia for about ten years, performing and studying. During this period, he would also transition to playing tenor saxophone full-time.
In the summer of 1955, Coltrane joined a brand-new quintet founded by trumpeter Miles Davis, who was already a jazz celebrity at the time. This quintet would record a famous set of four jazz albums in the space of one year, all under the name the 'Miles Davis Quintet.' The quartet of albums–titled Cookin', Steamin', Workin', and Relaxin'–features some of Coltrane's most famous early playing. His solo on 'If I Were A Bell' from Relaxin', recorded when Coltrane was just 30 years old, showcases his tremendous gift for melodic playing and his distinctive tenor sax sound.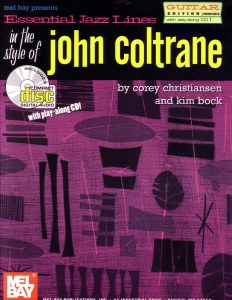 Shortly after recording with Miles, Coltrane released his debut as a bandleader: Blue Train, released in 1957 and featuring almost entirely original compositions. Some of Coltrane's tunes from this album, including 'Moment's Notice' and 'Lazy Bird,' have entered the jazz repertoire and are often covered by jazz musicians today.
Blue Train demonstrated to the world Coltrane's talent for composition, and he would go on to develop that talent in later projects. His most famous innovation is a strategy for harmonizing melodies that has come to be called the Coltrane matrix or Coltrane changes. The Coltrane matrix involves changing the harmonies underneath a melody by thirds, an unconventional motion that wasn't commonly found in jazz or other Western music. Doing so gives the music an unstable, shifting key center and a distinctive sound.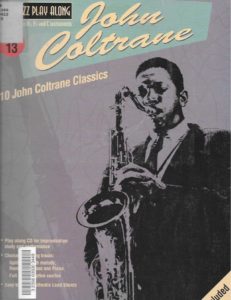 After a brief return to Miles Davis' band for Birth of the Cool and Milestones, Coltrane moved back to his own projects in the late 1950s. 1960 saw the release of his monumental album Giant Steps, once again featuring original compositions. Many of the album's tracks, including the title track, feature heavy use of the Coltrane matrix. One tune, 'Countdown,' is notable as a contrafact, a tune whose form and harmonic structure are borrowed from another song but with a new melody. Countdown is a contrafact of Miles Davis's 'Tune Up,' replacing key moments in the harmony with Coltrane changes.
Coltrane tried and failed to kick heroin in the summer of 1956, and in October, Davis fired him, though the trumpeter had relented and taken him back by the end of November. Early in 1957, Coltrane formally signed with Prestige as a solo artist, though he remained in the Davis band and also continued to record as a sideman for other labels. In April, Davis fired him again. This may have given him the impetus to finally kick his drug habit, and freed of the necessity of playing gigs with Davis, he began to record even more frequently.
On May 31, 1957, he finally made his recording debut as a leader, putting together a pickup band consisting of trumpeter Johnny Splawn, baritone saxophonist Sahib Shihab, pianists Mal Waldron and Red Garland (on different tracks), bassist Paul Chambers, and drummer Al "Tootie" Heath. They cut an album Prestige simply titled Coltrane upon release in September 1957. (It has since been reissued under the title First Trane.)
John Coltrane is sometimes described as one of jazz's most influential musicians, and certainly there are other artists whose playing is heavily indebted to him. Perhaps more to the point, Coltrane is influential by example, inspiring musicians to experiment, take chances, and devote themselves to their craft. The controversy about his work has never died down, but partially as a result, his name lives on and his recordings continue to remain available and to be reissued frequently.
John Coltrane wrote and recorded a considerable amount of material over the final two years of his life in which his work was described as avant-garde, steeped in poignant spirituality for some while spurned by others. In 1966 he recorded the last two albums to be released while he was alive — Kulu Se Mama and Meditations. The album Expression was finalized just days before his death. He died at only 40 years old from liver cancer on July 17, 1967, in Huntington, Long Island, New York, survived by his second wife and four children.
A voracious reader noted for his gentleness, Coltrane had an immense impact on the music world. He revolutionized jazz with his innovative, demanding techniques while showing a deep reverence for sounds from other locales that included Africa, Latin America, the Far East and South Asia. Having received a 1981 Grammy posthumously for the live recording Bye Bye Blackbird, in 1992 Coltrane was given the Grammy Lifetime Achievement Award as well, with an array of unearthed recordings and reissues released in the years since his death. In 2007, the Pulitzer Prize Board also awarded the musician a special posthumous citation. Coltrane's work continues to be an integral part of the sonic landscape and a major inspiration for newer generations of artists.
Search Posts by Categories:
and subscribe to our social channels for news and music updates: