Browse in the Library:
and subscribe to our social channels for news and music updates:
Jazz Play Along – Play Jazz Standards 'Round Midnight' Words Bernie Hanighen Music Cootie Williams and Thelonius Monk (piano) – Free sheet Music here.
"Round Midnight" is a 1944 composition by pianist Thelonious Monk that quickly became a jazz standard and has been recorded by a wide variety of artists. A version recorded by Monk's quintet was added to the Grammy Hall of Fame in 1993. It is the most recorded jazz standard composed by a jazz musician.
Thelonious Sphere Monk (Oct. 10, 1917– Feb. 17, 1982) was an American jazz pianist and composer. He had a unique improvisational style and made numerous contributions to the standard jazz repertoire, including "'Round Midnight", "Blue Monk", "Straight, No Chaser", "Ruby, My Dear", "In Walked Bud", and "Well, You Needn't".
Monk is the second-most-recorded jazz composer after Duke Ellington, which is particularly remarkable as Ellington composed more than a thousand pieces, whereas Monk wrote about 70. Many of Monk's jazz transcription can be found in our sheet music Library.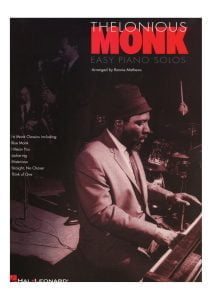 It is thought that Monk composed the song sometime in 1940 or 1941. However, Harry Colomby claims that Monk may have written an early version around 1936 (at the age of 19). The song was copyrighted September 24, 1943 in C minor under the title "I Need You So", and included lyrics by Monk himself.
Monk's compositions and improvisations feature dissonances and angular melodic twists and are consistent with his unorthodox approach to the piano, which combined a highly percussive attack with abrupt, dramatic use of switched key releases, silences, and hesitations. His style was not universally appreciated; the poet and jazz critic Philip Larkin dismissed him as "the elephant on the keyboard"
Monk was renowned for a distinct look which included suits, hats, and sunglasses. He was also noted for an idiosyncratic habit during performances: while other musicians continued playing, Monk would stop, stand up, and dance for a few moments before returning to the piano.
In 1993, he was awarded the Grammy Lifetime Achievement Award. In 2006, he was awarded a special Pulitzer Prize for "a body of distinguished and innovative musical composition that has had a significant and enduring impact on the evolution of jazz".
The Thelonious Monk Institute of Jazz was established in 1986 by the Monk family and Maria Fisher. Its mission is to offer public school-based jazz education programs for young people around the globe, helping students develop imaginative thinking, creativity, curiosity, a positive self-image, and a respect for their own and others' cultural heritage. In addition to hosting an annual International Jazz Competition since 1987, the Institute also helped, through its partnership with UNESCO, designate April 30, 2012, as the first annual International Jazz Day.
Monk was inducted into the North Carolina Music Hall of Fame in 2009.