Search Posts by Categories:
and subscribe to our social channels for news and music updates:
Kurt Julian Weill (March 2, 1900 – April 3, 1950) was a German composer, active from the 1920s in his native country, and in his later years in the United States. He was a leading composer for the stage who was best known for his fruitful collaborations with Bertolt Brecht. With Brecht, he developed productions such as his best-known work The Threepenny Opera, which included the ballad "Mack the Knife". Weill held the ideal of writing music that served a socially useful purpose. He also wrote several works for the concert hall. He became a United States citizen on August 27, 1943.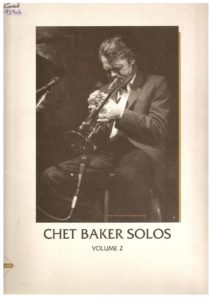 Chet Baker
Chet Baker was born in Oklahoma to musical parents; his father was a professional guitarist, and his mother was a pianist, and they greatly encouraged his musical pursuits. At the peak of the great depression, the family relocated to California; Chet's father eventually had to stop performing, and took a more conventional job, but never discouraged his son from following his muse.
Baker sang in the local church choir, and his father bought him a trombone, which he later traded for a more manageable trumpet. By all accounts, Baker had a natural talent for the instrument, and was a preternaturally gifted musician—which is remarkable considering he was mostly self-taught, with little or no formal instruction. In the early 50s, Baker was chosen for a series of concerts in a west coast appearance by Charlie Parker, then gigged regularly with Stan Getz and later with Gerry Mulligan. And eventually was signed to the Pacific Jazz label, where he made a number of well-received recordings that placed him clearly in the spotlight. 
At the peak of his career, Chesney "Chet" Baker represented the epitome of jazz cool, and along with the likes of Dave Brubeck, Paul Desmond, Gerry Mulligan, and Stan Getz was one of the principal figures of the "West Coast Jazz" movement centered between San Francisco and Los Angeles. Baker relished living the fast life, and his well-documented heroin addiction and increasingly erratic behavior helped define his career—especially in his later years.
He was the embodiment of the classic jazz story of romanticism intertwined with tragedy that spanned most of his forty year career as a performer. The charisma that he exuded in his earliest performances (he was quickly pronounced the "prince of cool") still grabs listeners to this day, only building his mystique in the decades since his untimely death in 1988.
Someone brought the little-known tune "My Funny Valentine" to his attention in 1952, and it became a regular part of his live shows (and his identity), and became his signature tune from that point on. He sang it for the first time on 1954's Chet Baker Sings; his cool and offbeat vocal rendering of the Rodgers and Hart song became a huge hit for him.
Chet Baker's almost falsetto singing style is singular among jazz vocalists, and with It Could Happen To You, he brought his artistry to new heights. All the songs are standards or taken from Tin Pan Alley, but Baker makes them his own with his inimitable, hipster approach to the songs; on several, he doesn't even play trumpet, but his mellifluous scatting at times almost resembles the tone of his instrument.
Baker's vocal stylings and the somewhat off-kilter and seriously slowed-down arrangements render songs like "I'm Old Fashioned," "It Could Happen To You," "Everything Happens To Me," and "How Long Has This Been Going On" almost melodically unrecognizable, but nonetheless enjoyable. 
And Baker mines from his previous successes by featuring no fewer than three tunes from Rodgers and Hart, two of which—"Do It The Hard Way" and "My Heart Stood Still"—I'd never previously heard. The accompaniment—though relatively minimal, especially for a vocal album in the Fifties, which generally always seemed to require a full orchestra—is stellar, perfectly complementing Baker's lyrical vocal tone. While for some, Chet Baker's unique voice may be something of an acquired taste, It Could Happen To You is undeniably the crème de la crème of his recorded vocal legacy.
He won reader polls for best jazz vocalist in 1954, and between 53 and 56, Baker regularly won polls in Metronome and Down Beat, beating both Miles Davis and Clifford Brown for best trumpet player. In 1958, he signed a four album deal with Riverside Records, and went to New York City over the next year to record some of his most important albums with some of the biggest names in jazz and hard bop. He was unquestionably at the pinnacle of his career.
Less than a month after the conclusion of the sessions for It Could Happen To You, Baker was back in the studio for his next Riverside album, Chet Baker In New York. This time, Orrin Keepnews was on board, and he helped engage another stellar group of sidemen for the project. Including the criminally underrated Johnny Griffin on tenor sax, with Al Haig on piano, Paul Chambers on bass, and with Philly Joe Jones making a second appearance with Baker on drums.
Search Posts by Categories:
and subscribe to our social channels for news and music updates:
Whereas the previous vocal album prominently highlighted Baker's "let's slow this down to a crawl" West Coast aesthetic, Chet Baker In New York really cooks at times, presenting Chet Baker probably for the first time with more of a hard-bop sensibility.