Browse in the Library:
and subscribe to our social channels for news and music updates:
Bill Evans – Alice in Wonderland (cover playing Fender Rhodes Mark I 73) with sheet music
William John Evans (Aug. 16, 1929 – Sept. 15, 1980) was an American jazz pianist and composer who mostly played in trios. His use of impressionist harmony, inventive interpretation of traditional jazz repertoire, block chords, and trademark rhythmically independent, "singing" melodic lines continue to influence jazz pianists today. Many Evans transcription can be found in our Library.
Born in Plainfield, New Jersey, in 1929, he was classically trained at Southeastern Louisiana University and the Mannes School of Music, where he majored in composition and received the Artist Diploma. In 1955, he moved to New York City, where he worked with bandleader and theorist George Russell. In 1958, Evans joined Miles Davis's sextet, which in 1959, then immersed in modal jazz, recorded Kind of Blue, the best-selling jazz album of all time. During that time, Evans was also playing with Chet Baker for the album Chet.
In late 1959, Evans left the Miles Davis band and began his career as a leader, with bassist Scott LaFaro and drummer Paul Motian, a group now regarded as a seminal modern jazz trio. In 1961, ten days after finishing an engagement at the New York Village Vanguard jazz club, LaFaro died in a car accident. After months of seclusion, Evans reemerged with a new trio, featuring bassist Chuck Israels.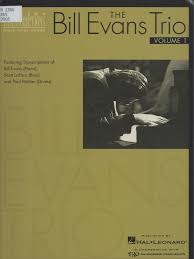 In 1963, Evans recorded Conversations with Myself, a solo album using the unconventional technique of overdubbing himself. In 1966, he met bassist Eddie Gómez, with whom he worked for 11 years.
Many of Evans's compositions, such as "Waltz for Debby", have become standards, played and recorded by many artists. Evans received 31 Grammy nominations and seven awards, and was inducted into the Down Beat Jazz Hall of Fame.
Alice in Wonderland is the theme song composed by Sammy Fain for the Walt Disney 1951 animated film Alice in Wonderland. It was performed by The Jud Conlon Chorus and The Mellomen. The lyrics were written by Bob Hilliard and were arranged by Harry Simeone for treble voices.
The song plays during the opening and end credits. Izumi Yukimura sang her own theme song for the Japanese release of the film. The "dreamy" song has become a jazz standard that has been performed by Bill Evans, Oscar Peterson, Dave Brubeck, and others. In his book The History of Jazz, Ted Gioia cites "Alice in Wonderland" as one of Evans's most beautiful performances, likening its "pristine beauty" to his "Waltz for Debby".
Bill Evans recorded it at the Village Vanguard, which featured on his 1961 album Sunday at the Village Vanguard. Rosemary Clooney recorded the ballad with "The Unbirthday Song" which also appeared on the soundtrack to the movie, and Michael Feinstein has also recorded it along with the other songs from the movie in a medley. The original recording for the film was in the key of G major, but the jazz standard is usually played in C major as it was by both Evans and Peterson.
Browse in the Library:
and subscribe to our social channels for news and music updates: