Browse in the Library:
and subscribe to our social channels for news and music updates: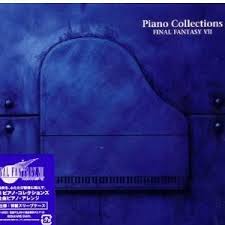 ---
"Aerith's Theme"
"Aerith's Theme" (エアリスのテーマ, Earisu no Tēma?) or "Aeris's Theme", is Aerith Gainsborough's eponymous theme originating from Final Fantasy VII. It was composed by Nobuo Uematsu.
It contains elements of "Aria di Mezzo Carattere" from Final Fantasy VI. Elements of "Aerith's Theme" independent of "Aria di Mezzo Carattere" are also present in "Yuna's Theme" from Final Fantasy X.
Nobuo Uematsu's beautiful theme is one of the most famous pieces of video game music ever written – and deservedly so.
is one of the founding fathers of video game music. His work – particularly for the epic Final Fantasy series – has inspired scores of composers and introduced a whole generation to the magic of orchestral music.
Aerith is one of the characters in Final Fantasy VII, and this theme appears during the game at key moments for the character.
The first thing we hear is a yearning melody, gently falling and rising. It's simple, but memorable – like a song remembered from childhood.
"Aerith's Theme" plays three times: during Elmyra Gainsborough's flashback where she tells the party of Aerith's childhood; during the fight with Jenova∙LIFE and during the preceding scene; and when the party remembers Aerith's sacrifice before raiding the Northern Cave. A short phrase of the theme is heard in the scene where Cloud sees Aerith's hand reach out for him from the lifestream in the ending. "Flowers Blooming in the Church"
"Flowers Blooming in the Church" is an arrangement of "Aerith's Theme" that plays as the background theme for the Sector 5 slums church and Aerith's house in the Sector 5 Slums, as well as in several in-game cutscenes involving Aerith.
"Aerith's Theme" is the nineteenth track of the Final Fantasy VII: Original Soundtrack third disc; while "Flowers Blooming in the Church" is the twelfth track of the album's first disc.
Lyrics
Japanese
Nagaku tsuzuku kono michi no mukou ni Shinjirareru mono ga kitto aru Kaze no naka no tabibito no you ni Kita no sora o mezashite ikeba Kiekaketa atsui omoi Mou ichido mune no naka de Kagayaki yureru Namida nante koboshitakunai no Yowai jibun ni makenai tame ni Kazaranai kokoro dake ga Motte iru me ni wa mienai Ooki na tsubasa Te o hiroge utainagara Yuukyuu no toki ni dakare Inochi o tsunagu Nagaku tsuzuku kono michi no mukou ni Shinjirareru mono ga kitto aru
English translation
Straight on this long, continuing road There is surely something to believe in Like a traveler in the midst of the wind I have my eyes on the northern sky The passionate feelings That were beginning to vanish Once again sway in radiance in my chest I don't want the tears to spill As so not to lose to my weaker self In eyes holding only an unadorned spirit There are great Unseen wings I open my arms while singing To embrace the perpetuity of time To be tied to life Straight on this long, continuing road There is surely something to believe in