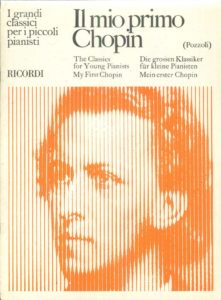 The late opus number assigned to Frédéric Chopin's (1810-1849) E-minor Nocturne is misleading. Though published posthumously as Op. 72 and replete with the drama of his mature works, it was in fact the composer's first nocturne, written when he was just 17 and living in Warsaw.
Nocturne in E minor, Op. posth. 72, No. 1, was composed by Frédéric Chopin for solo piano in 1827. Chopin's first nocturne, it was the 19th to be published, in 1855. The composition features an unbroken line of quaver triplets in the left hand set against a slow melody of minims, crotchets, quaver duplets and triplets. It consists of 57 bars of common time with the tempo given as Andante, 69 bpm.
An informal analysis of the piece is as follows:
Bar 1: Introduction, First Subject.
Bar 2-9: Theme A, in E minor.
Bar 10-17: Variation on theme A, beginning with octaves in the right hand.
Bar 18-22: Interlude
Bar 23-30: Theme B, in B major, consisting of a four bar phrase, repeated with variation, Second Subject.
Bar 31-38: Heavily ornamented variation on A, in E minor, First Subject again.
Bar 39-46: Variation on theme A, beginning with octaves in the right hand.
Bar 47-54: Theme B, modulated to E major, Second Subject again.
Bar 55-57: Coda in E major.
Second entrance of second theme, in E major.
According to Casimir Wierzyknski, in his book The Life and Death of Chopin, "[U]p until then this form [the nocturne] had been the exclusive domain of John Field, an Irish-born composer. But his Nocturne in E minor did not satisfy him [Chopin] and was published only posthumously."
This piece was played by the actor Jeri Ryan while portraying Seven of Nine at the beginning of the Star Trek Voyager episode "Human Error". The piece was also performed by Doc Holiday in the 1993 movie Tombstone and was used as the main theme in The Secret Garden (1987).
The Nocturne in E minor, published after the composer's death by Julian Fontana, was deemed by him to be a work from Chopin's youth, from the year 1827. That date was taken as indisputable. However, Zdzisław Jachimecki wondered at this Nocturne's 'delightful sound'. Accepting Fontana's dating as secure, he could only conclude that he was dealing with 'a clear augury of the supreme master of the nocturnes', and that the ending of this Nocturne sounded like 'a prophecy of the brilliant Nocturne in C sharp minor'.
Tadeusz Zieliński ventured to question Fontana's dating, wondering if this was not in fact the last of Chopin's nocturnes, not published for some unknown reason, but tending to indicate, with its emotional maturity and compositional excellence, the last years of Chopin's life and work.
One is tempted to support that hypothesis by placing further question marks against the previously accepted date. Careful listening to the E minor Nocturne and a discerning awareness of its form allow us to state that in some respects it is similar to the Nocturne in E flat major, Op. 55 No. 2, published by Chopin in 1844. They both display a two-phase form that is unique to the nocturnes, in which the second phase merely reinforces the first. In both, the cantilena of the melody flows along over a regular triple rhythm in the accompaniment. Also in both nocturnes, the second phase features a change from a smooth melody to an agitated recitative, expressively embellished with rapid scale passages and trills.
The question arises as to why Chopin did not publish the Nocturne in E minor. Well, the answer seems obvious. Although it does possess irrefutable qualities, noted and appreciated by Chopin scholars, it cannot compare with the Nocturne in E flat major. Secondly, it is too similar to the latter in many respects. Not in every respect, however. It is certainly more nostalgic than the E flat major, written with less distance and, as Jachimecki put it, reflects 'a melancholy state of mind'.
Browse in the Library:
and subscribe to our social channels for news and music updates: