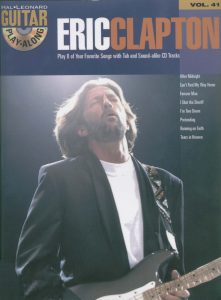 Search Posts by Categories:
and subscribe to our social channels for news and music updates:
ERIC CLAPTON
In the fall of 1967, a London Underground station was spray-painted with the message "Clapton is God." At the time, Eric Clapton (born 1945) was twenty-two years old. It's an outlandish thing to say about anyone; how can they be expected to live up to it, or live it down for that matter?
Eric Clapton is one of rock music's quintessential guitarists. Years before he released an album under his own name he was already an iconic figure on the British music scene.
His legendary status was gained through stints in bands such as The Yardbirds, Cream and Blind Faith. In fact, Clapton is the only artist to be inducted into the Rock and Roll Hall of Fame three times, for his time with The Yardbirds, Cream and also as a solo performer. His influence on rock music and guitar players is immense; yet most of the music he makes is very clearly paying tribute to the musicians that inspired him.
Eric Clapton was born in Surrey, England and raised by his grandparents. Like many of his guitar peers, Clapton was self taught. For his thirteenth birthday, he got a cheap acoustic guitar, so cheap that its high action almost led him to quit in frustration.
According to his autobiography, he spent countless hours listening to and copying American blues musicians like Freddie King, B.B. King and Buddy Guy and you can hear these blues legends' influence in all of Clapton's music.
In 1961 Clapton left school and busked around London, Kingston and Richmond before joining his first band "The Roosters." Two years later, he was lead guitarist for The Yardbirds, a group with a huge cult status as they were the Rolling Stones' replacements at Richmond's Crawdaddy Club. Clapton wore his musical influences on his sleeve during his two years with the band. When their songs steered too close to pop music for Clapton's taste, he quit the band, just as they were racking up their first hit song "For Your Love" in 1965.
Clapton promptly joined John Mayall & the Bluesbreakers for an album of mostly blues covers. By the time the album came out in 1966 Clapton had already left that band as well. He wouldn't be on his own for long. That same year he joined bassist Jack Bruce and drummer Ginger Baker to form the power trio Cream. Remembered today for classic songs like "Sunshine of Your Love," "White Room" and their cover of Robert Johnson's "Crossroads," at the time they were one of England's bluesiest and most psychedelic bands.
Their concerts featured extended jams where each musician showed off their talents by competing to be the loudest. Tensions quickly rose within the band and they soon put together a farewell album and tour. One of their last songs, "Badge," was co-written by Clapton's close friend George Harrison. Around the same time Clapton played lead guitar on the Beatles classic "While My Guitar Gently Weeps."
Following the disintegration of Cream, Clapton teamed up with Cream drummer Ginger Baker and Steve Winwood to form Blind Faith. Their first gig together was in London's Hyde Park before a crowd of 100,000 fans. Less than seven months later, Blind Faith broke up and Clapton found himself weary of the attention and hype of being part of a "supergroup."
But stepping into the background, being more a sideman in a band, wasn't going to be easy. He played guitar for Delaney Bramlett's band (who had opened for Blind Faith) on a U.S. tour, making an appearance on the "Delaney and Bonnie and Friends" album as well. Bramlett encouraged Clapton to continue with his own singing and songwriting and in 1970, he borrowed Bramlett's band with Leon Russell and Stephen Stills to record his first solo album. That album produced the hits "After Midnight" and "Let It Rain."
With the star culture still eating at him, Clapton once again tried to step into the background by putting together the band Derek & The Dominos. The group's sole studio album produced "Layla," a song of unrequited love written for George Harrison's then wife Pattie Boyd, which became one of Clapton's greatest hits. The Layla album itself is mostly blues-based rock, memorable for the heavy doses of slide guitar provided by Duane Allman. The Dominoes toured the U.S. without Duane Allman who returned to work with the Allman Brothers Band before dying in a motorcycle accident in 1971.
When the Dominos expired Clapton finally began a full-fledged solo career. Throughout the seventies, when guitar rock was at its peak, Clapton recorded some of his most enduring songs, such as "Wonderful Tonight," "Cocaine," a cover of Bob Dylan's "Knockin on Heaven's Door" as well as Bob Marley's "I Shot The Sheriff." Despite his successes, the seventies also saw a series of declines caused by recurring problems with drugs and alcohol. Many of these problems would dog his career throughout the following decade as well. In 1988 his career received a suitable retrospective with the career spanning, multi-platinum box set Crossroads. Proving he wasn't going to rest on his laurel's he released the blues rock album Journeyman the following year.
Musically and personally, much of Clapton's life appeared to be back on track. Then tragedy struck in 1991 when his son Connor fell to his death from a New York City apartment window. Much of Clapton's grief was captured in the song "Tears in Heaven," which wound up becoming one of his signature songs. His performance of that song and the reworking of other blues songs in an MTV unplugged special resulted in the strongest album sales of his career. He followed the huge success of Unplugged with an album of blues covers called From The Cradle in 1994. In 2004 Clapton returned with another collection of blues covers, the tribute album Me and Mr. Johnson.
Clapton continues to record and tour today, both with his own band and other collaborators such as Jeff Beck, Steve Winwood and B.B. King. Like many of his contemporaries, Clapton didn't invent anything new. He was more perhaps more instrumental in popularizing blues music for a mainstream audience than anyone else at the time. He is a consummate rock performer, gifted with two voices. His singing is as recognizable as his guitar playing. Those interested in Eric Clapton's life will enjoy his memoirs, which came out in 2007. Eric Clapton: The Autobiography looks back on his life in music and his struggles with overcoming drugs and alcohol, which at times were fused with the music he was making.
In 2014, "Layla" was the 28th most popular name for girls, possibly owing to the fact that Clapton still plays the song live. His 2014 album The Breeze: An Appreciation of JJ Cale was a global hit and includes guest artists such as John Mayer, Tom Petty, Mark Knopfler and Willie Nelson.
Celebrating his 70th birthday in 2015, Clapton performed two shows at Madison Square Gardens. The concerts also commemorated another anniversary: 46 years since Clapton first performed at the arena with Cream, opening the "new" MSG in 1968. Since then, Clapton has appeared at the venue at least 45 times — more than any other place in the U.S.