Browse in the Library:
and subscribe to our social channels for news and music updates:
A major figure in the history of jazz music, Duke Ellington's career spanned more than half a century, during which time he composed thousands of songs for the stage, screen and contemporary songbook.
He created one of the most distinctive ensemble sounds in Western music and continued to play what he called "American Music" until shortly before his death in 1974.
Biography
Born on April 29, 1899, Ellington was raised by two talented, musical parents in a middle-class neighborhood of Washington, D.C. At the age of seven, he began studying piano and earned the nickname "Duke" for his gentlemanly ways. Inspired by his job as a soda jerk, he wrote his first composition, "Soda Fountain Rag," at the age of 15. Despite being awarded an art scholarship to the Pratt Institute in Brooklyn, New York, Ellington followed his passion for ragtime and began to play professionally at age 17.
In the 1920s, Ellington performed in Broadway nightclubs as the bandleader of a sextet, a group which in time grew to a 10-piece ensemble. Ellington sought out musicians with unique playing styles, such as Bubber Miley, who used a plunger to make the "wa-wa" sound, and Joe Nanton, who gave the world his trombone "growl."
At various times, his ensemble included the trumpeter Cootie Williams, cornetist Rex Stewart and alto saxophonist Johnny Hodges. Ellington made hundreds of recordings with his bands, appeared in films and on radio, and toured Europe on two occasions in the 1930s.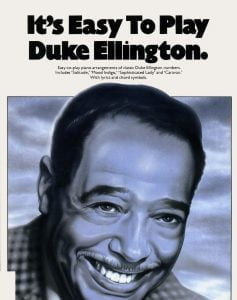 Ellington's fame rose to the rafters in the 1940s when he composed several masterworks, including "Concerto for Cootie," "Cotton Tail" and "Ko-Ko." Some of his most popular songs included "It Don't Mean a Thing if It Ain't Got That Swing," "Sophisticated Lady," "Prelude to a Kiss," "Solitude" and "Satin Doll." A number of his hits were sung by the impressive Ivie Anderson, a favorite female vocalist of Ellington's band.
'Take the A Train'
Perhaps Ellington's most famous jazz tune was "Take the A Train," which was composed by Billy Strayhorn and recorded for commercial purposes on February 15, 1941. "Take the A Train," the "A" referring to a subway line in New York City, took the place of Ellington's previous signature tune "Sepia Panorama."
It was Ellington's sense of musical drama that made him stand out. His blend of melodies, rhythms and subtle sonic movements gave audiences a new experience—complex yet accessible jazz that made the heart swing. Ellington's autobiography, Music Is My Mistress, was published in 1973. Ellington earned 12 Grammy awards from 1959 to 2000, nine while he was alive.
When composer Jerome Kern and lyricist Oscar Hammerstein II teamed up in the mid-1920s to write Show Boat, a groundbreaking musical about life along the Mississippi River, they created one of the most hauntingly beautiful songs of the 20th century — "Ol' Man River." This week marks the 75th anniversary of the most enduring recording of the song — rendered by the actor, singer and civil rights icon Paul Robeson.
Kern and Hammerstein wrote "Ol' Man River" with Robeson in mind, says Murray Horwitz, director of the American Film Institute Silver Theater and Cultural Center. Despite the racism prevalent at the time, the African-American actor had managed to create a sensation on the stage with his 1925 performance in Eugene O'Neill's The Emperor Jones. Robeson's success was a mirror of the determined defiance in the face of oppressive circumstances expressed in the song.
Old Man River: Original Sheet Music Lyrics:
Ol' man river
That ol' man river
He don't say nothing
But he must know something
Cause he just keeps rolling
He keeps rolling along
Rollin' along

He don't plant tators
He don't plant cotton
Them that plants 'em is soon forgotten
But ol' man river
He keeps rolling along

You and me
We sweat and strain
Body all aching
And wracked with pain
Tote that barge
Lift that bale
Get a little drunk
And you land in jail

I gets weary
Sick of trying
I'm tired of living
Feared of dying
But ol' man river
He's rolling along
But by the time Show Boat premiered in December 1927, Robeson was committed to other projects and unable to participate. He did go on to star in the 1928 London production of the musical, and in June of that year, he released his recording of "Ol' Man River." Sung in Robeson's rich, distinctive baritone, it has become for many the definitive version of the song.