Browse in the Library:
and subscribe to our social channels for news and music updates:
Two Live Duet Albums
Shortly after disbanding RTF, Chick and Herbie Hancock teamed up in early 1978 for a tour playing duets exclusively on acoustic pianos. Their chemistry was documented on two separate recordings: 1978's Corea/Hancock and 1980s An Evening with Herbie Hancock and Chick Corea, a two-LP set that featured renditions of Chick's "La Fiesta" and Herbie's "Maiden Voyage" along with expressive takes on Béla Bartok's "Mikrokosmos" and the standard that Miles Davis made so popular, "Someday My Prince Will Come."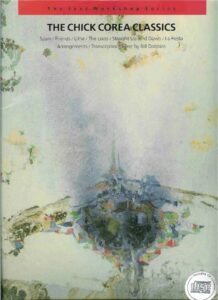 Also in 1978, a year marked by a flurry of activity, Chick released The Mad Hatter, with original RTF saxophonist Joe Farrell, drummer Steve Gadd and former Bill Evans Trio bassist Eddie Gomez, and followed up with the wide-open blowing date Friends, featuring the same stellar crew. Before the year was out, Chick also managed to record the provocative Delphi I: Solo Piano Improvisations.
At the beginning of 1981, Chick recorded Three Quartets, a classic swinging encounter with tenor sax great Michael Brecker, bassist Eddie Gomez and drummer Steve Gadd.
Later that year he toured in an all-star quartet with saxophonist Joe Henderson, bassist Gary Peacock and drummer Roy Haynes. Their near-telepathic post-bop chemistry was documented on the exhilarating Live in Montreux.
That same year, Chick also had a reunion with bassist Miroslav Vitous and drummer Roy Haynes for the double LP Trio Music, released 13 years after their landmark recording, Now He Sings, Now He Sobs.
The year 1982 yielded such gems as the Spanish-tinged Touchstone (featuring flamenco guitar great Paco de Lucia and a reunion of Chick's RTF band mates Al Di Meola, Lenny White and Stanley Clarke on the aptly-titled "Compadres"), the adventurous Again and Again (a quintet date featuring the remarkable flutist Steve Kujala), Chick's ambitious Lyric Suite for Sextet (a collaboration with vibraphonist Gary Burton augmented by string quartet) and The Meeting (a duet encounter with renowned classical pianist Friedrich Gulda).
DOWNLOAD THE BEST SHEET MUSIC FROM THE LIBRARY.