Search Posts by Categories:
and subscribe to our social channels for news and music updates: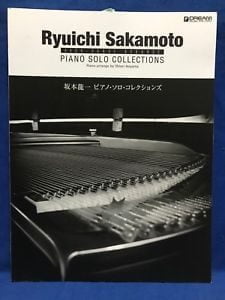 Search Posts by Categories:
and subscribe to our social channels for news and music updates:
Ryuichi Sakamoto
Ryuichi Sakamoto was born on January 17, 1952, in Tokyo, Japan.
He studied music composition at the Tokyo National University of Fine Arts and Music, where he obtained a bachelor's degree and a master's degree, specializing in electronic music and world music.
In 1978, he co-founded the Yellow Magic Orchestra, which achieved international recognition with a platinum album.
Sakamoto's first solo comes in 1978, but it will not be published until 1982 and only in Holland. The first widely distributed record was B-2 Unit, made while he was still in YMO in 1980 and made with the help of Andy Patridge (XTC) and Dennis Bovell.
He collaborated with Robin Scott on Left Handed Dream where he sang and this year he also did the US sessions where he collaborated with the likes of Adrian Belew, Talking Heads, Frank Zappa and David Bowie.
He began composing for the cinema in 1983 with the soundtrack for Merry Christmas, Mr. Lawrence. Over the next four years he won the Academy Award, the Grammy, the Golden Globe, and the New York, Los Angeles, and British Film Critics Awards for Best Original Score for his score for Bernardo Bertolucci's The Last Emperor. .
Later he worked with Bertolucci twice more (El Cielo Protector and Little Buddha), also with the Spanish director Pedro Almodóvar (Tacones Lejanos), Brian de Palma (Ojos de Serpiente) and Oliver Stone (Wild Palms), among others.
Colaboró ​​con Brian Wilson, Iggy Pop, Robbie Robertson, David Bowie, David Byrne, David Sylvian, Caetano Veloso y Youssou Ndour, así como también con los escritores William Burroughs y William Gibson.
In 1992 he composed and directed the music for the opening ceremony of the Barcelona Olympics.
In 1999, he premiered his first opera, Life. She worked with multimedia artist Toshio Iwai to create Music Plays Images x Images Plays Music, an impromptu piano and image duet using state-of-the-art technology.
On June 14, 2018, a documentary on Sakamoto's life and work, titled Coda, was released.
In July 2009 he was awarded the Order of Arts and Letters by the French embassy in Tokyo.
His first marriage was in 1972 and he divorced two years later. She has a daughter from this relationship.
He married Japanese pianist and singer Akiko Yano in 1982, after several musical collaborations with her, including tours with the Yellow Magic Orchestra. In 1980, they had a daughter, singer Miu Sakamoto. They broke up in 2006.
He lived with her manager Norika Sora from around 1990 and had two children with her.
Since June 2014, Sakamoto has been on a professional hiatus for a year after being diagnosed with pharyngeal cancer. In 2015, she declared: I'm fine. I feel better. Much, much better. I feel energy inside, but you never know. The cancer can come back in three, five, or maybe 10 years.
On January 21, 2021, Sakamoto announced that although his throat cancer had remitted, he was diagnosed with rectal cancer and that he was currently undergoing treatment following successful surgery.
Selected Discography
Thousand Knives (1978)
Summer Nerves (1979)
B2-Unit (1980)
Left-Handed Dream (1981)
Illustrated Musical Encyclopedia (1984)
Esperanto (1985)
Futurista (1986)
Coda (1986)
Neo Geo (1987)
Tokyo Joe (1988)
Beauty (1990)
Heartbeat (1991)
Sweet Revenge (1994)
Smoochy (1995)
1996 (1996)
Discord (1997)
BTTB (1998)
Cinemage (1999)
Intimate (1999)
L I F E (2000)
Zero Landmine (2001)
Cómica (2002)
Elephantism (2002)
Love (2003)
Vrioon (2003)
World Citizen (2003)
Derrida (2003)
Chasm (2004) Cantus omnibus unus (2005)
Bricolages (2006)
Cendre (2007)
Out of Noise (2009)
Three (2013)
async (2017)
Search Posts by Categories:
and subscribe to our social channels for news and music updates: