Browse in the Library:
and subscribe to our social channels for news and music updates:
Bill Evans plays "Django" (with sheet music to download)
"Django" is a 1954 jazz standard written by John Lewis as a tribute to the Belgian-born jazz guitarist Django Reinhardt. It was a signature composition of the Modern Jazz Quartet, of which Lewis was the pianist and musical director.
Lewis wrote "Django" in 1954 as a tribute to his friend, the Belgian-born jazz guitarist Django Reinhardt, who had died the previous year. It begins with a 20-bar theme that was described by Ted Gioia in his book The Jazz Standards as dirge-like and mournful. The entry for "django" in the original edition of the Real Book only contained the chord changes for this theme.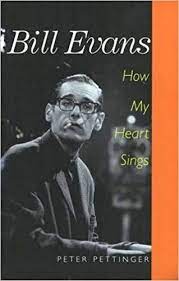 It is followed by solo sections in modified Thirty-two-bar AABA form, where the first two A sections contain six bars instead of eight, the eight-bar B section contains a pedal point on the tonic, and the final twelve-bar A section contains a boogie bass motif. The solo sections are separated by interludes in double-time derived from the introductory theme. The composition ends with a full repeat of the introductory section.
William John Evans (August 16, 1929–September 15, 1980) was an American jazz pianist and composer who mostly played in trios. His use of impressionist harmony, inventive interpretation of traditional jazz repertoire, block chords, and trademark rhythmically independent, "singing" melodic lines continue to influence jazz pianists today.
Born in Plainfield, New Jersey, in 1929, he was classically trained at Southeastern Louisiana University and the Mannes School of Music, in New York City, where he majored in composition and received the Artist Diploma. In 1955, he moved to New York City, where he worked with bandleader and theorist George Russell. In 1958, Evans joined Miles Davis's sextet, which in 1959, then immersed in modal jazz, recorded Kind of Blue, the best-selling jazz album of all time. During that time, Evans was also playing with Chet Baker for the album Chet.
In late 1959, Evans left the Miles Davis band and began his career as a leader, with bassist Scott LaFaro and drummer Paul Motian, a group now regarded as a seminal modern jazz trio. In 1961, ten days after finishing an engagement at the New York Village Vanguard jazz club, LaFaro died in a car accident. After months of seclusion, Evans reemerged with a new trio, featuring bassist Chuck Israels.
In 1963, Evans recorded Conversations with Myself, a solo album using the unconventional technique of overdubbing himself. In 1966, he met bassist Eddie Gómez, with whom he worked for 11 years.
Many of Evans's compositions, such as "Waltz for Debby", have become standards, played and recorded by many artists. Evans received 31 Grammy nominations and seven awards, and was inducted into the Down Beat Jazz Hall of Fame.
Bill Evans was an avid reader, in particular philosophy and humorous books. His shelves held works by Plato, Voltaire, Whitehead, Santayana, Freud, Margaret Mead, Sartre and Thomas Merton; and he had a special fondness for Thomas Hardy's work. He was fascinated with Eastern religions and philosophies, including Islam, Zen, and Buddhism. It was Evans who introduced John Coltrane to the Indian philosophy of Krishnamurti.
Evans liked to paint and draw. He was also a keen golfer, a hobby that began on his father's golf course. Evans had a fondness for horse racing and frequently gambled hundreds of dollars, often winning. During his last years, he even owned a racehorse named "Annie Hall" with producer Jack Rollins.
Evans has left his mark on such players as Chick Corea, Diana Krall, Ralph Towner, Herbie Hancock, John McLaughlin, John Taylor, Steve Kuhn, Vince Guaraldi, Don Friedman, Marian McPartland, Denny Zeitlin, Paul Bley, Bobo Stenson, Warren Bernhardt, Michel Petrucciani, Lenny Breau, Keith Jarrett, Vicente Inti Jones Alvarado, and Rick Wright of Pink Floyd, as well as many other musicians worldwide. The music of Bill Evans continues to inspire younger pianists including Fred Hersch, Bill Charlap, Lyle Mays, and Eliane Elias and arguably Brad Mehldau early in his career.
Many of his tunes, such as "Waltz for Debby", "Turn Out the Stars", "Very Early", and "Funkallero", have become often-recorded jazz standards.
During his lifetime, Evans was honored with 31 Grammy nominations and seven Awards. In 1994, he was posthumously honored with the Grammy Lifetime Achievement Award.
Evans influenced the character Seb's wardrobe in the film La La Land.
List of compositions
Main article: List of compositions by Bill Evans
Evans's repertoire consisted of both jazz standards and original compositions. Many of these were dedicated to people close to him. Some known examples are: "Waltz for Debby", for his niece; "For Nenette", for his wife; "Letter to Evan", for his son; "NYC's No Lark", in memory of friend pianist Sonny Clark; "Re: Person I Knew", an anagram of the name of his friend and producer Orrin Keepnews; "We Will Meet Again", for his brother; "Peri's Scope", for girlfriend Peri Cousins; "One for Helen" and "Song for Helen", for manager Helen Keane; "B minor Waltz (For Ellaine)", for girlfriend Ellaine Schultz; "Laurie", for girlfriend Laurie Verchomin; "Yet Ne'er Broken", an anagram of the name of cocaine dealer Robert Kenney; "Maxine", for his stepdaughter; "Tiffany", for Joe LaBarbera's daughter; "Knit For Mary F." for fan Mary Franksen from Omaha.