Search Posts by Categories:
and subscribe to our social channels for news and music updates:
Yves Montand à l´Olympia de Paris – "Les Feuilles Mortes" avec partition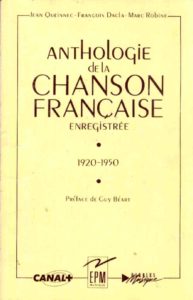 Yves Montand biographie
Ivo Livi, mieux connu sous le nom de Yves Montant (13 octobre 1921 – 9 novembre 1991), était un acteur et chanteur italien.
Montand est né Ivo Livi à Monsummano Terme, en Italie, de Giovanni Livi, un fabricant de balais, et de Giuseppina Simoni, une fervente catholique, tandis que son mari avait de fortes convictions communistes. La famille de Montand est partie pour la France en 1923 à cause du régime fasciste italien. Il grandit à Marseille où, jeune homme, il travaille dans l'institut de beauté de sa sœur (Salon de Coiffure), puis sur les quais. Il commence une carrière dans le show business en tant que chanteur de music-hall. En 1944, il est découvert par Édith Piaf à Paris et elle l'intègre à son numéro.
Montand a acquis une reconnaissance internationale en tant que chanteur et acteur, jouant dans de nombreux films. Ses chansons de crooner reconnaissables, en particulier celles sur Paris, sont devenues des classiques instantanés. Il était l'un des interprètes les plus célèbres du célèbre music-hall Olympia de Paris de Bruno Coquatrix et a tourné avec des musiciens dont Didi Duprat.
En octobre 1947, il chante Mais qu'est-ce que j'ai ? (musique d'Henri Betti et paroles d'Édith Piaf) au Théâtre de l'Étoile. Betti lui a également demandé de chanter C'est si bon, mais Montand a refusé. Suite au succès de l'enregistrement de cette chanson par les Sœurs Étienne en 1948, il décide de l'enregistrer.
À Paris, en tant que protégé de la chanteuse Edith Piaf, il est apparu dans le film de 1945 Star Without Light. Il épouse l'actrice Simone Signoret en 1951. Son rôle dans Wages of Fear (1953 ; Wages of Fear) lui vaut une renommée internationale.
Son autobiographie, Du Soleil plein la tête, est publiée en 1955, avant qu'il ne donne pas ses performances les plus acclamées, dans La Guerre est finie (1966 ; The War Is Over) et dans deux films du réalisateur Costa- Gavras, Z (1968) et L'Aveu (1970 ; La Confession). Ses performances dans les adaptations cinématographiques de Claude Berri de deux romans de Marcel Pagnol – Jean de Florette (1986) et sa suite, Manon des sources (1986 ; Manon du printemps) – ont également été très appréciées.
Au cours de sa carrière, Montand a joué dans plusieurs films américains ainsi qu'à Broadway. Il est nominé aux César du « meilleur acteur » en 1980 pour I comme Icare et encore en 1984 pour Garçon ! En 1986, après que son pouvoir d'attraction au box-office international ait considérablement diminué, Montand, âgé de 65 ans, a donné l'une de ses performances les plus mémorables, en tant qu'oncle intrigant dans le film en deux parties Jean de Florette, avec Gérard Depardieu. , et Manon des Sources, avec Emmanuelle Béart. Le film a été un succès critique mondial et a rehaussé le profil de Montand aux États-Unis, où il a fait une apparition dans Late Night avec David Letterman.
Discographie
1952: Chante (Odéon)
1953: Chante ses dernières créations (Odéon)
1953: Chante Paris (Odéon)
1953: Récital au Théâtre de l'Étoile 1953 (Odéon, live)
1954: Chante ses derniers succès (Odéon)
1954: # 54 (Odéon)
1955: Chansons populaires de France (Odéon)
1957: 13 ans déjà ! (Odéon)
1958: Dix chansons pour l'été (Odéon)
1958: Succès du Récital 1958 au Théâtre de L'Étoile (Odéon)
1958: Récital 1 + Récital 2 (Philips)
1958: Étoile 58 (Philips)
1960: Dansez avec Yves Montand (Philips)
1961: Rengaine ta rengaine (Philips)
1962: Chante Prévert (Philips)
1962: Récital 63 – Intégral du Théâtre de l'Étoile (Philips, live)
1967: 7 (Philips)
1968: La Bicyclette (Philips)
1968: Le Paris de… (Philips)
1968: À l'Olympia (Philips, live)
1970: On a Clear Day You Can See Forever (Columbia, soundtrack with Barbra Streisand)
1972: Dans son dernier "One man show" intégral (CBS, live)
1974: Montand de mon temps (CBS or TriStar Music)
1981: D'hier et d'aujourd'hui (Philips)
1981: Le disque de la paix (Philips)
1982: Olympia 81 (Philips)
1983: In English (Philips)
1984: Chante David Mc Neil (Philips)
1988: Trois places pour le 26 (Philips, w/ Mathilda May, soundtrack)
1993: Les années Odéon – 1945–1958 (Columbia, 9-CD boxset)
1997: Plaisirs inédits (Universal)
2000: Et la fête continue – Intégrale 1945–1949 – Vol. 1 (Frémeaux)
2001: Inédits, rares & indispensables (Mercury, 4-CD boxset)
2004: Sensationnel – Intégrale 1949–1953 – Vol. 2 (Frémeaux)
2007: Une étoile à l'Étoile – Intégrale 1953–1954 – Vol. 3 (Frémeaux, live)
Search Posts by Categories:
and subscribe to our social channels for news and music updates: