Browse in the Library:
and subscribe to our social channels for news and music updates:
Le vent, le cri (guitar) Le Professionnel OST – Ennio Morricone (with sheet music)
Ennio Morricone, film composer, 1928-2020 – Find his great sheet music in our Library
Ennio Morricone, (10 November 1928 – 6 July 2020) was an Italian composer, orchestrator, conductor, and trumpet player who wrote music in a wide range of styles. Morricone composed over 400 scores for cinema and television, as well as over 100 classical works.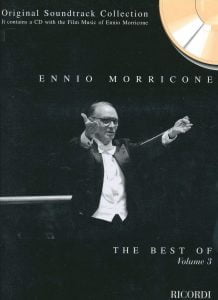 His score to The Good, the Bad and the Ugly (1966) is considered one of the most influential soundtracks in history and was inducted into the Grammy Hall of Fame.
His filmography includes over 70 award-winning films, all Sergio Leone's films since A Fistful of Dollars, all Giuseppe Tornatore's films since Cinema Paradiso, The Battle of Algiers, Dario Argento's Animal Trilogy, 1900, Exorcist II, Days of Heaven, several major films in French cinema, in particular the comedy trilogy La Cage aux Folles I, II, III and Le Professionnel, as well as The Thing, Once Upon a Time in America, The Mission, The Untouchables, Mission to Mars, Bugsy, Disclosure, In the Line of Fire, Bulworth, Ripley's Game and The Hateful Eight.
Morricone is widely regarded as one of the greatest and most influential film composers of all time. Ennio Morricone had a proud sense of his status. "Maestro" was how the Italian composer, who has died aged 91, insisted on being addressed. "From my point of view, a question of this kind could be treated as an insult," he told an interviewer who had the temerity to ask if he collaborated with musicians.
"To my knowledge, neither Beethoven nor Bach nor Stravinsky would invite anybody to work on the arrangements of their pieces." Hard-working and prolific, he wrote symphonies, concertos, an opera, pop songs, experimental music, and soundtracks for television and theatre. But he will be remembered for his more than 450 film scores, done in a huge range of styles and to the highest levels of musicianship.
The maestro liked to conduct and orchestrate his own work. "The best film music is music that you can hear," he said in 1995. "Music you can't hear, no matter how good, is bad film music." He found his ideal director in Sergio Leone, a former schoolmate in Rome in the 1930s.
The succession of westerns that they made together began in 1964 with A Fistful of Dollars. Its hallucinatory rendering of the cowboy genre owed as much to the music as Leone's potent visuals. Morricone's eccentric, inventive scores were like an audio mirage amid the arid landscapes and silent men of the West.
There were twangy electric guitars, clip-clopping rhythms, martial drumming, mariachi horns, whistling, hearty male chorals, ethereal female harmonising, soft-focus ballads and the sounds of whips cracking and pistols firing. Its tone was deadly serious, a virile matter of life and death, yet also laced with a playful, even kitsch, sense of levity.
The result reached beyond genre towards "pure film", a uniquely cinematic fusion of sound and image. A Fistful of Dollars was based on — or ripped off, as a subsequent lawsuit claimed — a Japanese film, Akira Kurosawa's Yojimbo. But Morricone and Leone's union of music and image had a distinctively Italian character.
Their films were dubbed "spaghetti westerns", a description Morricone detested ("Because it's not a food!"). He preferred "Italian westerns". Ennio Morricone influenced many artists from other styles and genres, including Danger Mouse, Dire Straits, Muse, Metallica, Radiohead and Hans Zimmer.
Browse in the Library:
and subscribe to our social channels for news and music updates:
Discography
Morricone sold well over 70 million records worldwide during his career that spanned over seven decades, including 6.5 million albums and singles in France, over three million in the United States and more than two million albums in South Korea.
In 1971, the composer received his first golden record (disco d'oro) for the sale of 1,000,000 records in Italy and a "Targa d'Oro" for the worldwide sales of 22 million.