Browse in the Library:
and subscribe to our social channels for news and music updates:
Milestones by Miles Davis Jazz Play Along with sheet music download from our Library.
This tune is included in the Aebersold's set (book + audio MP3) Jazz Play Along Volume 50.
Milestones by Miles Davis (Jazz Standard)
This is a great bebop tune and has some fun changes to play along!
"Milestones" is a jazz composition written by Miles Davis. It appears on the album of the same name in 1958. It has since become a jazz standard. "Milestones" is the first example of Miles composing in a modal style and experimentation in this piece led to the writing of "So What" from the 1959 album Kind of Blue. The song's modes consist of G Dorian for 16 bars, A Aeolian for another 16 bars, and then back to G Dorian for the last eight bars, then the progression repeats.
Originally titled "Miles" on the initial album pressings, people soon began referring to the piece as "Milestones" rather than "Miles." On later editions of the album the title was changed.
The musicians who performed on "Milestones" are:
Miles Davis – trumpet
Cannonball Adderley – alto saxophone
John Coltrane – tenor saxophone
Red Garland – piano
Paul Chambers – double bass
Philly Joe Jones – drums
Only Adderley, Davis, and Coltrane solo.
Browse in the Library:
and subscribe to our social channels for news and music updates: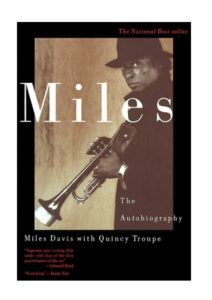 In Miles: The Autobiography written by Davis with Quincy Troupe, Miles says, "We recorded 'Billy Boy,' 'Straight, No Chaser,' 'Milestones,' 'Two Bass Hit,' 'Sid's Ahead,' and 'Dr. Jackle' (listed as 'Dr. Jekyll') for the album Milestones on Columbia….
This was the first record where I started to really write in the modal form and on 'Milestones,' the title track, I really used that form. Modal music is seven notes off each scale, each note. It's a scale off each note, you know, a minor note. The composer-arranger George Russell used to say that in modal music C is where F should be. He says that the whole piano starts at F. What I had learned about the modal form is that when you play this way, go in this direction, you can go on forever.
You don't have to worry about changes and shit like that. You can do more with the musical line. The challenge here, when you work in the modal way, is to see how inventive you can become melodically. It's not like when you base stuff on chords, and you know at the end of thirty-two bars that the chords have run out and there's nothing to do but repeat what you've done with the variations. I was moving away from that and into more melodic ways of doing things. And in the modal way I saw all kinds of possibilities."
Davis had been toying with the modal concept before "Milestones" and would continue to develop his theories. In The Freedom Principle: Jazz After 1958 John Litweiler says, "As early as the1954 Bags Groove session, Miles Davis had begun exploring modal structures….Davis' thinking with his 1958-59 sextet revolved around his urge to obliterate chord changes…."
In Enjoying Jazz Alyn Shipton says, "Milestones…was a landmark…because the title track adopted George Russell's ideas about using modes as a basis for improvisation, rather than chord sequences. It was not by any means the first modal jazz record (Gillespie's Cubana-Be/Cubana-Bop, also partly inspired–and arranged–by Russell, probably deserves that honor) but it had a dramatic impact on the way that much jazz improvisation would develop thereafter, and paved the way for Davis's subsequent Kind of Blue album, which forever defined the genre of modal jazz."
In the early 1960s Davis assembled a group of young players including drummer Tony Williams (whom Davis says inspired him to reintroduce "Milestones" into the repertoire), bassist Ron Carter, pianist Herbie Hancock, and saxophonist George Coleman, later replaced by Wayne Shorter.
Their version of "Milestones" on In Europe, recorded in Antibes in 1963, was "a tenacious assault on [Davis'] preferred repertoire," according to Giddins. "Here on a sixty-two-minute LP was a band of young musicians and mercurial versions of pieces originally conceived at slow and medium tempos, including a stunningly high-powered 'Milestones' with opening notes fired at a clip…."
In John Coltrane: His Life and Music Lewis Porter discusses in depth the two different uses of the word "modes," concluding that "…'modal jazz' did identify a repertory of pieces that was different from other jazz of the time…. It was unique in the use of unusual scales, in staying on each one for many measures at a time, and in leaving the choice of chords open and free." He notes that other than Davis few musicians outside of Shorty Rogers and Jimmy Giuffre on the West coast had experimented with the modal form.
While "Milestones" is generally performed as an instrumental, vocalist Mark Murphy recorded it twice with a lyric by Jim Britt, first on his Rah album from 1961 and again at a live concert in Austria on May 10, 1990 which was a tribute to Davis, Bop for Miles. In 2004 vocalist Giacomo Gates recorded "Milestones" with his own lyric for the CD Centerpiece. Although the tune is on an album by vocalist Helen Merrill, the take is an instrumental version.
"Milestones" has been covered by pianists Bill Evans and Fred Hersch, saxophonists Stan Getz, Anthony Braxton, and Paquito d'Rivera, trumpeter Chet Baker, trombonist Carl Fontana, drummers Shelly Manne and Paul Motian, bassist Red Mitchell, violinist Michal Urbaniak, guitarist Wes Montgomery, vibist Johnny Lytle, and Latin bandleader Tito Puente.
Both trumpeter Claudio Roditi and the Great Jazz Trio titled albums after the composition, and since 2000 it has been recorded by guitarist Vic Juris, saxophonist Bennie Wallace, former Davis pianist Kei Akagi, the Gerald Wilson Orchestra , and trumpeters Roy Hargrove and Ryan Kisor (2007).