Follow @LibrarySheet
Jamey Aebersold has gone to great lengths to put together fine rhythm sections and fairly accurate chord progressions into a neat little bundle, to make it easier for you to learn any jazz standard in the comfort of your own home, even without a band! The sheet music is also accurate and completed with the right chords.
Using jazz standard play alongs and lead sheet music as tools
Play alongs do have some benefits:
The soloists are out of the way so you can focus more easily on the rhythm section
The changes are more defined and easier to hear
The track stays consistent in terms of harmony
These attributes make jazz standard play alongs great for practicing exercises with. To use a play along effectively to improve at a tune, abandon the attitude that it exists simply for for your desire to "just play" while having a band back you up, and instead create exercises which will help to do the following:
Integrate new bits of language into your vocabulary
Isolate a concept
Work on problem chords
Work on figuring out chords by ear
Any other creative things you can come up with
When you use play alongs during your practice, make sure you're implementing some type of exercise and do not get carried away by the urge to "just play."
Utilizing play alongs in this manner will help you improve much more rapidly than if you put a tune from a play along on repeat and improvise over it endlessly.
We all have those chords that we get to and just freeze. That's a problem chord. Most of time, rather than work on these chords, we glide over them, or use one approach we've figured out that kind of works, but not perfectly.
Slow it down. Then figure out ways your heroes dealt with a similar situation and use that knowledge to experiment with how you'll approach the problem chord. Loop the section in the jazz play along and apply your new knowledge until you gain a firm understanding of how to go about playing over that particular harmonic instance.
After you feel you've sufficiently worked on things, then give yourself the opportunity to work on performing. Feel free to Let loose and enjoy just playing for a bit.
Remember to practice in the practice room and perform when you're on the bandstand!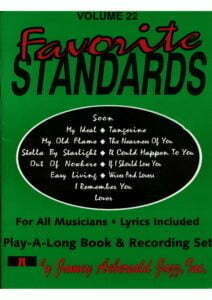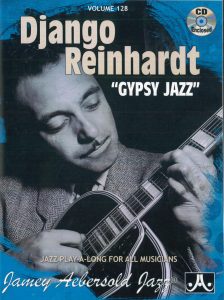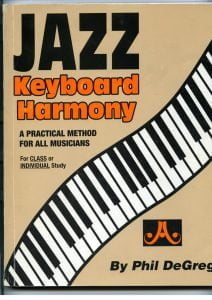 NARDIS, composed by Miles Davis in 1958
Modal tune that makes heavy use of the Phygrian Dominant scale
Length 32 bars, Time 4/4, Form AABA, Style: Swing, Common Key E-
'Nardis' was composed in 1958 by Miles Davis during his 'modal phase', to be played by Cannonball Adderley on his 'Portrait of Cannonball' album. It is strongly associated with Bill Evans, who recorded it several times. Davis led the 'First Great Quintet' in 1958, consisting of John Coltrane (tenor saxophone), Red Garland (piano), Paul Chambers (bass), Philly Jones (drums) and Cannonball Adderley (alto saxophone, making it a sextet ).
Bill Evans replaced Garland on piano for eight months (to be replaced by Wynton Kelly in late 1958) and Jimmy Cobb replaced Jones on drums. They are the group that recorded 'Kind of Blue', considered by many to be the greatest jazz album of all time. 'Nardis' featured the Phrygian mode and the minor gypsy scale, as did other 'Spanish' works from this period, such as Davis' 'Sketches of Spain'. Davis never recorded 'Nardis'; Adderley only recorded it once.
Miles Davis (May 26, 1926 – September 28, 1991) grew up in East Alton, Illinois, where at age thirteen his father gave him a trumpet, and he joined his high school band soon after and was taught by his first idol, St. Louis trumpeter and fluegelhorn jazz pioneer Clark Terry.
In 1944, Davis moved to New York, where he played in the Billy Eckstine Band for only two weeks before enrolling at the Juilliard School of Music. He completed his classical studies by playing nights with the leaders of the new bebop movement (including Charlie Parker, Dizzy Gillespie and Max Roach).
Davis then moves on to his "cool" period, followed by modalism, then jazz-rock fusion (typed by "Bitches Brew" in 1970) before moving on to pop, then hip-hop. The 2015 film 'Miles Ahead', starring Don Cheadle as Miles Davis, was described by co-star Ewan McGregor as 'less of a Miles biopic than an attempt to cast Miles in a hug movie which he might have liked to be a part of. ." Miles Davis has won eight Grammy Awards and received thirty-two nominations.
********************************************************
'Nardis' a été composé en 1958 par Miles Davis lors de sa 'phase modale', pour être joué par Cannonball Adderley sur son album 'Portrait of Cannonball'. Il est fortement associé à Bill Evans, qui l'a enregistré à plusieurs reprises. Davis dirigeait le 'First Great Quintet' en 1958, composé de John Coltrane (saxophone ténor), Red Garland (piano), Paul Chambers (basse), Philly Jones (batterie) et Cannonball Adderley (saxophone alto, ce qui en fait un sextuor ).
Bill Evans a remplacé Garland au piano pendant huit mois (pour être remplacé par Wynton Kelly à la fin de 1958) et Jimmy Cobb a remplacé Jones à la batterie. C'est le groupe qui a enregistré 'Kind of Blue', considéré par beaucoup comme le plus grand album de jazz de tous les temps. 'Nardis' présentait le mode phrygien et l'échelle gitane mineure, tout comme d'autres œuvres 'espagnoles' de cette époque, telles que 'Sketches of Spain' de Davis. Davis n'a jamais enregistré 'Nardis'; Adderley ne l'a enregistré qu'une seule fois.
Miles Davis (26 mai 1926 – 28 septembre 1991) a grandi à East Alton, Illinois, où, à l'âge de treize ans, son père lui a donné une trompette et il a rejoint son groupe de lycée peu de temps après et a été enseigné par son premier idole, trompettiste de Saint-Louis et pionnier du fluegelhorn jazz Clark Terry. En 1944, Davis s'installe à New York, où il joue dans le Billy Eckstine Band pendant seulement deux semaines avant de s'inscrire à la Juilliard School of Music.
Il a complété ses études classiques en jouant des soirées avec les leaders du nouveau mouvement bebop (dont Charlie Parker, Dizzy Gillespie et Max Roach). Davis passe ensuite à sa période « cool », suivie par le modalisme, puis le jazz-rock fusion (typé par « Bitches Brew » en 1970) avant de passer à la pop, puis au hip-hop.
Le film 'Miles Ahead' de 2015, mettant en vedette Don Cheadle dans le rôle de Miles Davis, a été décrit par la co-star Ewan McGregor comme 'moins un biopic de Miles qu'une tentative de lancer Miles dans un film de câlins dont il * pourrait * avoir aimé faire partie. ." Miles Davis a remporté huit Grammy Awards et reçu trente-deux nominations.