Follow @LibrarySheet
Table of Contents
John Coltrane composed these words in December 1964, as part of a poem he called A Love Supreme. He included the poem in the inside gatefold of an album by the same name, released the following year. That same year, a young couple in San Francisco heard Coltrane in concert, sharing a jolt of higher purpose when he seemed to fix them in his sights with the bell of his saxophone.
That couple, Franzo and Marina King, went on to establish a church devoted to Coltrane and his spiritual message, incorporating A Love Supreme as their chief liturgical text. Their house of worship — known today as the St. John Will-I-Am Coltrane African Orthodox Church — has survived decades of change in a gentrifying city, while making a few notable revisions to its charter.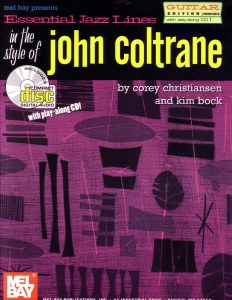 In this 20-minute documentary short, Jazz Night in America pays a visit to the Coltrane Church, thoughtfully tracing its winding history — including a tumultuous period when Alice Coltrane, John's widow, bestowed and then revoked her support. We'll delve into the spiritual mysteries of A Love Supreme, from "Acknowledgment" to "Psalm," and consider what it means to be of service — to a calling, to a community, and to the music that sparked it all.
John Coltrane – My Favorite Things (1961) (Full Album)
Personnel
Bass – Steve Davis Drums – Elvin Jones Piano – McCoy Tyner Soprano Saxophone – John Coltrane (tracks: A1, A2) Tenor Saxophone – John Coltrane (tracks: B1, B2)
Recorded at Atlantic Studios, New York, NY Track A1 on October 21, 1960 Track B1 on October 24, 1960 Tracks A2 & B2 on October 26, 1960
Engineer – Phil Iehle, Tom Dowd Producer – Nesuhi Ertegun
Tracks List
A1 My Favorite Things 0:00​
A2 Everytime We Say Goodbye 13:43​
B1 Summertime 19:27​
B2 But Not For Me 31:03​
John Coltrane
John William Coltrane (September 23, 1926 – July 17, 1967) was an American jazz saxophonist and composer. Working in the bebop and hard bop idioms early in his career, Coltrane helped pioneer the use of modes and was at the forefront of free jazz. He led at least fifty recording sessions and appeared on many albums by other musicians, including trumpeter Miles Davis and pianist Thelonious Monk.
Over the course of his career, Coltrane's music took on an increasingly spiritual dimension. He remains one of the most influential saxophonists in music history. He received numerous posthumous awards, including a Pulitzer Prize in 2007, and was canonized by the African Orthodox Church. His second wife was pianist and harpist Alice Coltrane. The couple had three children: John Jr. (1964–1982), a bassist; Ravi (born 1965), a saxophonist; and Oran (born 1967), also a saxophonist.
Personal life and religious beliefs
Coltrane was born and raised in a Christian home. He was influenced by religion and spirituality beginning in childhood. His maternal grandfather, the Reverend William Blair, was a minister at an African Methodist Episcopal Zion Church in High Point, North Carolina, and his paternal grandfather, the Reverend William H. Coltrane, was an A.M.E. Zion minister in Hamlet, North Carolina. Critic Norman Weinstein noted the parallel between Coltrane's music and his experience in the southern church, which included practicing music there as a youth.
In 1955, Coltrane married Naima (née Juanita Grubbs). Naima Coltrane, a Muslim convert, heavily influenced his spirituality. When they married, she had a five-year-old daughter named Antonia, later named Syeeda. Coltrane adopted Syeeda. He met Naima at the home of bassist Steve Davis in Philadelphia. The love ballad he wrote to honor his wife, "Naima", was Coltrane's favorite composition.
In 1956 the couple left Philadelphia with their six-year-old daughter in tow and moved to New York City. In August 1957, Coltrane, Naima and Syeeda moved into an apartment on 103rd St. and Amsterdam Ave. in New York. A few years later, John and Naima Coltrane purchased a home at 116-60 Mexico Street in St. Albans, Queens. This is the house where they would break up in 1963.
About the breakup, Naima said in J. C. Thomas's Chasin' the Trane, "I could feel it was going to happen sooner or later, so I wasn't really surprised when John moved out of the house in the summer of 1963. He didn't offer any explanation. He just told me there were things he had to do, and he left only with his clothes and his horns. He stayed in a hotel sometimes, other times with his mother in Philadelphia.
All he said was, 'Naima, I'm going to make a change.' Even though I could feel it coming, it hurt, and I didn't get over it for at least another year." But Coltrane kept a close relationship with Naima, even calling her in 1964 to tell her that 90% of his playing would be prayer. They remained in touch until his death in 1967. Naima Coltrane died of a heart attack in October 1996.
In 1957, Coltrane had a religious experience that may have helped him overcome the heroin addiction and alcoholism he had struggled with since 1948. In the liner notes of A Love Supreme, Coltrane states that in 1957 he experienced "by the grace of God, a spiritual awakening which was to lead me to a richer, fuller, more productive life. At that time, in gratitude, I humbly asked to be given the means and privilege to make others happy through music."
The liner notes appear to mention God in a Universalist sense and do not advocate one religion over another. Further evidence of this universal view can be found in the liner notes of Meditations (1965) in which Coltrane declares, "I believe in all religions."
In 1963, he met pianist Alice McLeod. He and Alice moved in together and had two sons before he became "officially divorced from Naima in 1966, at which time [he] and Alice were immediately married." John Jr. was born in 1964, Ravi in 1965, and Oranyan ("Oran") in 1967.
According to the musician Peter Lavezzoli, "Alice brought happiness and stability to John's life, not only because they had children, but also because they shared many of the same spiritual beliefs, particularly a mutual interest in Indian philosophy. Alice also understood what it was like to be a professional musician."
After A Love Supreme, many of the titles of his songs and albums had spiritual connotations: Ascension, Meditations, Om, Selflessness, "Amen", "Ascent", "Attaining", "Dear Lord", "Prayer and Meditation Suite", and "The Father and the Son and the Holy Ghost". His collection of books included The Gospel of Sri Ramakrishna, the Bhagavad Gita, and Paramahansa Yogananda's Autobiography of a Yogi.
The last of these describes, in Lavezzoli's words, a "search for universal truth, a journey that Coltrane had also undertaken. Yogananda believed that both Eastern and Western spiritual paths were efficacious, and wrote of the similarities between Krishna and Christ. This openness to different traditions resonated with Coltrane, who studied the Qur'an, the Bible, Kabbalah, and astrology with equal sincerity." He also explored Hinduism, Jiddu Krishnamurti, African history, the philosophical teachings of Plato and Aristotle, and Zen Buddhism.
In October 1965, Coltrane recorded Om, referring to the sacred syllable in Hinduism, which symbolizes the infinite or the entire universe. Coltrane described Om as the "first syllable, the primal word, the word of power". The 29-minute recording contains chants from the Hindu Bhagavad Gita and the Buddhist Tibetan Book of the Dead, and a recitation of a passage describing the primal verbalization "om" as a cosmic/spiritual common denominator in all things.
Coltrane's spiritual journey was interwoven with his investigation of world music. He believed in not only a universal musical structure that transcended ethnic distinctions, but also being able to harness the mystical language of music itself. His study of Indian music led him to believe that certain sounds and scales could "produce specific emotional meanings." According to Coltrane, the goal of a musician was to understand these forces, control them, and elicit a response from the audience.
He said, "I would like to bring to people something like happiness. I would like to discover a method so that if I want it to rain, it will start right away to rain. If one of my friends is ill, I'd like to play a certain song, and he will be cured; when he'd be broke, I'd bring out a different song, and immediately he'd receive all the money he needed."
Browse in the Library:
and subscribe to our social channels for news and music updates: