Search Posts by Categories:
and subscribe to our social channels for news and music updates:
Erroll Garner Trio LIVE in 1955 – Concert By The Sea, Recorded Live at Carmel, California.
Track List: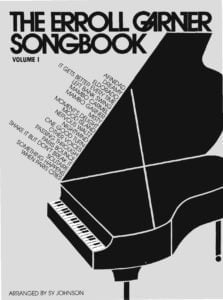 0:00 Intro (Improvisation)
1:16 Honeysuckle Rose (Fats Waller, Andy Razaf)
5:37 No More Shadows (Garner)
9:30 Mambo Erroll (Garner)
14:45 Penthouse Serenade (Val Burton, Will Jason)
18:40 Jeannine (I Dream of Lilac Time ) (Nat Shilkret, L. Wolfe Gilbert)

23:50 On The Street Where You Live / I Could Have Danced All Night (Lerner & Loewe)
29:35 All Yours (Theme From "A New Kind of Love")(Garner)
32:35 The Lady Is A Tramp (Rodgers & Hart)
34:25 Erroll's Theme (Garner)
Personnel:
Eddie Calhoum, bass
Denzil Best, drums
Erroll Garner, piano
The pianist Erroll Garner had an extraordinary ear capable of deciphering and memorizing the most complex passages of any melody, and that without knowing how to read music. Between 1945 and 1949 he recorded a multitude of records and although he was close to booper musicians, his music was closer to Fats Waller, Art Tatum and Earl Hines. On the school of these three three masters he molded his style and enriched it with some of his own findings.
Erroll Garner had the ability to attract non-specialist audiences to jazz in an original yet highly accessible style, while gaining recognition in American jazz circles.
'Concert by the Sea' is to date one of the three best-selling jazz piano albums in the entire history of jazz and the music contained in it, despite the imperfections of live performance, reaches excellent heights. The repertoire includes some of the pianist's favorite pieces, not to mention the inescapable Latin red that Garner made at each concert, on this occasion his famous 'Mambo Carmel'.
Full of a contagious swing, the accompaniment of the excellent double bass player Eddie Calhun and the drummer, Denzil Best, also a superb composer, soberly enhances the rich musical universe of the leader and participates in the relaxed and pleasant atmosphere of the session.
Erroll Garner didn't leave important followers in jazz piano until the fucking school, perhaps only Ahmad Jamal was, but in any case, this excellent album is part, in its own right, of one of the great live recordings in jazz history, and with complete certainty, an essential album in the jazz piano.
Search Posts by Categories:
and subscribe to our social channels for news and music updates:
Erroll Garner
Precocity marked the first steps of Erroll Garner, a classical jazz pianist born into a family of members of the Pittsburgh Church choir, the city where he was born in 1921. His father also played saxophone, guitar and mandolin. in a group of fans.
As a child while all five of his brothers studied piano, he played by ear the melodies that came out of the old domestic gramophone where the hands of Art Tatum, Teddy Wilson, Earl Hines or Fats Waller, introduced him to jazz. In school he met Dodo Marmarosa, Billy Strayhorn and Ahmad Jamal. The first two exerted a strong influence on him, while Jamal would later be one of his best disciples.
In 1944 he decides to go to New York and was lucky enough to replace none other than the great Art Tatum, in the bass player's trio, Slam Stewart, who performed regularly at the famous 'Three Deuces' club on 52nd Street in Harlem. , and he also did it naturally, which was not easy when Tatum was involved.
Immediately came the first piano recordings for Savoy accompanying Stewart and among those recordings the mythical song 'Laura' whose critical success and especially sales gave Garner the opportunity to work for numerous record companies of the time. It was then that he crossed paths with the praise of the prestigious magazine, 'Down Beat', who praised him in these terms: The only pianist with two hands since the days of Fats Waller!
His initial period was therefore very fruitful and the feeling of his piano was compared to the singing of Billie Holiday herself, by someone as knowledgeable in the matter as the magnificent pianist, Mary Lou Williams. She crossed paths with Charlie Parker in Los Angeles in February 1947, with the saxophonist recently released from the Camarillo hospital.
An original 'Cool Blues' remains from that session, where Garner comes out of the test with flying colors. Later his career skyrockets and the performances do not stop. The same is at the Royal Roots playing with all the 'All Stars' as he moves to Paris to participate in the first week of Jazz in the French capital.
In 1950, Garner signs for Columbia and with that label his most renowned albums appear and what is still today the best-selling jazz piano album in the world: the famous and splendid 'Concert By The Sea' which also brought him the Honorary title for Down Beat Musician of the Year in 1958.
In the mid-1950s, he signs for Mercury and achieves one of the most fruitful periods of his career. Thus, on July 7, 1954, in just three hours, he recorded 32 fantastic piano solos, always on first takes, and nineteen days later, on July 27 of that year, 1954, he entered the studio to record a charming ballad known as 'Misty ' and that would later be a great jazz standard thanks to the lyrics of Johnny Burke.
Erroll Garner's admirers cover the entire musical spectrum, there are conservative styles as well as progressive, classic and modern ones, but the market remembers little of him and his records are hardly reissued despite the fact that his talent is timeless, immune to the fashions and swings of the music of the 20th century.