Tidings of Joy: A Christmas celebration
Inspired by Celtic music traditions and time-honored carols, this new work overflows with seasonal spirit. From prophecy to Epiphany, the cantata covers the entire Christmas story and wraps it in jubilant and approachable music. Supported by encouraging narration, dazzling orchestrations and a complete line of support products, this spectacular work will be a warm holiday welcome to your community of faith.
Songs include: A Christmas Invitation; A Festival Gathering of Carols; Upon the Wind, There Comes a Song; From the Prophet Comes a Promise; A Song of Joy; The Silent Stars Go By; Comfort and Joy; Look to the Silver Sky; Sing of a Merry Christmas; Glad Tidings of Great Joy.
Score and Parts for Celtic Consort (pno, gtr, fl/pwhis, cl, bls, perc, vn, vc) available as a Printed Edition and as a digital download on Hal leonard publications.
Score and Parts for Chamber Orchestra (pno, fl, cl, tpt 1-2, tbn, bls, perc, kybd strings) available as a digital download on Hal leonard publications.
The rhythmic feel is so compelling that you've gotta move to the beat in this brilliant, contemporary Christmas work combining several traditional carols. Opening with an a cappella setting of the final phrases of God Rest Ye Merry, Gentlemen, it progresses to newly composed, spirited music in the gospel style that Mark Hayes is known for. Skillful scoring drives the piece to an impressive finish. Powerful!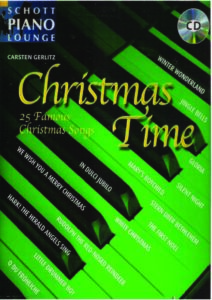 At the Sheet Music Library, we wanted to pay homage to this wonderful arrangement of Traditional beautiful melodies we all know and love, by arranging some for two pianos, or piano solo with voices.
COMFORT AND JOY – Traditional English Melody (Incorp. tune: GOD REST YE MERRY, GENTLEMEN)sheet music
UPON THE WIND, THERE COMES A SONG Trad. Irish Melody THE MOREEN (2 pianos or vocals sheet music)
Search Posts by Categories:
and subscribe to our social channels for news and music updates:
Or, if you prefer to Jazz your Christmas up, we also have some Jazzy Christmas books!