Search Posts by Categories:
and subscribe to our social channels for news and music updates:
Contents:
0:11 – Lyric Waltz
2:04 – Gavotte
3:25 – Romance
5:43 – Polka
7:18 – Waltz – Joke
9:58 – Hurdy – gurdy
10:42 – Dance
Dmitri Shostakovich – Дмитрий Шостакович
Everything was in his fate – international recognition and domestic orders, hunger and persecution of the authorities. His creative heritage is unprecedented in its genre coverage: symphonies and operas, string quartets and concertos, ballets and film scores. An innovator and a classic, creatively emotional and humanly modest – Dmitry Dmitrievich Shostakovich. The composer is a classic of the 20th century, a great maestro and a brilliant artist who experienced the harsh times in which he had to live and create. He took the troubles of his people to heart, in his works one can clearly hear the voice of a fighter against evil and a defender against social injustice.
Read a brief biography of Dmitry Shostakovich and many interesting facts about the composer on our page.
Brief biography of Dmitri Shostakovich
In the house where Dmitry Shostakovich came into this world on September 12, 1906, there is now a school. And then – City test tent, which was in charge of his father. From the biography of Shostakovich, we learn that at the age of 10, being a high school student, Mitya makes a categorical decision to write music and only 3 years later becomes a student at the conservatory.
The beginning of the 20s was difficult – the time of hunger was aggravated by his serious illness and the sudden death of his father. A great participation in the fate of a talented student was shown by the director of the conservatory A.K. Glazunov, who appointed him an increased scholarship and organized postoperative rehabilitation in the Crimea.
Dimitri Shostakovich recalled that he walked to study only because he was unable to get into the tram. Despite health difficulties, in 1923 he graduated as a pianist, and in 1925 as a composer. Just two years later, his First Symphony is played by the world's best orchestras under the direction of B. Walter and A. Toscanini.
Possessing incredible capacity for work and self-organization, Shostakovich rapidly writes his next works. In his personal life, the composer was not inclined to make hasty decisions. To such an extent that he allowed the woman with whom he had a close relationship for 10 years, Tatyana Glivenko, to marry another because of his unwillingness to decide on marriage.
He proposed to astrophysicist Nina Varzar, and the repeatedly postponed marriage finally took place in 1932. After 4 years, daughter Galina appeared, after another 2 – son Maxim. According to Shostakovich's biography, since 1937 he became a teacher, and then a professor at the conservatory.
The war brought not only sadness and sorrow, but also a new tragic inspiration. Along with his students, Dmitry Dmitrievich wanted to go to the front. When they didn't let me in, I wanted to stay in my beloved Leningrad, surrounded by the Nazis. But he and his family were almost forcibly taken to Kuibyshev (Samara). The composer did not return to his native city, after the evacuation he settled in Moscow, where he continued teaching.
The decree "On the opera "The Great Friendship" by V. Muradeli" issued in 1948 declared Shostakovich a "formalist", and his work was anti-people. In 1936, they already tried to call him an 'enemy of the people' after critical articles in Pravda about 'Lady Macbeth of the Mtsensk district' and 'Svetly Stream'. That situation actually put an end to the composer's further research in the genres of opera and ballet. But now not only the public, but the state machine itself fell upon him: he was fired from the conservatory, deprived of his professorship, stopped publishing and performing compositions.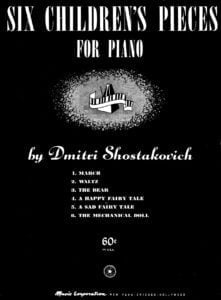 However, it was impossible not to notice a creator of this level for a long time. In 1949, Stalin personally asked him to go to the United States with other cultural figures, returning all the selected privileges for consent, in 1950 he received the Stalin Prize for the cantata Song of the Forests, and in 1954 he became People's Artist of the USSR.
At the end of the same year, Nina Vladimirovna died suddenly. Shostakovich took this loss hard. He was strong in his music, but weak and helpless in everyday matters, the burden of which was always borne by his wife. Probably, it is precisely the desire to organize life again that explains his new marriage just a year and a half later. Margarita Kainova did not share the interests of her husband, did not support his social circle. The marriage was short lived. At the same time, the composer met Irina Supinskaya, who after 6 years became his third and last wife.
She was almost 30 years younger, but this union was almost not slandered behind her back – the couple's inner circle understood that the 57-year-old genius was gradually losing health. Right at the concert, his right hand began to be taken away, and then the final diagnosis was made in the USA – the disease is incurable. Even when Shostakovich struggled with every step, this did not stop his music. The last day of his life was August 9, 1975.
Interesting facts about Shostakovich
Shostakovich was a passionate fan of the Zenit football club and even kept a notebook of all games and goals. His other hobbies were cards – he played solitaire all the time and enjoyed playing 'king', moreover, exclusively for money, and an addiction to smoking.
The composer's favorite dish was homemade dumplings made from three types of meat.
Dmitry Dmitrievich worked without a piano, he sat down at the table and wrote down the notes on paper immediately in full orchestration. He possessed such a unique capacity for work that he could completely rewrite his essay in a short time.
Shostakovich long sought the return to the stage of 'Lady Macbeth of the Mtsensk District.' In the mid-1950s, he made a new edition of the opera, calling it Katerina Izmailova. Despite a direct appeal to V. Molotov, the production was again banned. Only in 1962 did the opera see the stage. In 1966, the film of the same name was released with Galina Vishnevskaya in the title role.
Search Posts by Categories:
and subscribe to our social channels for news and music updates: