Browse in the Library:
and subscribe to our social channels for news and music updates:
Miles Davis: The Top 25 icons in Jazz history

Miles Davis Biography (1926–1991)

Who Was Miles Davis?
Early Life
'Birth of the Cool'
'Kind of Blue'
Bitches Brew
Last years
Selected Discography
For More Information about Miles Davis

Download the best sheet music and Jazz transcriptions.

The Best of Miles Davis
Miles Davis: The Top 25 icons in Jazz history
Miles Davis Biography (1926–1991)
Grammy Award winner Miles Davis was a major force in the jazz world, as both a trumpet player and a bandleader.
Who Was Miles Davis?
Instrumental in the development of jazz, Miles Davis is considered one of the top musicians of his era. Born in Illinois in 1926, he traveled at age 18 to New York City to pursue music. Throughout his life, he was at the helm of a changing concept of jazz. Winner of eight Grammy awards, Davis died in 1991 from respiratory distress in Santa Monica, California.
Early Life
The son of a prosperous dental surgeon and a music teacher, Miles Davis was born Miles Dewey Davis III on May 26, 1926, in Alton, Illinois. Davis grew up in a supportive middle-class household, where he was introduced by his father to the trumpet at age 13.
Davis quickly developed a talent for playing the trumpet under the private tutelage of Elwood Buchanan, a friend of his father who directed a music school. Buchanan emphasized playing the trumpet without vibrato, which was contrary to the common style used by trumpeters such as Louis Armstrong, and which would come to influence and help develop the Miles Davis style.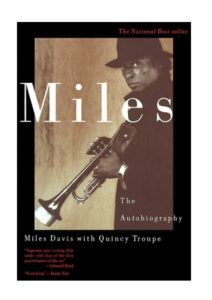 Davis played professionally while in high school. When he was 17 years old, Davis was invited by Dizzy Gillespie and Charlie Parker to join them onstage when the famed musicians realized they needed a trumpet player to replace a sick bandmate.
Soon after, in 1944, Davis left Illinois for New York City, where he would soon enroll at the Juilliard School (known at the time as the Institute of Musical Art).
While taking courses at Juilliard, Davis sought out Parker and, after Parker joined him, began to play at Harlem nightclubs. During the gigs, he met several musicians whom he would eventually play with and form the basis for bebop, a fast, improvisational style of jazz instrumental that defined the modern jazz era.
'Birth of the Cool'
In 1945, Davis elected, with his father's permission, to drop out of Juilliard and become a full-time jazz musician. A member of the Charlie Parker Quintet at the time, Davis made his first recording as a bandleader in 1946 with the Miles Davis Sextet.
Between 1945 and 1948, Davis and Parker recorded continuously. It was during this period that Davis worked on developing the improvisational style that defined his trumpet playing.
In 1949, Davis formed a nine-piece band with uncommon additions, such as the French horn, trombone and tuba. He released a series of singles that would later be considered a significant contribution to modern jazz. They were later released as part of the album Birth of the Cool.
In the early 1950s, Davis became addicted to heroin. While he was still able to record, it was a difficult period for the musician and his performances were haphazard. Davis overcame his addiction in 1954, around the same time that his performance of "'Round Midnight" at the Newport Jazz Festival earned him a recording contract with Columbia Records. There, he also created a permanent band, comprised of John Coltrane, Paul Chambers and Red Garland.
'Kind of Blue'
Davis recorded several albums with his sextet during the 1950s, including Porgy and Bess and Kind of Blue, his final album of the decade, released in 1959. Now considered one of the greatest jazz albums ever recorded, Kind of Blue is credited as the largest-selling jazz album of all time, selling more than 2 million copies.
Davis continued to be be successful throughout the 1960s. His band transformed over time, largely due to new band members and changes in style. The various members of his band went on to become some of the most influential musicians of the jazz fusion era. These included Wayne Shorter and Joe Zawinul (Weather Report), Chick Corea (Return to Forever), and John McLaughlin and Billy Cobham (Mahavishnu Orchestra).
Bitches Brew
In 1968, Davis again changed direction, leading the way for electric jazz with the release of In a Silent Way. By the 1969 release of Bitches Brew, as he deepened the electronic elements and rock rhythms of his music, the transformation was complete. The development of jazz fusion was influenced by artists such as Jimi Hendrix and Sly and the Family Stone, reflecting the "fusion" of jazz and rock. The album Bitches Brew, recorded a few weeks after the 1969 Woodstock Music Festival, set the stage for the jazz fusion movement to follow.
By the mid- 1970s, following the debilitating effects of a 1972 auto accident, Davis went into semi-retirement. He returned to the scene in 1980 and resumed touring in 1981, attracting newer fans. From then to 1991, Davis remained vital and popular, receiving the Grammy Lifetime Acheivement Award in 1990.
Last years
Miles Davis was the personification of restless spirit, always pushing himself and his music into uncharted territory. He was an innovative lightning rod for musicians from all genres — particularly the brightest young players. Davis created some of the 20th century's most challenging and influential music.
Although he had created yet another musical genre, Davis left it behind — along with everything he had created before — in 1974 when he dropped out of music because of fatigue and other health issues. But in the early 1980s, Davis emerged again, and as fusion sputtered, he returned to an aspect of his approach during the 1950s bop years. Davis bravely began to embrace and reinterpret popular songs like Cyndi Lauper's "Time After Time" and Michael Jackson's "Human Nature."
Davis died Sept. 28, 1991, in Santa Monica, Calif. By stretching boundaries and keeping an eye out for like-minded musicians, he crafted an array of sounds that were all distinctively "Miles."
Selected Discography
Birth of the Cool, Capitol, 1949-50
Kind of Blue, Columbia, 1959
The Complete Live at the Plugged Nickel, Columbia, 1965
Bitches Brew, Columbia, 1969
Amandla, Warner Brothers, 1989
For More Information about Miles Davis
Carr, Ian. Miles Davis: The Definitive Biography. New York: Thunder's Mouth Press, 1998.
Crouch, Stanley. "Play the Right Thing." New Republic (February 12, 1990).
Davis, Miles. Miles: The Autobiography. New York: Simon and Schuster, 1989.
Williams, Richard. Miles Davis: The Man in the Green Shirt. New York: H. Holt, 1993.
Tracklist:
1.So What
2.Freddie Freeloader
3.Blue In Green
4.All Blues
5.Flamenco Sketches
6.Move
7.Jeru
8.Moon Dreams
9.Budo
10.Bitches Brew
11.Spanish Key
12.'Round Midnight
13.Pharaoh's Dance
14.Stella By Starlight
15.Summertime
16.Bye Bye Blackbird
17.John McLaughlin
18.Boplicity
19.Venus de Milo
20.On Green Dolphin Street
Browse in the Library:
and subscribe to our social channels for news and music updates: