Browse in the Library:
and subscribe to our social channels for news and music updates:
Reviving old repertoire
Revisiting music one learnt last month, last year, or 20 years ago can be a wonderful experience, like reacquainting oneself with an old friend, while also making a new friendship. Picking up a piece again after a long absence can be extremely satisfying and often offers new insights into that work, revealing layers and subtleties one may not have spotted the first time round.
One also recalls all the reasons what one liked about the repertoire and why one selected it in the first place. It can be surprisingly easy to bring previously-learnt work back into one's fingers, and this ease is a good sign – that one learnt the work carefully in the first place.

Concert pianists will have many pieces "in the fingers" which can be downloaded and made ready for performance in a matter of days. This may include 20 or more piano concertos (we recently interviewed a concert pianist who told me he had "around 50" piano concertos in the fingers), most of Beethoven's 32 Sonatas, many of Bach's 48 Preludes and Fugues, plus other pieces which are 'standard' repertoire: Mozart and Schubert sonatas, works by Chopin, Schumann, Brahms and Liszt, much of Debussy and Ravel etc., and popular 'standards' from the 20th-century repertoire.
Careful learning and preparation mean that repertoire can be learnt, revived and kept going simultaneously, and deep, thoughtful practise is essential for ensuring repertoire remains in the fingers (and brain) even if one is not practising it every day.
A work can never truly be considered "finished". Often a satisfying performance of a work to which one has devoted many hours of study can be said to put the work 'to bed', but only for the time being. The same is true of a recording: rather than a be-all-and-end-all record, maybe a recording is better regarded as a snapshot of one's musical and creative life at that moment.
This process of "continuing" means that one performance informs another, and all one's practising and playing is connected in one continuous stream of music-making.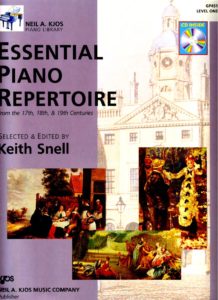 Some thoughts on reviving repertoire:
• Recall what you liked about the pieces in the first place. Rekindle your affection for the pieces when you revisit them
• Don't play through pieces at full tilt. Take time to play slowly and carefully, as if learning the piece for the first time.
• Trust your practise skills. Be alert to issues as they arise and don't allow frustration to creep in.
• Look for new interpretative and expressive possibilities within the music. Try new interpretative angles and meaningful gestures.
• Don't hurry to bring the piece up to full tempo too quickly. Take time to practise slowly and carefully.
• Schedule performance opportunities: there's nothing better to motivate practise than a concert date or two in the diary.
Most Famous Classical Piano Pieces
Track List
01. Beethoven – Piano Sonata No. 14 "Moonlight Sonata": I. Adagio sostenuto 00:00​ 02. Chopin – Nocturnes, Op. 9: No. 2 in E-flat major 04:53​ 03. Debussy – Suite Bergamasque, L. 75: III. Clair de Lune 09:11​ 04. Satie – Trois Gymnopédies: No. 1, Lent et doloreux 13:55​ 05. Grieg – Lyric Pieces, Book I, Op. 12: No. 1, Arietta 16:43​
06. Chopin – Nocturne in C sharp minor, Op. Posth. 18:13​ 07. Schumann – Kinderszenen, Op. 15: No. 7, Träumerei (Live Recording) 22:01​ 08. Bach/Gonoud – Ave Maria 25:01​ 09. Beethoven – Bagatelle No. 25 in A Minor, WoO 59 "Für Elise" 26:44​ 10. Mozart – Piano Sonata No. 11 in A Major, K 331: III. Alla Turca 30:30​
11. Chopin – Preludes, Op. 28: No. 15 "Raindrop" 34:11​ 12. Debussy – 2 Arabesques: No. 1, Andantino con moto 39:30​ 13. Liszt – Consolations, S. 172: No. 3, Lento placido 43:38​ 14. Liszt/Schumann – Liebeslied "Widmung", S. 566 47:39​ 15. Mozart/Liszt – Ave Verum Corpus, S. 44 51:14​ 16. Debussy – Rêverie, L. 68 53:34​ 17. Rachmaninoff – Rhapsody on a Theme by Paganini: Var. XVIII 57:47​ 18. Tchaikovsky – The Seasons, Op. 37a: No. 6, June. Barcarolle (Live Recording) 01:00:45​ 19. Schubert – Four Impromptus, Op. 90, D. 899: No. 3 in G-Flat Major (Live Recording) 01:06:01​
20. Mendelssohn – Songs Without Words, Book 1, Op. 19b: No. 1, Andante con moto 01:12:10​ 21. Schubert/Liszt – Ständchen (Serenade), S. 560, No. 7 01:16:01​ 22. Tchaikovsky – 18 Morceaux, Op. 72: No. 5 in D Major, Andante mosso (Méditation) 01:21:44​ 23. Scriabin – Étude in C-Sharp Minor, Op. 2 No. 1 (Live Recording) 01:27:24​ 24. Rachmaninoff – Six Moments Musicaux, Op. 16: No. 3 in B Minor, Andante cantabile 01:30:34​
25. Chopin – Fantaisie-Impromptu in C-Sharp Minor, Op. 66 01:35:55​ 26. Beethoven – 2 Rondos, Op. 51: No. 1 in C Major, Moderato e grazioso 01:40:03​ 27. Liszt – Liebesträume, S. 541: No. 3 in A-Flat Major 01:46:28​ 28. Debussy – Préludes, Premier livre, L. 117: No. 8, La fille aux cheveux de lin 01:52:05​ 29. Ravel – Pavane pour une infante défunte in G Major, M. 19 01:54:58​
30. Chopin – Piano Sonata No. 2 in B-Flat Minor, Op. 35: III. Marche funèbre. Lento 02:01:59​ Tracks: 1-3, 6, 11-14, 16, 17, performed by Luke Faulkner Tracks: 5, 7, 18-24, performed by Vadim Chaimovich Tracks: 4, 8, 15, 25, 26, performed by Carlo Balzaretti Tracks: 9, 10, 27-30, performed by Giovanni Umberto Battel
Browse in the Library:
and subscribe to our social channels for news and music updates: