Browse in the Library:
and subscribe to our social channels for news and music updates:
Ennio Morricone
Ennio Morricone nasce a Roma nel 1928 da una famiglia di musicisti. Suo padre, un trombettista, si era costruito una solida reputazione nei circoli musicali come interprete, che si trattasse di musica jazz, opera o film.
All'età di sei anni Ennio Morricone si dedicò alla musica ea sette già studiava composizione; a dieci anni si iscrive al Conservatorio di Santa Cecilia, diplomandosi nel 1956. Durante gli anni di formazione Morricone mostra scarso interesse per la musica da film, ma la sua vocazione professionale si risveglia nel 1954, dopo aver assistito alla proiezione di The Rabe, scritto da Alfred Newman.
Nel 1959 ricevette il suo primo incarico a punteggio pieno quando il regista Luciano Salce gli chiese di scrivere le musiche per il film Il Federale. Nel corso dei due anni successivi, Morricone ha realizzato una dozzina di film, tra cui Duello nel Texas (Shootout at Red Sands) nel 1963, il suo primo western, e Malamondo, nel 1964, che ha portato l'attenzione internazionale sul suo talento in divenire.
Morricone ha composto la colonna sonora di oltre 500 film e serie televisive. È il vincitore di un Oscar per la migliore colonna sonora nel 2016 per The Hateful Eight e un Oscar onorario assegnato nel 2006.
Le composizioni di Morricone hanno fatto parte di oltre 20 film pluripremiati, oltre a brani sinfonici e corali. Spiccano, tra gli altri, i suoi lavori nei film spaghetti western, con l'aiuto dell'amico Sergio Leone, come Per un pugno di dollari, la morte aveva un prezzo, Il buono, il brutto e il cattivo o Fino alla sua ora.
Tuttavia, il suo lavoro si estende a molti generi compositivi, rendendolo così uno dei compositori più versatili nella storia del cinema e anche uno dei più influenti del 20° secolo. Le sue composizioni per Days of Heaven, The Mission o Cinema Paradiso sono state catalogate come autentici capolavori.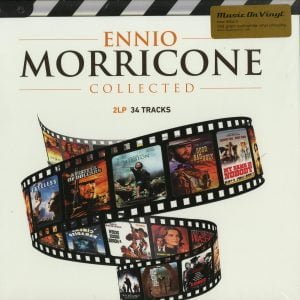 Browse in the Library:
and subscribe to our social channels for news and music updates:
Il buono, il brutto, il cattivo
Il buono, il brutto, il è un film italo-tedesco diretto da Sergio Leone e uscito nel 1966. All'interno dei western più famosi c'è la storia del cinema, se si considera l'epitome dello stile 'spaghetti western'.
Per concludere la sua Trilogia del dollaro (conosciuta anche come Trilogia dell'uomo senza nome) ed evitare di ripetersi, Sergio Leone sta aumentando il numero dei protagonisti da due a tre: Clint Eastwood e Lee Van Cleef, che hanno recitato in And for qualche dollaro in più, aggiungi Eli Wallach in questo terzo film.
Lo scenario introduce un'altra novità: l'irruzione della Storia, con la Guerra Civile a fare da sfondo. Per tanto, cronologicamente è un passo indietro rispetto agli altri due film della trilogia, ovvero un prequel.
Dal punto di vista mistico, il personaggio di 'l'uomo senza nome', interpretato da Clint Eastwood (la costante che accomuna i tre film), non compare nel suo solito outfit: indossa molta polvere dalla copertura di tipo, ed è solo in Alla fine del film se posiziona un poncho, adottando poi l'aspetto esteriore del personaggio dei primi due film e concretizzando, secondo l'idea di Leone, l'aspetto ciclico della trilogia.
Dopo il successo di A Fistful of Dollars e E per qualche dollaro in più, i dirigenti della United Artists hanno contattato lo sceneggiatore di entrambi i film, Luciano Vincenzoni, per acquisire i diritti dei suoi primi lavori e dei suoi prossimi western. Né lui, né il produttore Alberto Grimaldi, né Sergio Leone avevano in mente dei piani.
In effetti, Leone non aveva nemmeno in programma di fare un altro western. Tuttavia, attirato dall'ingente somma di denaro offerta (che le avrebbe permesso di essere finanziariamente indipendente per il resto della sua vita), ha accettato la proposta, senza nemmeno pensare al prossimo film. Fortunatamente per lui Vincenzoni ebbe l'idea di un film su tre mascalzoni in cerca di tesori durante la Guerra Civile'. '
Lo studio ha accettato e al progetto è stato assegnato un bilancio di 1 milione di dollari (più il 50% dei proventi della vendita dei biglietti al di fuori dell'Italia). Alla fine il film costerà 1,3 milioni, una cifra astronomica considerando le precarie condizioni in cui Leone aveva dovuto lavorare solo due anni prima.
Il titolo originale del film era I due magnifici Bons-à-rien, ma è stato cambiato dall'inizio delle riprese, quando Vincenzoni ha immaginato il titolo Il buono, il brutto e il cattivo ( Il buono, il brutto, il cattivo ), che subito piacque a Leone.