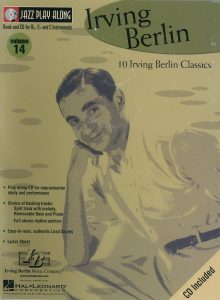 Irving Berlin
(Israel Balin; Temun, 1888 – New York, 1989) American composer of Russian origin. Born into a Jewish family, Berlin and his relatives escaped a pogrom when he was four years old and decided to settle in the United States. In 1896, the year his father died, he had to go to work singing in the streets and bars. He began making a living as a waiter-singer in a prestigious Chinatown restaurant and taught himself to play the piano.
Her first song lyrics were 'Marie From Sunny Italy', with music by Michael Nicholson. During the first decade of the century, he wrote mainly Yiddish songs for artists such as Eddie Cantor and Fanny Brice, as well as numerous tunes for the New York-based music publishing industry between 32nd Street and Broadway, popularly known as Tin Pan Alley. Her interest in ragtime and its main figure, Scott Joplin, led her to compose in 1911 the words and music for his first great success: the song entitled 'Alexander's Ragtime Band'. The following year he married Dorothy Goetz, who died a few months later from pneumonia.
His first songs were included in shows such as Hanky-Panky or in the popular Ziegfeld Follies, until in 1914 he wrote the complete score for the musical Watch your Step, composed entirely in ragtime. During the First World War he wrote songs with a patriotic tone, among which 'When I get back to the USA' and 'For your country and my country' stand out, and he also composed some songs for the musical Yip, Yip, Yaphank, conceived for the entertaining US troops.
In 1921 he teamed up with producer Sam M. Harris to build his own theater, the Music Box Theatre, and stage musical comedies there. In 1926 he married Ellin Mackay, a Catholic young New York socialite who was disinherited by her father when she heard the news about her. During the 1920s, Irving Berlin dedicated ballads to Mackay such as 'All Alone', 'How About Me?' or 'The Song is Ended'.
During the 1930s, he participated as a composer in the musical As Thousands Cheer (1933) and dedicated himself to writing songs for the first Hollywood musical films starring Fred Astaire and Ginger Rogers, including Top Hat (1935), for which he wrote the popular 'Cheek to cheek', Follow The Fleet (1936) or Carefree (1938). That same year he took Alexander's Ragtime Band to the cinema, in which his old song of the same title appeared.
At the start of World War II he composed 'God Bless America', which would become one of the most famous patriotic songs in the United States, as well as the soldier-themed musical This is the Army, from which the song 'This is the army, Mr. Jones'. Irving Berlin began the 1940s with the Broadway musical Louisiana Purchase. In 1942, he wrote the songs for the film Holiday Inn, starring Bing Crosby and Fred Astaire, including his popular Christmas carol 'White Christmas'.
In 1946, he created the score that is considered his masterpiece: the music for the stage show Annie Get Your Gun, based on the life of Western character Annie Oakley and starring Ethel Merman and Ray Middleton. This score was commissioned at the time to Jerome Kern, but he died before finishing it and Berlin was chosen to replace him. Three years later, in 1949, she composed the music for another musical entitled Miss Liberty, which was much less successful than the previous one.
He began the next decade by putting music to the film Call Me Madam (1951), starring Ethel Merman, and continued with two other films: White Christmas and There is No Business Like Show Business, which included some of his old hits. In 1962 she composed the score for the musical comedy Mr. President and, four years later, the song 'An Old Fashioned Wedding' for a revival of Annie Get Your Gun at Lincoln Center in New York. After that date, Berlin withdrew from the music scene and lived in seclusion at his home in New York.
Despite his little musical knowledge, Berlin composed more than 1,500 songs. He was not able to read sheet music (his assistant was the one who transcribed his melodies) and when playing the piano he only used the black keys. In order to compose more easily, he acquired an instrument called a 'transposing piano', which could change key if a mechanism inside it was activated.
His contribution to American music was essential; hence the famous phrase by fellow composer Jerome Kern: 'There is no place for Irving Berlin in American music, he is American music'. In 1955, in recognition of his patriotism, President Eisenhower awarded him a gold medal, and in 1963 he was awarded a Tony Award for his long career in musical theater.
Browse in the Library:
and subscribe to our social channels for news and music updates: