Browse in the Library:
and subscribe to our social channels for news and music updates:
Eric Clapton
Eric Clapton was born in England on March 30, 1945 (he is 77 years old) as Eric Patrick Clapton. He grew up to be nine years old, believing his grandparents to be his parents, and when they thought Eric was old enough to know the truth, they told him that his 'sister' was actually his mother, and that they hadn't told him before, to avoid suffering because of its illegitimacy.
He was a quiet and polite boy, and a student with a clear aptitude for art. After hearing the 'King' and Buddy Holly, Clapton became enthusiastic about music, and at the age of 13, his grandmother bought him his first guitar, a 14-pound Spanish Hoya Acústica. Blues was the type of music that Eric Clapton immersed himself in the most, and so he began listening to artists like Jimmy Reed, Muddy Waters, Big Bill Broonzy, and many more.
When he was already 16 years old, Eric Clapton was admitted to Kingston College Of Art, thanks above all to his magnificent artwork. Although he chose to study stained-glass design, he failed to finish most of the assignments he was given, as he spent most of his time playing the guitar. He later found work in construction, and when he managed to save up a good amount of money, he bought what would become his second guitar, a £100 Kay electric, and began playing folk clubs at night. . In this way, Eric Clapton entered the world of music.
He was a quiet and polite boy, and a student with a clear aptitude for art. After hearing the 'King' and Buddy Holly, Clapton became enthusiastic about music, and at the age of 13, his grandmother bought him his first guitar, a 14-pound Spanish Hoya Acústica. Blues was the type of music that Eric Clapton immersed himself in the most, and so he began listening to artists like Jimmy Reed, Muddy Waters, Big Bill Broonzy, and many more.
In 1966, he left Mayall's group and joined Jack Bruce and Ginger Baker to form the first supergroup in rock history, Cream. After three years of successive recordings and massive concerts, especially in the United States, the group split up in 1968 after strong arguments between Jack Bruce and Ginger Baker.
In 1969, he forms a new group called Blind Faith with the presence of Steve Winwood. An album with the wonderful 'Can't Find My Way Home' and 'Presence Of The Lord' and an American tour was the musical baggage of this great group that only lasted a year. That same year, Eric Clapton was invited by John Lennon to play several concerts with him and to record the single 'Cold Turkey.' In late 1969 and early 1970 Clapton played in Delaney and Bonnie's band. With the help of the members of this band, Eric Clapton recorded his first solo album in 1970, entitled Eric Clapton and containing classic songs from Clapton's repertoire such as 'Let It Rain', 'Blues Power' or 'After Midnight'.
In 1970, Clapton helped record George Harrison's magnificent triple LP 'All Things Must Past' and formed a new group with three members of the Delaney and Bonnie band, Carl Radle, Bobby Whitlock and Jim Gordon. The group was called Derek And The Dominos, with this group and the help of guitarist Duane Allman, Clapton recorded the best album of his entire career 'Layla and Other Assorted Love Songs' which he composed inspired by George Harrison's wife, Patty Boyd, with whom Clapton married later, although in his day he did not have the recognition he deserved and went practically unnoticed.
During the "All Things Must Past" sessions, Clapton began his heroin addiction. After the failure of Layla, the death of his father Jack Clapp and that of his friend Jimi Hendrix, this dependency became even greater and for two long years he disappeared from the music scene, appearing only in the Bangladeshi concert of George Harrison and with Leon Russel at a concert in London.
In January 1973, after successful therapy based on acupuncture, Eric Clapton gave up his drug problems and his friend Pete Townsend organized a comeback concert for him at the Rainbow Theater in London, in which, in addition to Clapton and Townsend, Ron Wood participated. and Steve Winwood.
In July 1974, Clapton recorded the album 461 Ocean Boulevard, which was number 1 on the American charts and included a version of Bob Marley's classic, 'I Shot The Sheriff'. Clapton also appears that same year in the Who's film Tommy. In April 1975, Clapton recorded There's One In Every Crowd and a live album in August titled, 'E.C. Was Here', which was followed by 'No Reason To Cry' in August 1976, which featured The Band, Ron Wood and Bob Dylan.
But the real commercial success as a solo artist came in November 1977 with the album 'Slowhand'. The LP contains the hits 'Lay Down Sally', 'Wonderful Tonight' and the classic 'Cocaine' and sold over 3 million copies in the U.S.A. In November 1978, Clapton releases 'Backless' which enters the Top 10 with the song 'Promises.' In the late 1970s, Clapton's career began to feel the effects of his addiction to drinking. In May 1980, he released the magnificent double live album, 'Just One Night' recorded in Japan at the end of 1979.
In April 1981, he released 'Another Ticket' and again hit the Top 10 with 'I Can't Stand It.' That same year, Clapton collapsed during a performance in Madison, Wisconsin (USA) and was immediately hospitalized. He is diagnosed with several ulcers, one the size of a tangerine. After which he enters a specialized clinic to solve his problems with alcohol.
In February 1983, Clapton signs with the Warner Brothers record company and releases 'Money And Cigarettes'. At the same time, a compilation of the greatest hits from his time with the Polydor company titled Time Pieces-Best of Eric Clapton appears, which sold more than 7 million copies in the U.S.A.
In March 1985, he records 'Behind The Sun' which includes 'She She She's Waiting', 'Same Old Blues' and 'Forever Man'. That summer he participates in the Live Aid macro-concert where he puts on an impressive performance and marks a turning point in Clapton's career, attracting thousands of new fans and rejuvenating his music. He also composes several songs for the soundtrack of the Edge Of Darkness series, for which he receives several prestigious awards.
In November 1986, 'August' is released, which includes the hits 'It's In The Way That You Use It' (also featured on The Color Of Money movie soundtrack) and 'Tearing Us Apart' (with Tina Turner ). Q magazine titles the album as, '…the official start of Clapton's career renaissance…'.
In February 1987, he received the Lifetime Achievement Award from the British Phonographic Institute. In April 1988, his first compilation box entitled 'Crossroads' is published, which includes 73 songs from all his eras and groups. In 1990, 'Crossroads' became the first box set in history to go platinum (and later double platinum). Also in 1988, Clapton recorded songs for two other soundtracks, 'Homeboy' and 'Lethal Weapon 2'.
In November 1989, 'Journeyman' is published. This LP is considered his return to the blues-rock roots that were the main characteristic of Clapton's music in the 60s and 70s. We can mainly highlight 'Pretending' and 'Bad Love'. With this last song, Clapton got his first Grammy as a solo artist in 1991 and in 1990, 'Journeyman' won the Billboard Music Award for Best Rock Album.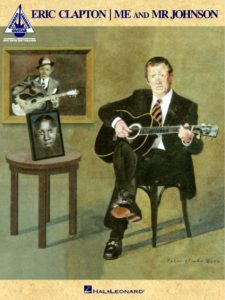 1990 was also a year of tragedy for Clapton. After a concert in Alphine Valley with Steve Ray Vaughan, Robert Cray, Jimmie Vaughan and Buddy Guy, several members of Clapton and Steve Ray Vaughan's American tour crew are killed in a helicopter crash. In 1991 tragedy struck Clapton again when his 4-year-old son died after falling from a skyscraper window in New York.
In October 1991, the double live album '24 Nights' is published, which includes several live performances at the Royal Albert Hall in London in 1990 and 1991. In December of that same year, he toured with George Harrison in Japan.
In January 1992, Eric Clapton recorded an acoustic concert for MTV and two new soundtracks Rush and Lethal Weapon 3 (which includes the song 'It's Probably Me' with Sting). In August, the acoustic concert was released under the title 'Unplugged', which contains the hits 'Tears in Heaven', dedicated to his son, and a new acoustic version of the classic 'Layla'. This LP won 6 Grammys and sold over 10 million copies worldwide. Clapton also won the MTV Video Music Award for Best Video for 'Tears In Heaven.'
1993 was Clapton's award year. He not only received the aforementioned 6 Grammys for 'Unplugged', but also entered the Rock & Roll Hall of Fame as part of the group Cream (The Yardbirds had previously entered).
As for the recordings, Clapton appears on several tribute albums: Tribute To Curtis Mayfield, Stone Free: A Tribute To Jimi Hendrix, and Bob Dylan 30th Anniversary Concert. In September 1994, 'From The Cradle' is released, which is the first all-blues album recorded by Clapton. It contains a collection of classic blues songs. The LP won the Grammy for Best Traditional Blues Album in 1995 and sold over 3 million copies in the U.S., making it the best-selling blues album in history.
That year, Clapton's name sounded in the London press as one of the possible substitutes for the late Lennon to be the fourth member of the 'Beatles', as part of a project aimed at reuniting the survivors of the famous Liverpool group.
In April 1996, a new compilation box was released with the title 'Crossroads 2: Live In The Seventies', which basically consists of live performances recorded during the 70's as well as 4 previously unreleased studio tracks. Clapton also had a big hit that year with the song 'Change The World' featuring Babyface. He also participated in a tribute concert to Stevie Ray Vaughan and in the Prince's Trust concert in London's Hyde Park, where he gave a memorable performance.
In 1997, Eric Clapton collaborated with Simon Climie on a techno album titled 'Retail Therapy' (on which he appears under the pseudonym 'X-Sample'). Clapton also won 3 other Grammys that year: Record of the Year and Best Male Pop Vocalist for 'Change The World' and shared the Grammy for Best Rock Instrumental Performance for 'SRV Shuffle.' from the Steve Ray Vaughan tribute album.
On March 10, 1998, Clapton released the album Pilgrim and in July he opened a clinic for the rehabilitation of drug addicts and alcoholics on the Caribbean island of Antigua under the name 'Crossroads Center'.
In 2004, he published a tribute album to the best bluesman in history: Robert Johnson. 'Me And Mr. Johnson' includes 14 versions of the 29 songs the Mississippi blues master recorded during his brief career in the 1930s. Many call Johnson the greatest bluesman of all time for his great influence on the careers of Muddy Waters, Howlin' Wolf, The Rolling Stones and The Allman Brothers Band.
Eric Clapton has recorded this album with a truly luxurious band: Billy Preston (keyboards), Nathan East (bass), Andy Fairweather Low (guitar) and Steve Gadd (drums) among others. Clapton had previously recorded a song by Maestro Johnson, both on his solo albums and when he was part of the bands John Mayall's Bluesbreakers or Cream. But "Me and Mr. Johnson" will be the first full tribute Clapton has done in his career.
In 2007, to celebrate the 25th anniversary of his song 'Layla', Eric Clapton offers us a double compilation CD with 36 songs with the best of his career. 'Layla' was composed in 1972 by Clapton as a tribute to Patty Boy, wife of the late Beatle George Harrison, and who would later become Clapton's own wife.
Discography
Main articles: Eric Clapton albums discography and Eric Clapton singles discography
Solo studio albums
Collaborations
Follow @LibrarySheet