Browse in the Library:
and subscribe to our social channels for news and music updates:
Massenet, Méditation de Thaïs 1894 (piano solo partition, sheet music)
Jules Massenet (1842-1912)
Born in Montaud (Saint-Étienne) on May 12, 1842, died in Paris on August 13, 1912.
His grandfather is a teacher in Strasbourg. His father, Jules Émile Frédéric, an officer in the armies of the First Empire, was director of an agricultural equipment company from 1814 to 1847. His mother Eléonore-Adelaïde Royer de Marancour (1809-1875), was a good pianist who composed a few pieces. She gives piano lessons. The family moved to Paris in 1847.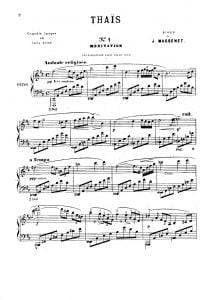 From 1851, he received his first piano lessons from his mother. Failed for the first time in 1851, he was admitted to the Paris Conservatory on January 10, 1853. There he took lessons from Augustin Savard (1861-1942) for harmony and from A. Laurent for the piano preparatory class.
His parents moved to Chambéry in 1854. He tried to reach Paris, but was quickly brought back to his parents. Welcomed in Paris by his sister Julie, he was able to resume classes at the Conservatoire the following year. He won a first piano prize in 1859, but did not get along with François Bazin, his composition teacher.
He was impressed by the hearing of Berlioz's L'Enfance du Christ in 1855 and followed the concerts of works by Berlioz and Wagner at the Cirque Napoléon (inaugurated by Napoleon III in 1852, which has since become Cirque d'hiver), the concerts that Wagner gave in person in 1860 during his stay in Paris.
He studied harmony with Henri Reber. He gives a few concerts. In 1861, he entered the composition class of Ambroise Thomas and the organ class of Benoist. The same year, he published with Brandus and Dufour a Grande Fantaisie de concert sur le Pardon de Ploërmel, on a theme by Giacomo Meyerbeer. In 1862, he obtained a second prize for fugue and counterpoint.
The material life of the family is uncertain. His mother gives piano lessons. He played the triangle at the Théâtre du Gymnase, then for four years he was a timpanist at the Théâtre lyrique. There he familiarized himself with the repertoire.
After an unfortunate attempt in 1862, he won the Premier Prix de Rome the following year with his cantata David Rizzio. During his three-year stay in Rome, he met Franz Liszt, and Louise-Constance de Gressy (known as Mlle de Sainte-Marie, nicknamed Ninon by Massenet) one of his piano students recommended by Liszt, who would become his wife. In Rome, he composed a Requiem, and a suite for orchestra, Pompeîa, which he named "Symphonie" (premiered in Paris on February 24, 1866).
Returning to Paris in 1866, he supported himself by giving piano lessons and thought of publishing fashionable piano pieces. He married in October with Ninon.
The meeting with Georges Hartmann who will be his editor and his mentor, as well as a commission from the Opéra Comique, are decisive for his career. On April 3, 1867, he created his first lyrical work, La grand' tante with Marie Heilbron in the title role. The same year, his cycle of romances Poème d'avril opus 14, on poems by Armand Silvestre and his cantata Paix et liberté were performed for the Emperor's birthday. During these years, he participated in composition competitions where his operas did not win prizes.
His only daughter, Juliette, was born in 1868.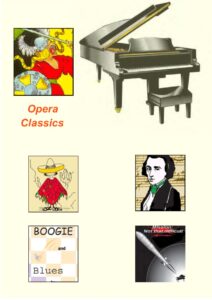 He quickly gained notoriety, and was one of the young composers noticed in Paris. His compositions are published. He enlisted in the National Guard during the Paris Commune (on March 29, 1871 conscription was abolished, and all able-bodied citizens were part of the National Guard). He participated in the foundation of the National Society of Music.
In 1872 his comic opera Don César de Bazan was on the bill at the Opéra-Comique in Paris for 13 performances. In 1873, he composed the incidental music for Les Erinnyes by Lecomte de Lisle played at the Odéon and created Drame sacred Marie-Magdeleine with Pauline Viardot in the title role. He revamped the Erinnyes which were performed at the Gaîté Lyrique on 15 May. He was awarded the Legion of Honor on July 26.
In 1877, his opera The King of Lahore, the culmination of several years of work, was successfully performed. The Italian publisher Ricordi offers to have it translated into Italian and offers another subject: Hérodiade.
Massenet was appointed professor of composition at the National Conservatory of Music in Paris in 1878, replacing Ambroise Thomas who became the director of the establishment. He has the reputation of being a good teacher. He has among his students Gabriel Pierné, Gustave Charpentier, Florent Schmitt, Alfred Bruneau, Guy Ropartz, Reynaldo Hahn, Charles Koechlin and Georges Enesco. On February 13, Il Re de Lahore (with an additional tableau) achieved triumphant success at the Teatro Regio in Turin. On November 30, Massenet was elected to the Academy of Fine Arts (the Institute), against Camille Saint-Saëns.
Rejected because of its biblical subject by Vaucourbeil, director of the Paris Opera, he created Hérodiade, the score of which was completed in 1879, on December 19, 1881 at the Théâtre de la Monnaie in Brussels.
In 1882, he began composing Manon Lescaut to a libretto by Henri Meilhac and Philippe Gille, based on the short story by Abbé Prévost. This work requires two years of work. On this occasion, he visits the residence of Abbé Prévost in The Hague. Manon Lescaut premiered at the Opéra-Comique in January 1884 with Marie Heilbron in the title role (she died in 1886). Le Cid was created in 1885, and the same year he started Werther. In 1887, he modified the part of Manon for the young American soprano Sybil Sanderson, and composed Esclarmonde to highlight it. He then created Amadis and Le Mage.
In 1891, he was affected by the bankruptcy of Hartmann, whose collection was transferred to the publisher Heugel. The following year he was in Austria, for the performance of Werther and one of his new ballets, Le Carillon. On October 16, we reach the 200th performance of Manon.
For Sybil Sanderson, he composed Thaïs after Anatole France which premiered at the Paris Opera in March 1894. In May, he created Le portrait de Manon at the Opéra-Comique and in June La Navarraise in London, at the Covent Garden. He completes and orchestrates Kassya that Léo Delibes, deceased, could not complete. He received the cross of Commander of the Legion of Honor on December 31, 1895.
On the death of Ambroise Thomas, he refuses the direction of the conservatory and leaves his post, claiming that his activity as a creator forces him to have too often a replacement (generally André Gédalge).
He created Sapho after Daudet at the Opéra-Comique in November 1897, and Cendrillon, composed for several years in May 1899.
He settled in Égreville, south of Fontainebleau. There he completed his work of sacred music, La terre promise, which premiered at the Saint-Eustache church in Paris. In 1900 he composed the music for Phèdre by Racine, performed at the Théâtre de l'Odéon. In 1901, Grisélidis, after Boccace, appeared at the Opéra-Comique. The juggler of Notre-Dame, will be created in Monte Carlo; on this occasion, he was decorated with the Order of Saint-Charles by Prince Albert 1st.
In 1903, Louis Diémer created his piano concerto which immediately fell into oblivion. Massenet does not even mention it in his autobiography. Sybil Sanderson dies of a bad flu in May.
In January 1905 we reached the 500th performance of Manon. The same year, Mary Garden interpreted Chérubin in Monte-Carlo. In 1906, Ariane is given at the Opera with Lucy Arbell (met in 1904), Bacchus has no success unlike Don Quixote, created in Monte-Carlo in 1910.
In February 1911, he published 5 articles in the newspaper "Les Échos", entitled Souvenirs de Théâtre. From November, 29 additional chapters generally appear weekly, until the 'Posthumous Thoughts' on July 11, 1912. The whole is published the same year under the title My memories.
He travels to Brussels in March, to supervise the rehearsals of Grisélidis at La Monnaie, followed by a stay in Vienna where Massenet conducts Manon during the 100th performance at the Opéra Impérial.
Browse in the Library:
and subscribe to our social channels for news and music updates: