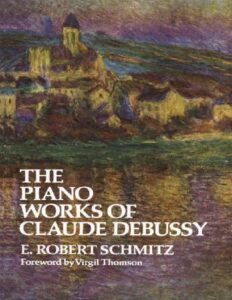 Claude-Achille Debussy – Clair de Lune (Mondglanz, Mondschein, Moonlight), Suite Bergamasque, Debussy, piano.
La Suite bergamasque a été composée pour la première fois en 1890-1905. 'Claude Debussy joue ses plus belles œuvres' Claude Debussy, Piano Roll, 1913.
De 1903 à 1913, Claude Debussy enregistre plusieurs de ses propres pièces sur des rouleaux de piano. Debussy se réjouit de la qualité de reproduction, déclarant dans une lettre à Edwin Welte : « Il est impossible d'atteindre une plus grande perfection de reproduction que celle de l'appareil Welte. Je suis heureux de vous assurer dans ces lignes de mon étonnement et de mon admiration pour ce que j'ai entendu. Je suis, Cher Monsieur, Votre Fidèlement, Claude Debussy.
Search Posts by Categories:
and subscribe to our social channels for news and music updates:
Vieux de plus d'un siècle, ces enregistrements permettent d'écouter le grand compositeur jouer ses propres œuvres. Debussy réalise ses derniers enregistrements alors qu'il est âgé de 52 ans et atteint d'un cancer, en 1913. Il décède moins de cinq ans plus tard, le 25 mars 1918.
Les rouleaux pour le piano reproducteur étaient généralement fabriqués à partir des performances enregistrées de musiciens célèbres. En règle générale, un pianiste s'asseyait devant un piano d'enregistrement spécialement conçu, et la hauteur et la durée de toutes les notes jouées étaient soit marquées, soit perforées sur un rouleau vierge, ainsi que la durée de la pédale de maintien et de la pédale douce.
La reproduction de pianos peut également recréer la dynamique de la performance d'un pianiste au moyen de perforations de contrôle spécialement codées placées vers les bords d'un rouleau de musique, mais ce codage n'a jamais été enregistré automatiquement.
Different companies had different ways of notating dynamics, some technically advanced (but not necessarily more efficient), some secret, and some entirely dependent on a recording producer's handwritten notes, but in all cases these dynamic hieroglyphs had to be skillfully converted into specialized perforated characters. codes needed for different types of instruments.
Le jeu de nombreux pianistes et compositeurs est conservé sur la reproduction de piano roll. Gustav Mahler, Camille Saint-Saëns, Edvard Grieg, Teresa Carreño, Claude Debussy, Manuel de Falla, Scott Joplin, Sergei Rachmaninoff, Sergei Prokofiev, Alexander Scriabin, Jelly Roll Morton et George Gershwin sont parmi les compositeurs et pianistes qui ont eu leurs performances enregistrées de cette façon.
Le célèbre Clair de lune de Claude Debussy est la troisième pièce de la Suite bergamasque pour piano, une œuvre dont le titre a été choisi autant pour l'amour de son compositeur pour les sons des mots que pour ses implications Renaissance (bien que l'on puisse à juste titre qualifier l'œuvre d'un hommage aux clavecinistes français d'antan).
Le ré bémol majeur de Clair de lune est parfaitement choisi, la mélodie étincelante en tierces parallèles (con sordina, demande Debussy) savamment équilibrée par le tempo rubato magnifiquement dissonant qui le suit. Au cours de la section médiane un poco mosso de Clair de lune, la musique dépasse largement le pianissimo de l'ouverture, et dans son point culminant, on pourrait dire que le jeune compositeur a fait davantage appel à la lumière du soleil qu'au clair de Lune; les arpèges incessants sont peut-être exagérés, mais on peut tout de même les chérir.
De petites bribes de ces arpèges se retrouvent dans la reprise de la musique d'ouverture, et les tons roulants de la section médiane reçoivent quelques mesures pour plaider leur cause une fois de plus avant que la cadence chromatique finale, un moment de tranquillité absolue, ne soit faite. .
Clair de Lune est un poème français écrit par Paul Verlaine en 1869. C'est l'inspiration du troisième et plus célèbre mouvement de la Suite bergamasque de Debussy de 1890 du même nom. 'Clair de lune' ('Moonlight') est issu du premier recueil de Verlaine Fêtes galantes (Gallant Parties, 1869).
Clair de Lune de Paul Verlaine
'Clair de lune' (en anglais 'Moonlight') est un poème écrit par le poète français Paul Verlaine en 1869. C'est l'inspiration du troisième et le plus célèbre mouvement de la Suite bergamasque de Claude Debussy de 1890. Debussy a également réalisé deux mises en musique du poème pour voix et accompagnement au piano. Le poème a par ailleurs été mis en musique par Gabriel Fauré, Louis Vierne et Josef Szulc.
Votre âme est un paysage choisi
Que vont charmants masques et bergamasques
Jouant du luth et dansant et quasi
Tristes sous leurs déguisements fantasques.

Tout en chantant sur le mode mineur
L'amour vainqueur et la vie opportune
Ils n'ont pas l'air de croire à leur bonheur
Et leur chanson se mêle au clair de lune,

Au calme, clair de Lune triste et beau,
Qui fait rêver les oiseaux dans les arbres
Et sangloter d'extase les jets d'eau,
Les grands jets d'eau sveltes parmi les marbres.
Search Posts by Categories:
and subscribe to our social channels for news and music updates: