Follow @LibrarySheet
Table of Contents
Paul Desmond & Dave Brubeck – Take Five (piano, sheet music) Arranged by Terrance Shider.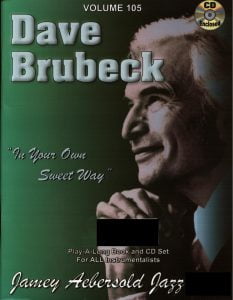 Dave Brubeck (1920-2012)
American composer and pianist born on December 6, 1920, in Concordia (California) and died on December 5, 2012, in Norwalk (Connecticut). He is known for incorporating elements of classical music into jazz. Brubeck learned piano as a child from his mother, Elizabeth, who was a piano teacher and taught him since he was four years old; At the age of nine, he also began to practice on the cello.
He worked as a pianist with local jazz groups from 1933 and studied music at the College of the Pacific between 1941 and 1942 in Fresno, California, where he later created and conducted his own twelve-piece orchestra. He studied composition at Mills College in Oakland, California, under the tutelage of French composer Darius Milhaud.
He went on to serve in the United States Army in World War II and later returned to music, resuming his studies under the watch of Arnold Schoenberg, who had invented the twelve-tone system of composition.
In 1946, Brubeck constituted an experimental octet; he then created a trio in 1949 and finally a quartet, with whom he performed between 1951 and 1967. This quartet, which featured saxophonist Paul Desmond, flirted during the 1960s with metrics then foreign to jazz, and became in one of the most famous groups within this genre. But despite the great general success with the public, Brubeck failed to gain deep and complete acceptance as a piano teacher in the jazz environment.
In the 1970s, Brubeck toured and recorded several times, using his own children as staff. Brubeck was a very prolific and original songwriter and some of his best known tunes include The Duke, In Your Own Sweet Way and Blue Rondo a la Turk.
Dave Brubeck became a jazz legend. The first impression of the public associates it with an intricate and light sound known as West Coast Cool. His daring improvisations and his harmonic approach generated great interest from critics and fans alike. His group managed to reach number one on Down Beat magazine's Critics and Readers lists. The Dave Brubeck Quartet became the sound that identified an era. It was they who rode the wave of jazz popularity on college campuses during the 1950s.
They played in top-tier jazz clubs, as well as touring with Charlie Parker, Dizzy Gillespie, Stan Getz, and other great jazz musicians. In the bop era, Dave Brubeck's quartet managed to be number one on the jazz charts of a black newspaper, The Pittsburgh Courier.
In 1954, his photograph appeared on the cover of Time magazine, associated with the history of the jazz revival. In 1960, the Dave Brubeck Quartet, along with Paul Desmond, Eugene Wright, and Joe Morello, released their first experiment in odd-meter rhythms. The album was titled Time Out, and its singles 'Take Five' and 'Blue Rondo a la Turk' were the first of modern jazz. A milestone in Brubeck's career was his appearance in 1959 with the New York Philharmonic, conducted by Leonard Bernstein.
After three performances, they recorded Dialogues for Jazz Combo and Orchestra, a work composed by Dave's brother Howard. Brubeck was a pioneer in combining jazz with symphony orchestras, continuing to make concert appearances as a composer and performer of his own choral compositions and as a soloist with orchestras.
The Music Masters label recorded and released New Wine, a concert with the Montreal Jazz Festival orchestra. The London Symphony Orchestra organized a tribute to him on the occasion of his more than fifty years as a jazz musician, with a program with all his works that was performed by Stéphane Grappelli, four of Brubeck's sons and the quartet itself by Dave Brubeck.
When Pope John Paul II visited the United States in 1987, Brubeck composed music especially for the event and participated in the performance before the masses who had come to see the pope in Candlestick Park in San Francisco. Throughout his long career, Dave Brubeck performed music for British royalty, the pope, kings, presidents and heads of state. The Dave Brubeck Quartet has toured the United States, Europe, Canada, and Japan with the Murray Louis Dance Company in a unique collaboration between these two Native American art forms, jazz and modern dance.
His world tours spanned several trips to the Middle East and Eastern Europe, and made jazz man Dave Brubeck one of America's best-known ambassadors. The quartet's repertoire reflected the influence of ethnic music that its members heard and picked up on their many travels.
Throughout his career, Dave Brubeck has been the recipient of numerous awards; he was one of the first musicians to have a star on the Hollywood Walk of Fame. Duke Ellington Fellow at Yale University, with six honorary doctorates.
In 1987, he received the Connecticut Arts Award and in 1988 the National Music Council awarded him the American Eagle Award. In 1989, he was inducted into the Pantheon of the Arts at the University of the Pacific, and the French government honored him for his contribution to the arts. In April 1990, Fairfield University awarded him the Gerard Manley Hopkins Award.
In 1992, the Connecticut Bar Association and Simon's Rock College honored him for his career. He also received the BMI Jazz Pioneer Award and was honored by this organization for his 'widespread and outstanding contributions to the world of jazz'. In 1994, Dave Brubeck was awarded the National Medal of Arts by President Bill Clinton. Dave Brubeck made his first appearance for the Telarc record label as a guest artist with the Big Band Hit Parade. Fortunately for the Telarc house, Brubeck brought his own group to the house and recorded Late Night Brubeck live at the Blue Note in 1993.
In July 2004, he presented a new job when he was already 83 years old. With the title of Private Brubeck remembers (The soldier Brubeck remembers) he recalls, accompanied only by his piano, the melodies that he always associated with the Second World War, among them the unforgettable 'Lili Marlene', 'The last time I saw Paris' or 'You'd be so nice to come home to', by Cole Porter.
Browse in the Library:
and subscribe to our social channels for news and music updates: