Browse in the Library:
and subscribe to our social channels for news and music updates:
Claude-Achille Debussy – Clair de Lune (Mondglanz, Mondschein, Moonlight), Suite Bergamasque, Debussy, pianoforte.
La Suite bergamasque fu composta per la prima volta nel 1890-1905. "Claude Debussy suona le sue opere migliori" Claude Debussy, Piano Roll, 1913.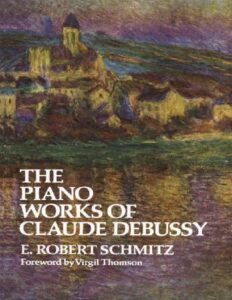 Dal 1903 al 1913, Claude Debussy registrò molti dei suoi brani su rulli di pianoforte. Debussy si rallegrò della qualità della riproduzione, dicendo in una lettera a Edwin Welte: "È impossibile raggiungere una perfezione di riproduzione maggiore di quella dell'apparato Welte. Sono felice di assicurarvi in ​​queste righe il mio stupore e la mia ammirazione per quanto ho sentito. Sono, egregio signore, vostra fedelmente, Claude Debussy.
Con più di un secolo di vita, queste registrazioni ci permettono di ascoltare il grande compositore suonare le proprie opere. Debussy fece le sue ultime registrazioni quando aveva 52 anni e soffriva di cancro, nel 1913. Morì meno di cinque anni dopo, il 25 marzo 1918.
I rulli per la riproduzione del pianoforte erano generalmente realizzati dalle esibizioni registrate di musicisti famosi. In genere, un pianista si siede a un pianoforte di registrazione appositamente progettato e l'altezza e la durata di tutte le note suonate sarebbero contrassegnate o perforate su un rullo vuoto, insieme alla durata del pedale di sostegno e di sordina.
La riproduzione di pianoforti può anche ricreare la dinamica dell'esecuzione di un pianista per mezzo di perforazioni di controllo appositamente codificate posizionate verso i bordi di un rullino musicale, ma questa codifica non è mai stata registrata automaticamente.
Diverse compagnie avevano modi diversi di annotare le dinamiche, alcune tecnicamente avanzate (sebbene non necessariamente più efficaci), altre segrete e altre ancora dipendenti interamente dalle note scritte a mano di un produttore discografico, ma in tutti i casi questi geroglifici dinamici dovevano essere abilmente convertiti in speciali perforati codici necessari ai diversi tipi di strumento.
Il modo di suonare di molti pianisti e compositori è preservato durante la riproduzione del piano roll. Gustav Mahler, Camille Saint-Saëns, Edvard Grieg, Teresa Carreño, Claude Debussy, Manuel de Falla, Scott Joplin, Sergei Rachmaninoff, Sergei Prokofiev, Alexander Scriabin, Jelly Roll Morton e George Gershwin sono tra i compositori e pianisti che hanno suonato registrato in questo modo.
Il famoso Clair de lune di Claude Debussy è il terzo brano della Suite bergamasque per pianoforte, un'opera il cui titolo è stato scelto tanto per l'amore del suo compositore per i suoni delle parole quanto per le sue implicazioni rinascimentali (sebbene l'opera possa essere giustamente descritta come qualcosa di un omaggio ai clavicembalisti francesi di un tempo).
Il re bemolle maggiore di Clair de lune è scelto perfettamente, la melodia scintillante in terze parallele (con sordina, richieste di Debussy) sapientemente bilanciata dal tempo rubato meravigliosamente dissonante che la segue. Durante la sezione centrale un poco mosso di Clair de lune, la musica si gonfia ben oltre il pianissimo dell'apertura, e nel suo culmine si potrebbe dire che il giovane compositore ha creato più della luce del sole che della luce della luna; gli incessanti arpeggi possono ben essere esagerati, ma si possono comunque apprezzarli.
Piccoli frammenti di questi arpeggi si fanno strada nella ripresa della musica di apertura, e ai toni rotolanti della sezione centrale vengono date alcune misure per perorare ancora una volta la loro causa prima che la cadenza cromatica finale, un momento di assoluta tranquillità, sia resa .
Clair de Lune è una poesia francese scritta da Paul Verlaine nell'anno 1869. È l'ispirazione per il terzo e più famoso movimento dell'omonima Suite bergamasque di Debussy del 1890. 'Clair de lune' ('Moonlight') è dalla prima raccolta di Verlaine Fêtes galantes (Gallant Parties, 1869).
Clair de Lune di Paul Verlaine
" Clair de lune " (inglese "Moonlight") è una poesia scritta dal poeta francese Paul Verlaine nel 1869. È l'ispirazione per il terzo e più famoso movimento della Claude Debussy del 1890 Suite bergamasque . Debussy ha anche eseguito due impostazioni della poesia per accompagnamento vocale e pianoforte. La poesia è stata musicata anche da Gabriel Fauré , Louis Vierne e Josef Szulc .
La tua anima è un paesaggio scelto
Vanno affascinanti maschere e bergamasche
Suonare il liuto e ballare e quasi
Tristi sotto i loro travestimenti stravaganti.

Mentre si canta in modalità minore
Vincere l'amore e la vita opportuna
Non sembrano credere nella loro felicità
E il loro canto si mescola al chiaro di luna,

Nel calmo chiaro di luna triste e bella,
Chi fa sognare gli uccelli sugli alberi
E singhiozzare di estasi i getti d'acqua,
I grandi getti d'acqua si snelliscono tra i marmi.
La tua anima è un paesaggio scelto
Dove passeggiano incantevoli mascherate e ballerine,
Suonare il liuto e ballare, e quasi
Triste sotto i loro fantastici travestimenti.

Mentre canta in tonalità minore
Dell'amore vittorioso e della vita piacevole
Sembrano non credere nella propria felicità
E il loro canto si fonde con la luce della luna,

Con la luce triste e bella della luna,
Che fa sognare gli uccelli sugli alberi,
E fa singhiozzare di estasi le fontane,
L'acqua sottile scorre tra le statue marmoree.
Browse in the Library:
and subscribe to our social channels for news and music updates: