Browse in the Library:
and subscribe to our social channels for news and music updates:
Leroy Anderson
Leroy Anderson (June 29, 1908 – May 18, 1975) was an American composer of short, light-hearted concert pieces, many of which were premiered by the Boston Pops Orchestra under Arthur Fiedler. John Williams has described him 'as one of America's greatest masters of light orchestral music'.
Born in Cambridge, Massachusetts to Swedish parents, Leroy Anderson received his first piano lessons from his mother, who was an organist. He continued his piano lessons with Henry Gideon at the New England Conservatory of Music, and also took double bass lessons with Gaston Dufresne in Boston.
In 1926, Leroy Anderson entered Harvard, where he studied theory with Walter Spalding, counterpoint with Edward Ballantine, harmony with Georges Enesco, and composition with Walter Piston, earning his Bachelor of Arts in 1929 and his Master of Arts in 1930.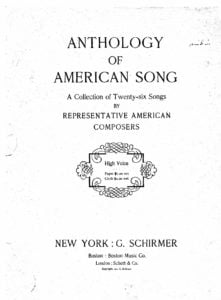 In August 1946, he composed the famous title 'Sleigh Ride', also known as 'Promenade en Traineau', (piece for the holidays and Christmas Day) during a heat wave.
Unusual instrumentation, or 'instruments,' frequently appears in various of Anderson's music. Sandpaper Ballet uses sandpaper, The Typewriter uses a typewriter, Sleigh Ride uses sleigh bells, The Phantom Regiment uses neighing horses, The Waltzing Cat has the orchestra imitating cat meowing, and The Syncopated Clock uses a grandfather clock. The Syncopated Clock was chosen by WCBS as the theme for The Late Show in 1950. The track was Anderson's first chart success, reaching number 12 on the US singles chart in the spring of 1951.
Then, in June 1952, the title Blue Tango was number 1 on the American charts for five weeks.
In 1958, Anderson set the fairy tale 'Goldilocks' to music, for which he wrote 18 pieces of music. The musical ran for 161 performances from October 11, 1958, to February 28, 1959, on Broadway at the Lunt-Fontanne Theater and earned actors Russell Nype Best Actor and Pat Stanley Best Actress Tony Awards.
In 2006, one of his piano famous works, Forgotten Dreams, became the soundtrack for a British television advert for a mobile phone company.
Works (excerpt)
(in alphabetical order)
Alma Mater (1954)
Arietta (1962)
Balladette (1962)
Belle of the Ball (1951)
Birthday Party (1970)
Blue Tango (1951)
Bugler's Holiday (1954)
Cambridge Centennial March of Industry (1946)
The Captains and the Kings (1962)
Chatterbox (1966)
Chicken Reel (1946)
China Doll (1951)
A Christmas Festival (1950) (9:00)
A Christmas Festival (1952) (5:45)
Clarinet Candy (1962)
Classical Jukebox (1950)
Concerto in C Major for Piano and Orchestra (1953)
The Cowboy and His Horse (1966)
Do You Think That Love Is Here To Stay? (1935)
Easter Song (194-)
Fiddle-Faddle (1947)
The First Day of Spring (1954)
Forgotten Dreams (1954)
The Girl in Satin (1953)
The Golden Years (1962)
GOLDILOCKS (Musical)
Goldilocks Overture (1958)
Come to Me (1958)
Guess Who (1958)
Heart of Stone (Pyramid Dance) (1958)
He'll Never Stray (1958)
Hello (1958)
If I Can't Take it With Me (1958)
I Never Know When to Say When (1958)
Lady in Waiting (1958)
Lazy Moon (1958)
Little Girls (1958)
My Last Spring (1958)
Save a Kiss (1958)
Shall I Take My Heart and Go? (1958)
Tag-a-long Kid (1958)
The Pussy Foot (1958)
Town House Maxixe (1958)
Who's Been Sitting in My Chair? (1958)
Governor Bradford March (1948)
Harvard Fantasy (1936)
Hens and Chickens (1966)
Home Stretch (1962)
Horse and Buggy (1951)
THE IRISH SUITE (1947 & 1949)
The Irish Washerwoman (1947)
The Minstrel Boy (1947)
The Rakes of Mallow (1947)
The Wearing of the Green (1949)
The Last Rose of Summer (1947)
The Girl I Left Behind Me (1949)
Jazz Legato (1938)
Jazz Pizzicato (1938)
Love May Come and Love May Go (1935)
Lullaby of the Drums (1970)
March of the Two Left Feet (1970)
Melody on Two Notes (1966)
Mother's Whistler (1940)
The Music in My Heart (1935)
An Old Fashioned Song (196-)
Old MacDonald Had a Farm (1947)
The Penny Whistle Song (1951)
The Phantom Regiment (1951)
Piece for Rolf (1961)
Plink, Plank, Plunk! (1951)
Promenade (1945)
Sandpaper Ballet (1954)
Saraband (1948)
SCOTTISH SUITE (1954)
The Bluebells of Scotland
Turn Ye To Me
Second Regiment, Connecticut National Guard March (1973)
Serenata (1947)
Sleigh Ride (1948)
Song of Jupiter (1951)
Song of the Bells (1953)
Suite of Carols for Strings (1955)
Suite of Carols for Brass (1955)
Suite of Carols for Woodwinds (1955)
Summer Skies (1953)
The Syncopated Clock (1945)
Ticonderoga March (1939)
To a Wild Rose (1970) (Edward MacDowell)
A Trumpeter's Lullaby (1949)
The Typewriter (1950)
You Can Always Tell a Harvard Man (1962)
Waltz Around the Scale (1970)
The Waltzing Cat (1950)
Wedding March for Jane and Peter (1972)
What's the Use of Love? (1935)
The Whistling Kettle (1966)
Woodbury Fanfare (1959)
Browse in the Library:
and subscribe to our social channels for news and music updates: