Follow @LibrarySheet
Chet Baker & Paul Bley – Diane (1985)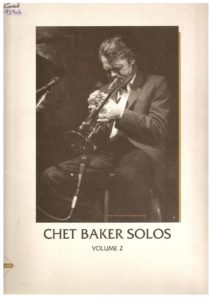 Tracklist:
A1 If I Should Lose You 0:00​ A2 You Go to My Head 7:16​ A3 How Deep Is the Ocean? 14:18​ A4 Pent-Up House 19:37​ B1 Everytime We Say Goodbye 23:34​ B2 Diane 31:29​ B3 Skidadidlin' 37:02​ B4 Little Girl Blue 41:16
Diane (album)
Diane is an album by trumpeter Chet Baker and pianist Paul Bley recorded in Denmark in 1985 and released on the SteepleChase label.
Critical reception
The authors of The Penguin Guide to Jazz Recordings describe Bley as an ideal duo partner for Baker, and say that only a "murky sound" prevented the album receiving a four-star rating.
Personnel
Browse in the Library:
and subscribe to our social channels for news and music updates:
Chet Baker
Chesney Henry "Chet" Baker Jr. (December 23, 1929 – May 13, 1988) was an American jazz trumpeter and vocalist. He is known for major innovations within the cool jazz subgenre, leading him to be nicknamed the "prince of cool".
Baker earned much attention and critical praise through the 1950s, particularly for albums featuring his vocals (Chet Baker Sings, It Could Happen to You). Jazz historian Dave Gelly described the promise of Baker's early career as "James Dean, Sinatra, and Bix, rolled into one." His well-publicized drug habit also drove his notoriety and fame. Baker was in and out of jail frequently before enjoying a career resurgence in the late 1970s and 1980s.
Paul Bley
Paul Bley, CM (November 10, 1932 – January 3, 2016) was a jazz pianist known for his contributions to the free jazz movement of the 1960s as well as his innovations and influence on trio playing and his early live performance on the Moog and Arp audio synthesizers. His music has been described by Ben Ratliff of the New York Times as "deeply original and aesthetically aggressive". Bley's prolific output includes influential recordings from the 1950s through to his solo piano recordings of the 2000s.
Browse in the Library:
and subscribe to our social channels for news and music updates: