Follow @LibrarySheet
Jazz Masters:
Bill Evans Trio in Helsinki (1970 Live Video)
Bill Evans and his trio played at Ilkka Kuusisto's house in Lauttasaari, Helsinki (Finland).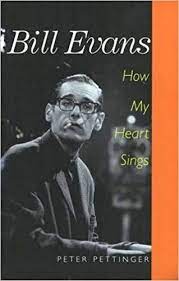 The Bill Evans Trio:
Bill Evans, piano; Eddie Gomez, acoustic double bass; Marty Morell, drums.
Ilkka Kuusisto is a Finnish composer, and his two sons are famous violinists. Ilkka played some jazz on his spare time. His son Pekka Kuusisto is the first Finnish violinist who has won the Sibelius violin contest.
Pekka has also played with, for example, finnish jazz trio Trio Töykeät, with Iiro Rantala playing the piano. Iiro is one of Finland's greatest jazz pianists. And has a great sense of humour. His current trio has a guitar player and a beatbox. Yes, a beatbox! That's crazy, but somehow it works. Yes, I was in heaven when I happened to turn on my TV last summer. I couldn't believe that this video existed, or that Bill had even been to Finland!
"Of course he travelled to Sweden many times, and that's obvious, because we [the Finnish people] always lose to Sweden in some way. May it be ice hockey or sense of fashion. The best thing about this video might be the fact how happy Bill seems to be. He's joking and smiling. With the performances, you can sense there's a bit of tension in the air, but when the last piece, Nardis, ends, people start to clap and Bill cannot help smiling. That's mega-awesome.
Unfortunately, there are few seconds missing in that YouTube clip, but you get the idea. Before the 1970 footage, YLE showed a new Ilkka Kuusisto interview, where Ilkka told about Evans' trio coming to visit his house. The grand piano was brand new, and Evans liked it. Bill gave Ilkka the At The Montreaux Jazz Festival vinyl [album] as a present. Ilkka also told that he liked Bill's touch on the piano, and that Bill's playing was always on a high level.
In the audience there's some Finnish jazz people, and I happen to know one of them! Jukka Haavisto is a vibrafonist, who's in his late 70s now, but still playing actively. He told me about a year ago that he had seen Bill 'live', and mentioned that Bill's head was always near the keys. That's what he remembered best. I just didn't know that he had seen Bill live here in Finland. I get to talk to Jukka soon, haven't seen him in a while.
When I first met Jukka, we talked about jazz in general, and I told him that Bill is absolutely my favorite pianist. Being old and wise, he answered casually and said: "Well, isn't he everyone's favorite?" That was great!"
From "Raine" in Helsinki, Finland, December 2008.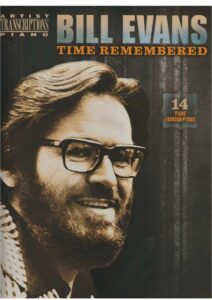 Bill Evans – William John Evans
(1929/08/16 – 1980/09/15)
Bill Evans was born on August 16, 1929 in Plainfield, New Jersey.
Bill Evans, the son of Harry and Mary Soroka, which marriage was stormy due to excessive alcohol consumption, gambling, and abuse from his father. He had a brother, Harry, two years older than him, with whom he would develop a very close relationship.
Bill Evans studied at Southeastern Louisiana University. He went through the army from 1951 to 1954 and played with Jerry Wald in 1954-55. He studied at Mannes School of Music, New York, 1955-56.
Evans was one of the pioneers of post-bop rhythm and greatly influenced other geniuses such as Petrucciani and Laverne. He became one of the most important and influential pianists in modern jazz.
Bill Evans influenced numerous pianists such as Chick Corea, Keith Jarrett, and Herbie Hancock.
Along with Miles Davis and other musicians, he redefined jazz in the late 1950s as a more intellectual and abstract genre. He was criticized for moving away from the African roots of the genre. One of his main contributions is the structuring of jazz trios in which the piano maintains a dialogue with the drums and the bass, where improvisation is maintained on common melodic lines.
On November 26, 1979, Bill Evans had embarked on a European tour with his trio, which would take him to different European countries, including France, Germany and Spain; it would be the last.
Bill Evans died in New York on September 15, 1980, from hemorrhage and liver failure caused by his addiction to heroin and cocaine.
Discography
Immortal Concerts 2000
Homecoming: Live At Southeastern Louisiana… 1999
Quiet Now: Never Let Me Go 1999
At Half Moon Bay 1998
Piano Player 1998
Ultimate Bill Evans 1998
His Last Concert In Germany 1997
The Best Of Bill Evans Live 1997
The Complete Bill Evans On Verve [Box] 1997
Highlights From Turn Out The Stars 1996
The Secret Sessions 1966-1975 [Box] 1996
Turn Out The Stars: The… [Box] 1996
The Best Of Bill Evans On Verve 1995

Verve Jazz Masters 5 1994
Jazz Round Midnight 1993
Letter To Evan-Live At Ronnie Scott's 1992
Alone 1990
At The Montreux Jazz Festival 1990
Empathy/A Simple Matter Of Conviction 1989
The Complete Fantasy Recordings (1973-1980) [Box] 1989
Compact Jazz 1987
Jazzhouse 1987
The Complete Riverside Recordings [Box] 1987
Loose Blues 1982
You Must Believe In Spring 1981
Consecration I 1980
Consecration II 1980
We Will Meet Again 1980

Affinity 1979
Live In Buenos Aires, 1979 1979
New Conversations – Monologue,… 1978
Crosscurrents 1977
I Will Say Goodbye 1977
Alone (Again) 1976
Quintessence 1976
Since We Met 1976
Eloquence 1975
Montreux III 1975
Blue In Green 1974
But Beautiful 1974
Intuition 1974

Re: Person I Knew 1974
Symbiosis 1974
The Tokyo Concert 1973
The Bill Evans Album (Columbia) 1971
From Left To Right 1970
Montreux II 1970
What's New 1969
At The Montreux Jazz Festival [Remaster] 1968
Bill Evans At Town Hall 1967
Further Conversations With Myself 1967
Intermodulation 1966

With Symphony Orchestra 1966
Trio '65 1965
Conversations With Myself [Remaster] 1964
Trio '64 1964
At Shelly's Manne-Hole 1963
The Solo Sessions Vol. 1 1963
Trio '64 [Remaster] 1963
How My Heart Sings! 1962
How My Heart Sings! (JVC) 1962
Interplay [Gold Disc] 1962
Interplay 1962
Interplay (JVC) 1962
Moonbeams 1962
Moonbeams (JVC) 1962

Undercurrent 1962
At The Village Vanguard 1961
Explorations 1961
Sunday At The Village Vanguard 1961
Sunday At The Village Vanguard (JVC) 1961
Waltz For Debby [Gold Disc] 1961
Waltz For Debby 1961
Waltz For Debby (JVC) 1961
Portrait In Jazz [Gold Disc] 1960
Portrait In Jazz 1960
Portrait In Jazz (JVC) 1960
Green Dolphin Street (JVC) 1959
On Green Dolphin Street 1959

Everybody Digs Bill Evans 1958
Everybody Digs Bill Evans (JVC) 1958
New Jazz Conceptions 1956
At Shelly's Manne Hole (JVC)
Autumn Leaves
Bill Evans Trio [VIDEO] Compact Disc Video
Explorations (JVC)
From The Seventies
Jazz Showcase
Live In Paris 1972, Vol. 1
Live In Paris 1972, Vol. 2
Live In Paris 1972, Vol. 3
Live In Tokyo [Limited Edition]
Living Time [Limited Edition]
More From The Vanguard
My Romance

Nirvana
Paris 1965
Peace Piece And Other Pieces
Quiet Now
Serenity
The Bill Evans Trio [VIDEO] Compact Disc Video
The Paris Concert, Edition 1
The Solo Sessions Vol. 2
The Village Vanguard Sessions
Theme From The VIPs

Time Remembered
Time To Remember (Live In Europe 1965-1972)
Together Again
Turn Out The Stars
Yesterday I Heard The Rain
You're Gonna Hear From Me
Browse in the Library:
and subscribe to our social channels for news and music updates: