Search Posts by Categories:
and subscribe to our social channels for news and music updates:
Recorded: On 17 August 1956
The Personnel:
Red Garland – Piano Paul Chambers – Bass Art Taylor – Drums
Track List:
01 A Foggy Day 0:00 02 My Romance 4:51 03 What Is This Thing Called Love? 11:42 04 "Makin' Whoopee 16:36 05 September in the Rain 20:51 06 Little Girl Blue 25:40 07 Constellation 30.47 08 Blue Red 34:19
Pianist Red Garland's first leadership recording came during Miles Davis's May 1956 session for an album that would be called Workin'. Under pressure to record enough material for two albums to meet half his remaining obligation to Prestige Records, Davis let Garland record one of the tracks in the trio format—Ahmad Jamal's Ahmad's Blues.
The result was so spectacular that Prestige decided to record Garland on an entire album in August '56. The album was A Garland of Red, with Paul Chambers on bass and Art Taylor on drums. Davis, of course, would record another two albums' worth of material in October and then move on to Columbia Records, releasing 'Round About Midnight in 1957. Garland remained at Prestige, backing John Coltrane and other musicians. He also began a trio career as the label's answer to Jamal.
A Garland of Red, Garland's debut album, was recorded on Aug. 17, 1956 and featured up-tempo standards, ballads and blues—exhibiting virtually all of Garland's stylistic qualities. On the faster material, such as What Is This Thing Called Love, Garland's right hand ran the keyboard conversation as his left hand punctuated with chords.
This conversation would typically result in a dense flock of block chords, followed by a solo by Chambers with Taylor keeping time with an pronounced hi-hat beat. This was true on September in the Rain and A Foggy Day.
Garland was a gifted interpreter of his peers, and we hear shades of Count Basie's blues and respect for space, Erroll Garner's lushness and Nat King Cole's centipede-like attack on the keyboard and stirred around in one stew.
Walking-tempo tunes such as Makin' Whoopee gave Garland a chance to switch off between the chords leading and his right hand. There also is a humid ballad here—Little Girl Blue—which was taken extra slow, letting Garland ply his rich, wide chord voicings. Even Garland's bop chops are evident on Constellation while Blue Red is a pure blues.
As Ira Gitler (above) wrote in the album's liner notes: "Bud Powell it seems made the greatest impression on Red's playing as you will hear, but even in that segment of his style it is far from a copy of Bud (and who could really copy the Powell of the Forties) but rather a personal expression of that idiom. Nat King Cole is there in the touch and is paralleled in the ability to choose phrases and not just notes. Red feels that instead of just running a lot of notes, choosing certain phrases is inherently tastier and leads to greater swing."
Ira's last sentence says it all. Red Garland died in 1984.
Red Garland
William McKinley "Red" Garland, Jr. (May 13, 1923 – April 23, 1984) was an American modern jazz pianist. Known for his work as a bandleader and during the 1950s with Miles Davis, Garland helped popularize the block chord style of piano playing.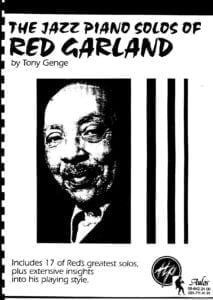 Garland's trademark block chord technique, a commonly borrowed maneuver in jazz piano today, was unique and differed from the methods of earlier block chord pioneers such as George Shearing and Milt Buckner. Garland's block chords were constructed of three notes in the right hand and four in the left hand, with the right hand one octave above the left.
Garland's left hand played four-note chords that simultaneously beat out the same exact rhythm as the right-hand melody played. But unlike George Shearing's block chord method, Garland's left-hand chords did not change positions or inversions until the next chord change occurred. It is also worth noting that Garland's four-note left-hand chord voicings frequently left out the roots of the chords, a chord style later associated with pianist Bill Evans.
Follow @LibrarySheet