Follow @LibrarySheet
JEAN-LUC PONTY, AL DI MEOLA & STANLEY CLARKE RENAISSANCE – LIVE
Jean-Luc Ponty (1942)
Bio
Jean-Luc Ponty est un violoniste français, né à Avranches, France le 29 septembre 1942.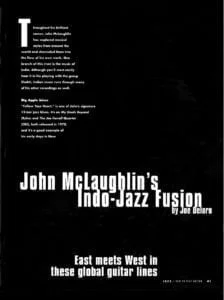 Il a suivi une formation de violoniste professionnel au Conservatoire National Supérieur de Musique de Paris. Son intérêt pour le jazz a été alimenté par la musique de Miles Davis et John Coltrane.
Il a joué avec le Mahavishnu Orchestra , Stéphane Grappelli , ainsi qu'avec Frank Zappa . Il est bien connu pour son violon électrique qui lui donne une empreinte particulière, presque comme le son d'un synthétiseur .
En 2005, Ponty a formé le supergroupe de fusion acoustique TRIO! avec la légende de la basse Stanley Clarke et le virtuose du banjo Béla Fleck .
Fils de professeurs de musique, le violoniste Jean-Luc Ponty commence sérieusement l'étude du violon, du piano et de l'harmonie à l'âge de cinq ans, et à dix-sept ans, il entre au Conservatoire Supérieur de Musique de Paris, d'où il sort en 1960 avec son premier prix de violon Il commence alors à jouer dans des orchestres symphoniques tels que les "Concerto Lamourex" entre 1960 et 1962.
Son intérêt pour le jazz est né de son amitié avec le violoniste Stéphane Grapelli et en décembre 1961 il rejoint le premier groupe de jazz lorsqu'il rejoint l'orchestre Jef Gilson, avec lequel il sera régulièrement jusqu'en 1964. Cette même année, il remporte un succès significatif au Festival de Jazz d'Antibes, qui marquera en quelque sorte son avenir professionnel dans les domaines du jazz.
En 1966, le magazine Down Beat le place à la tête des solistes avec des instruments inhabituels dans le jazz. Je joue au Blue Note à Paris, au club Camaleón avec l'organiste Eddy Louiss et le batteur, Daniel Humair. Après un bref séjour aux États-Unis, il joue avec George Duke, et avec le célèbre groupe "Mothers of Invention" du guitariste Frank Zappa, et plus tard avec le Mahavishnu Orchestra dirigé par le guitariste John McLaughin.
Malgré son penchant pour la musique pop, Ponty a toujours été fidèle au jazz, trouvant son influence particulière dans la musique de John Coltrane. Outre sa longue carrière solo, il a également collaboré avec John McLaughlin et Chick Corea.
Ponty adoptait peu à peu le jazz électrique que Davis faisait mûrir avec 'Bitches brew'. Ponty a également rencontré quelqu'un qui lui a fait franchir le pas décisif vers le rock, le roi du « non-sens » musical : Frank Zappa. Sur l'album 'Hot Rats', Zappa a utilisé le violoniste noir Don 'Sugarcane' Harris. Avec un son violent, agressif et 'sale', le violon de Harris est totalement différent de celui de Ponty, énergique mais avec des notes claires et non distordues. Ponty a également participé à 'Hot rats', bien que sans apparaître au générique, dans la chanson 'ltwould to be a meat!'.
Mais Zappa avait de grands projets pour le violoniste français. En 1970 paraît l'album 'King Kong', avec des compositions et arrangements de Zappa et des interprétations de Ponty. Ce fut une rencontre chanceuse, une fusion passionnante entre jazz, « humour zappien » et nouveau rock. Ponty avait assuré la prédominance du violon dans le rock, et après lui sont venus David LaFlamme, de It's Beautiful Day, Jerry Goodman, du premier Mahavishnn Orchestra (dans la seconde 'incarnation' du groupe, pour 'Apocalypse', Ponty a également participé ) , Darryl Way, de l'anglais Curved Air, et bien d'autres.
Depuis 1975, Jean-Luc Ponty est à la tête de son propre groupe, et il possède une virtuosité qui lui permet de placer des doubles croches sur des tempos très élevés, un phrasé plein de coups d'archet d'une agilité démesurée et une capacité d'inventivité et de renouvellement mélodique, qui s'identifient rapidement.
Au violon électrique, il se révèle un expert du mélange des sonorités qui utilise la technologie avec parcimonie et a découvert avec son instrument des sonorités qui résistent bien à l'épreuve du temps. Ce violoniste, claviériste et compositeur français a quitté assez tôt la grande tradition violoniste du jazz français pour s'imposer, aux États-Unis, comme l'un des guides du mouvement jazz-rock.
Jean-Luc Ponty a également continué à expérimenter avec des instruments électriques tels que le 'violectra' et le violon à cinq cordes, jusqu'à ce qu'il devienne le pionnier du 'baryton violectra' (que l'on peut entendre sur l'album de 1981 'Mystical adventures').
Ponty, après le succès de 'King Kong', rejoue avec Zappa dans ses concerts de 1973 et, parallèlement, devient un musicien de studio très recherché. Entre 1972 et 1973, il participe en tant qu'invité spécial à 'Honky Chateau' d'Elton John et à 'Aria' d'Alan Sorrenti.
A la fin des années 70, il enregistre plusieurs albums imbattables : 'Aurora' et 'Enigmatic ocean', en 1977, et 'Cosmic messenger', en 1979. Précisément sur cet album, sur le morceau 'Ego centric molecules', se trouve le meilleur solo de rock de Ponty. Dans les années 80, le violoniste a tenté de retrouver un son plus acoustique.
Mais les limites sont nombreuses et le violon de Ponty est lié à une époque. L'album 'Le cadeau du temps', de 1987, est la preuve de son manque d'idées.
Search Posts by Categories:
and subscribe to our social channels for news and music updates: